Comics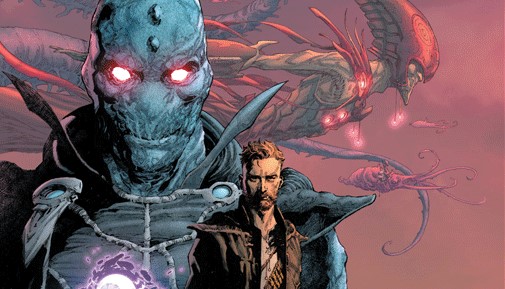 Published on February 15th, 2017 | by Dana Folkard
SEVEN TO ETERNITY VOL. 1 TP
Summary: A complex story with dynamic characters and beautiful art.
4.5
A thought-provoking and gripping read.
Image Comics has collected the first four issues of the dystopian fantasy, Seven to Eternity into one complete volume. Rick Remender collaborates once again with Jerome Opeña's to bring us this epic story of self-sacrifice, dark magic and rising up to fight against evil.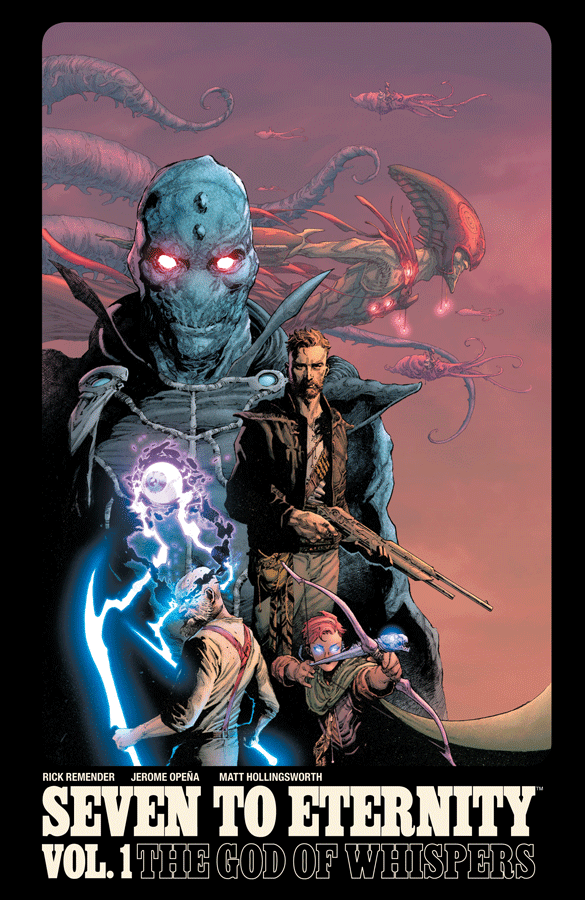 We follow the story of Adam Osidis, a man who had spent his entire life running from an evil that infects everyone who bows down to it. The God of Whispers, a.k.a. The Mud King, is a despotic warlord who can infiltrate the minds of his followers once they agree to accept his offer, enabling him to see and hear what they do, whilst enslaving them to serve his purpose, while he whispers lies to them. Adam's family was disgraced and cast out when his father confronted the Mud King and refused to succumb to his evil temptations. Adam had lived a rather isolated and nomadic life traveling with his family, however, his peaceful life is shattered when he and his family are suddenly attacked by one of the Mud King's guardians. Adam realises that he cannot continue running forever and instead decides to finally face the evil he has spent his whole life running from. In the end Adam is faced with the choice of accepting the Mud Kings offer or helping a ragtag group of Mosak magic wielders in their quest to rid this vile tyrant from their world.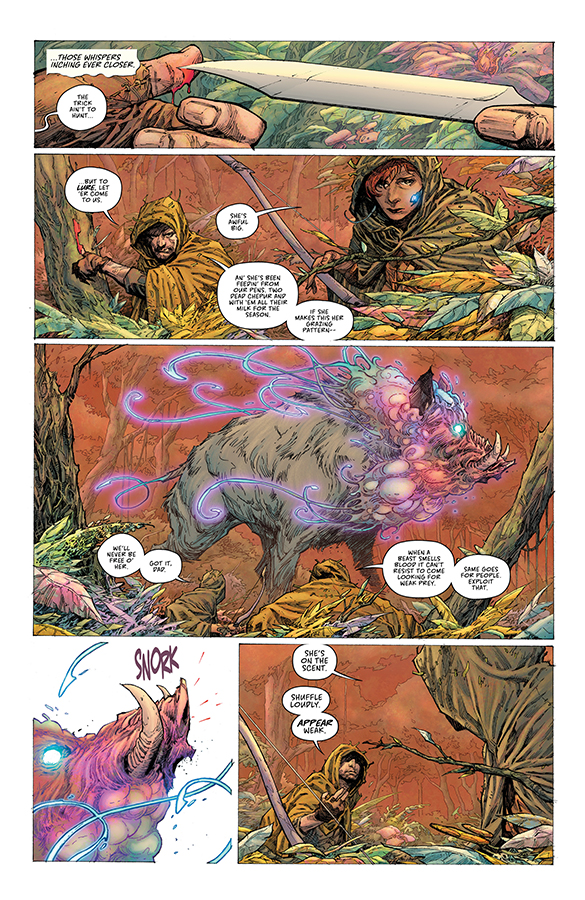 Rick Remender has once again created an incredibly engaging story with an array of interesting and uncanny characters. Straight away we are thrown into a world that is filled with a lot of history and lore and within the first few pages, you already can sense the scale of world-building that Remender has done. It's complex, layered and often at times feels like you are having a history lesson. Much of Adam's past is discovered through journal entries or flashbacks, all of which expand on the bigger story and opens up our understanding of his family's history. This is clever character development and it really gives you the sense that Adam had grown and matured from when he was an innocent child. At the core, this is a story about family and self-sacrifice and we are constantly reminded about this being Adam's main motivation for his actions. He is willing to give up his life for the betterment of his family, even if that means embracing evil and darkness. For me, this makes Adam very relatable, as you can understand why he makes these tough decisions. I really enjoy this dystopian fantasy setting, filled with original concepts, wild magic and complex lore. It's big, epic and very easy to become immersed in this intense and tragic tale.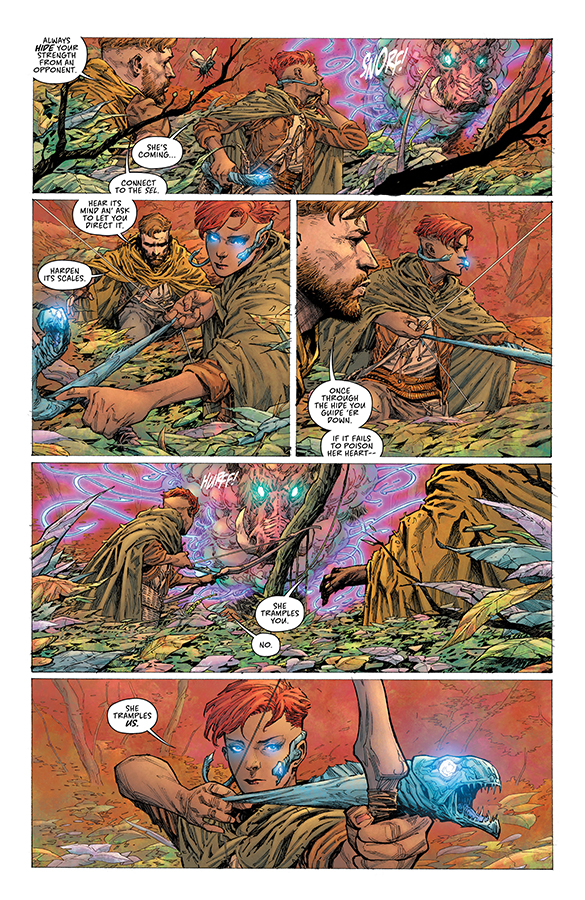 It's so lovely to see this world imagined by Jerome Opeña. His art is just so beautiful, diverse and incredibly detailed. Opeña has visualised a very unique fantasy world, filled with giant flying squids, breathtaking spells, eclectic landscapes and all sorts of wonderful and scary creatures. Every page is filled with intricate details, whether it be an intimate family scene or an large and sprawling landscape. I particularly enjoyed the fast-paced fight sequence against the Mud King and the creepy flute playing, Piper. It was brutal and I enjoyed seeing a hardcore fight that was intense and full of fluid movement. Colourist, Matt Hollingsworth, helps to bring this magical world to life through his luminescent colouring. This world is beautiful yet bleak and you really do get the sense of this through the combination of the art and colouring.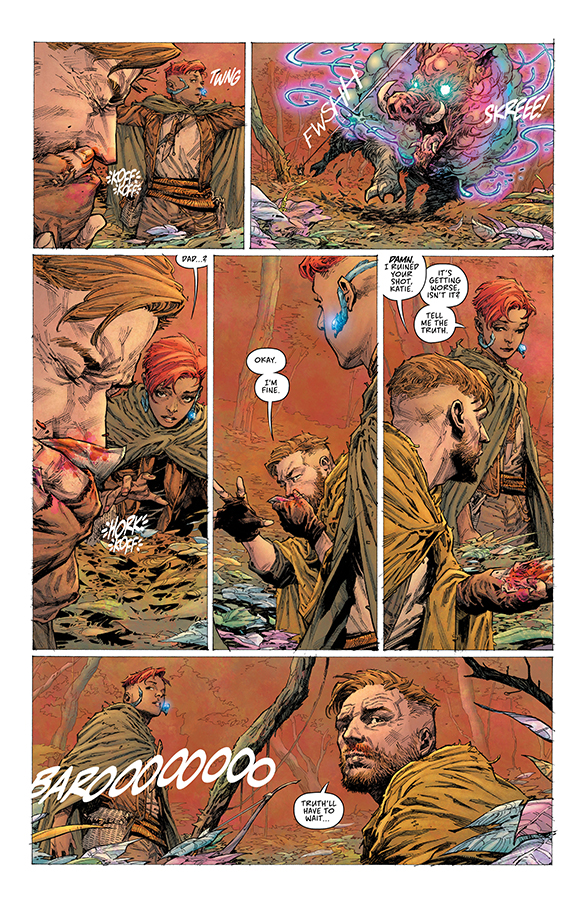 Seven to Eternity Vol. 1 TP is an intensely gripping and touching story. The story is set in a complex world, filled with dynamic characters that all bring something to enhance and drive the story forward. I enjoyed immersing myself in this world and caring about Adam's plight and his desperate fight for safety and freedom. This complex story combined with wonderful art will have any fantasy fan incredibly satisfied and wanting more. I thoroughly enjoyed reading this and recommend you grab yourself a copy ASAP!
I'm giving this volume 4.5 out of 5 stars!
Details
Title: Seven to Eternity Vol. 1
Publisher: Image Comics
Creative Team: Rick Remender, Jerome Opeña, Matt Hollingsworth, Rus Wooton.
Reviewer: Dana Folkard