Games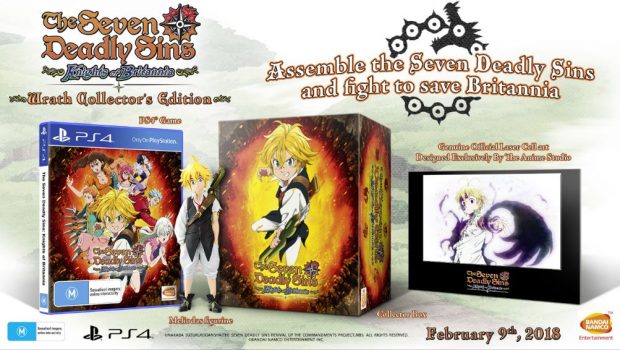 Published on November 21st, 2017 | by Admin
THE SEVEN DEADLY SINS: WRATH COLLECTOR'S EDITION ANNOUNCED
BANDAI NAMCO Entertainment Europe unveils today the Physical Collector's Edition contents of The Seven Deadly Sins: Knights of Britannia set to be released on the 9th February 2018.
Along with the classic Standard Edition of the game The Seven Deadly Sins: Wrath Collector's Edition features some of the most exclusive collectible items that fans of the saga have always desired:
The Seven Deadly Sins: Knights of Britannia Full Game
Genuine Official Laser Cell Art, designed exclusively by the anime studio
12cm (4,7") figurine of Meliodas by Banpresto
Collector's Box
With the announcements of the Collector's Edition new info about the game have been unleashed.
Adventure mode:
Relive the story of the anime, with free updates to the story as the next seasons airs. Roam around the land in Hawk Mama following 'rumors' to find out where the other Sins are and do side-quests to increase 'rumors' to progress in the main story. Perform the special characters attacks called 'Sin Action'.
Duel mode:
In the game several duel modes will allows players to face off traditional arena versus set in iconic locations of the anime; fight in 1vs1 & 2vs2 modes; customized your character with magic crystals and discover all the 20 playable character available; participate in challenging online fights.
The Seven Deadly Sins: Knights of Britannia will be available in Australia and New Zealand on the 9th February 2018 exclusively on the PlayStation®4 – both digital and boxed with EFIGS localization.
To learn more about BANDAI NAMCO Entertainment Europe's other products please go to: http://www.bandainamcoent.com or follow us on Facebook at https://www.facebook.com/BandaiNamcoEU or join the conversation at https://twitter.com/BandaiNamcoEU.