PC Games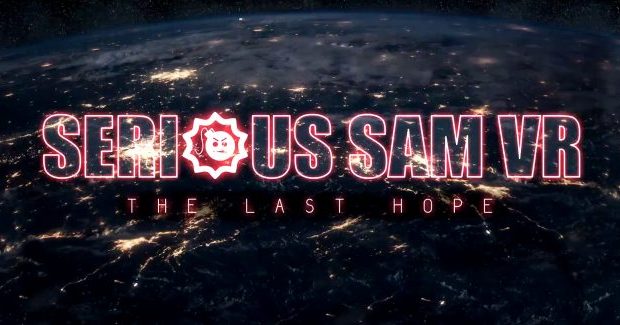 Published on January 17th, 2017 | by Edwin Millheim
Serious Sam VR: The Last Hope (First look, early access)
Serious Sam VR: The Last Hope is strangely enough being worked on at the same time in early access as another Serious Sam title which is Serious Sam VR: The First Encounter… but do not confuse the two, even though it may raise a few eyebrows as to why they are doing two games from the same franchise at the same exact time. Why not use the resources to finish the one, then the other? Though I am not here to debate that, I can say for me as a fan of gaming and as long as they can deliver the quality on both titles, then more power to them.
Now on with Serious Sam VR: The Last Hope.
So we get this code to try out on the VR game, Serious Sam VR: The Last Hope.  The game is simplistic and yet oh so elegant in how it is presented. Almost a throwback to the basic concept shooters that you would find in a cinema lobby where you drop some coins in and play as droves of enemy come at you.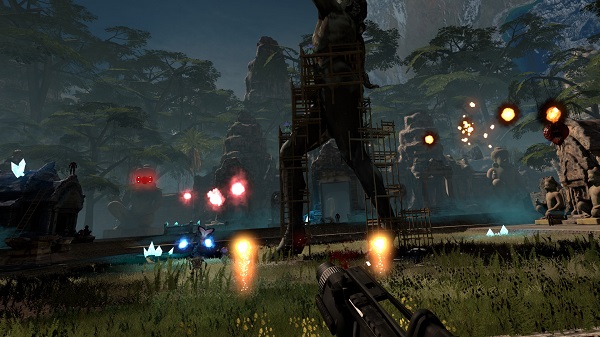 I know what you're thinking, how much fun could that possibly be? Let me tell you it is absolutely brilliant.  In Serious Sam VR: The Last Hope, your character is affixed in one position. So this was well played by the designers… so no motion sickness here. Zero, nada, none.
For those that have not played Serious Sam before or know anything about the character, he is an over confident macho stereo type. A guy with a big mouth and very off the cuff quips plus really big guns.
It's a fun ride all around, because the game does not take itself too seriously, it is very tongue and cheek lines our hero spouts and they are rather funny at times. Like him being on the way to some place and seeing something shiny and getting distracted. It's great fun.
In terms of the character, the hero Sam Stone is part of the Earth Defense Force and this is a VR simulation based on the intrepid hero's own log files, on his time served as Captain of the space Battle-cruiser Saratoga.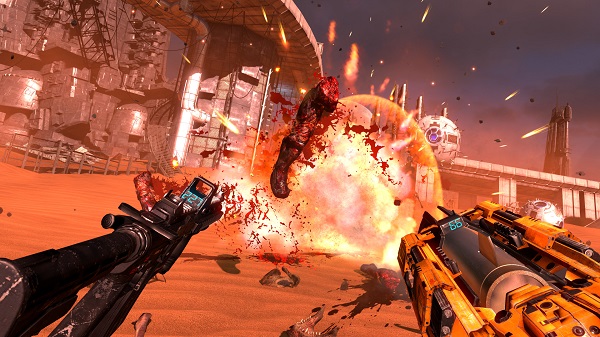 So we get to step in and feel what those mission had been like. The game in its current form is pretty solid looking and solid playing, however there are plans to expand the game and add more areas and missions. The full version is planned to be finished within six months or so the information on the early access game claims. That was sometime in Late October/early November 2016, so only a few months left… as to if they will bring the game to its full glory in the time suggested… we don't know. What we do know is it is pretty wicked fun to play now.
Visually it feels so right and of course with the VR sense of you are there in the gaming world is very strong. The locations are beautifully done with a few destructible things to add that bit of spice as the player blasts away at enemies.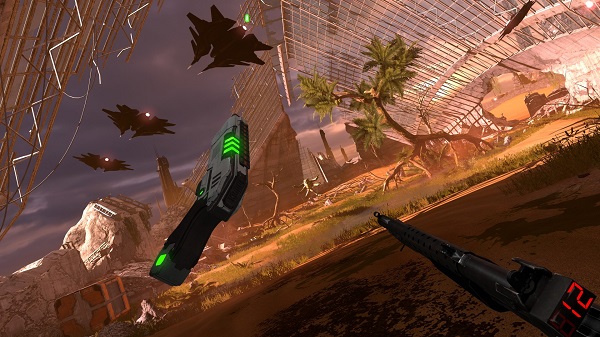 Right at this time there are only a few current mission worlds available, Currently the only available missions are on Earth with four areas and a boss fight plus a planet called Pladeon that also has four areas and a boss fight. Right now, I can't imagine adding more weapons but it is said there will be more weapons in the final game. Right now there are plenty of duel wielding items of mayhem to be had!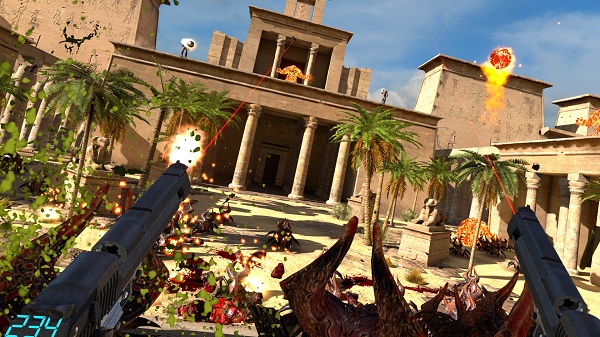 These include Laser Pistol, SOP38 Pistol, Heavy Laser Gun, P-Lah Chainsaw, M1-A2 Thompson Submachine Gun, M29 Infantry Assault Rifle, 12 Gauge Pump-Action Shotgun, Double Barrel Coach Gun, XM-214-A Minigun, XL2 Lasergun, and *phew* the XPML21 Rocket Launcher.
Let me tell you when the chips are down and you have nothing to dip them in with the enemy rushing you by the dozens and are all around… there is nothing more thrilling or satisfying than having a duel wielding huge chain saws to mow them down and get some breathing room.
Enemy are varied, giving things a real rushing thrill as you make it from one level to another. At this time with the levels of difficulty, easy does give an easy go of it, just enough of a rush to not get overwhelming. I was surprised however to find that the normal difficulty can be challenging at times depending on your load out.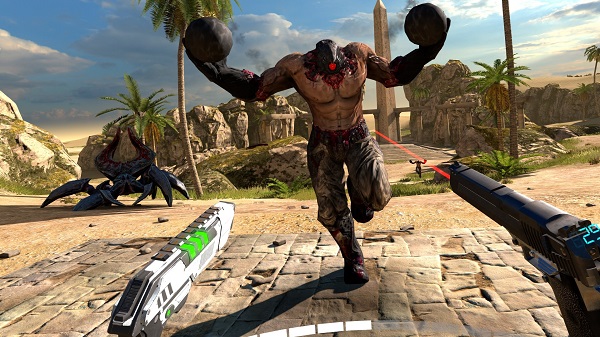 Final Thoughts?
Expect this write up to turn into a full review on final release of the game. At that time we will update our early access first look… into a full review. Though at this time, Serious Sam VR: The Last Hope is one heck of an arcade shooter, thrilling and we want more. I recommend if you are OK with waiting for the developers to finish the game up to put this one in your Virtual Reality library. In the end, Serious Sam VR: The Last Hope is seriously thrilling fun.
Have fun, play games.
Edwin Millheim
Impulse Gamer.
Game Details
Title: Serious Sam VR: The Last Hope
Developer: Croteam VR
Publisher: Devolver Digital, Croteam
Genre: Shooter