Comics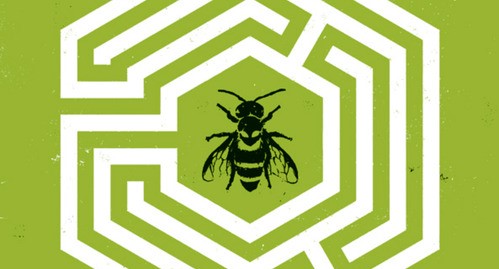 Published on July 24th, 2018 | by Dana Folkard
SEEDS #1 REVIEW
Summary: A science fiction tale with a political twist.
5
Compelling introduction!
The Seeds is a new science fiction political thriller, penned by legendary writer and journalist Ann Nocenti, with art by award-winning illustrator David Aja. This highly-anticipated four-issue series ventures forth to tackle themes concerning the ecological collapse of Earth, ethics in journalism, a technophobic revolution and an interspecies love story.
My first impression upon opening this issue was that it felt like an Ann Nocenti comic from the get-go. I had the uncanny feeling that I was dipping into a Nocenti comic from the 80's, filled with political undertones that drive the narrative forward and characters that are flawed, relatable and easy form an emotional connection with. For me personally, Ann Nocenti is an industry legend, a powerful and influential woman, whose run on Daredevil is something that I consider to be very special. I view her as being one of the two most important women working in comics during a time when comics were moving ahead, holding her own against industry legends like Alan Moore and Frank Miller. So, when I found out that she was working on a new science fiction thriller, I threw my hands up in the air with excitement and anticipation, awaiting its highly-anticipated arrival.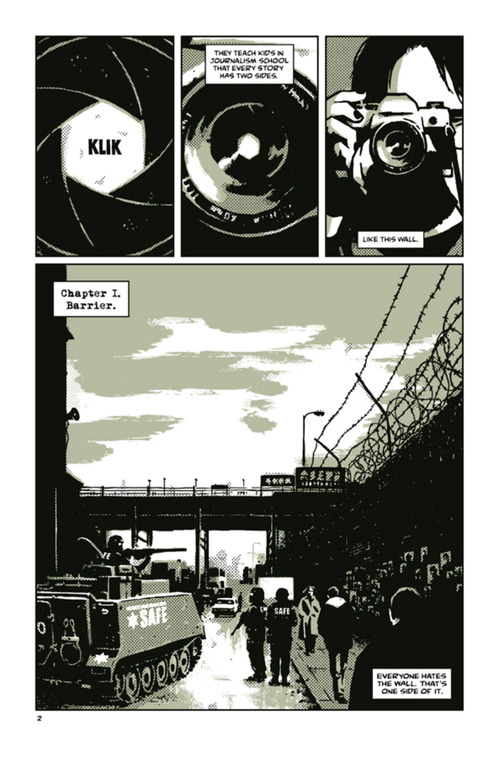 The story follows Astra, an idealistic and headstrong journalist who struggles to deliver a compelling news story at the cost of her journalistic integrity. She lives in a world that is dying and divided, with a wall separating the rich and wealthy from those who followed the Neo-Luddites in a technophobic revolution into what is called the lawless wilds of Zone-B. Society is falling apart and environmental collapse is a very real thing. Her boss pushes for the next big scoop regardless of whether it be true or fabricated, urging her to create a story if she cannot find one. By chance she stumbles into the story of a lifetime, however, this revelation turns into a double-edged sword for Astra, as there comes dire consequences if she exposes the truth of what she discovered.
The complexities of this story grow as we are introduced to an interspecies love story between a young disabled woman called Lola and an alien working undercover as a seed harvester. He belongs to a covert collective of aliens who collect and sample seeds from dying planets, then selling them to the highest bidder. The presence of these aliens is like a bad omen of what's to come, foreshadowing the ominous fate of the Earth from the impending ecological collapse.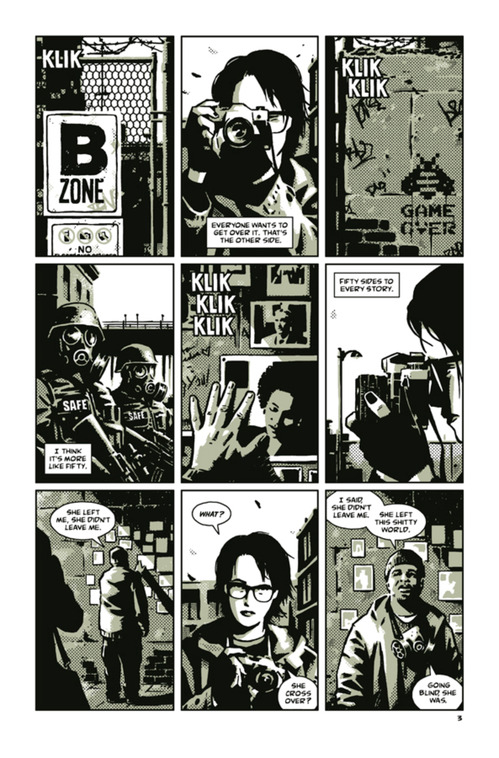 Ann Nocenti weaves a highly compelling story that explores some interesting and clever concepts. Politics can be such a contentious and prickly subject to write about and pulling it off in a smart and dynamic way can be quite difficult. I've always thought that Nocenti does this effortlessly, injecting a strong political slant within her narratives, with a powerful emotional core at its heart. The Seeds is no exception, venturing forth to explore themes and ideas around the shunning of technology, ethics in journalism, fake news and sexual ambiguity explored through characters that each have their own unique viewpoints and experiences. Astra and Lola stand out to me with their powerful personalities, motivations and flaws. I'm intrigued by these two and curious to know more about them and how the choices they make will impact the narrative.
I also like the ever-lurking presence and reference to bees throughout the narrative, whether it be  a story about bees, some street graffiti or a symbolic hive-like hexagon lurking in the background. The bees appear to be the connecting factor in this tale, entwining all of the various elements of this narrative together. What do these furry little pollen harvesters know?
The art by David Aja is highly-detailed and gorgeous. His bold lines and use of heavy inking really helps to capture a pulpy, tabloid aesthetic which I find perfectly reflects the tone of the narrative. Aja is a master at visual storytelling, layering each panel with subtle and clever clues throughout, reflecting the political and social themes of this story. I also love how this world looks broken and dying, like it is a dystopian metropolis falling apart from within. It's quite beautiful and I really love that it's entirely in black, white and grey. It's visually striking and oozes with style and charisma.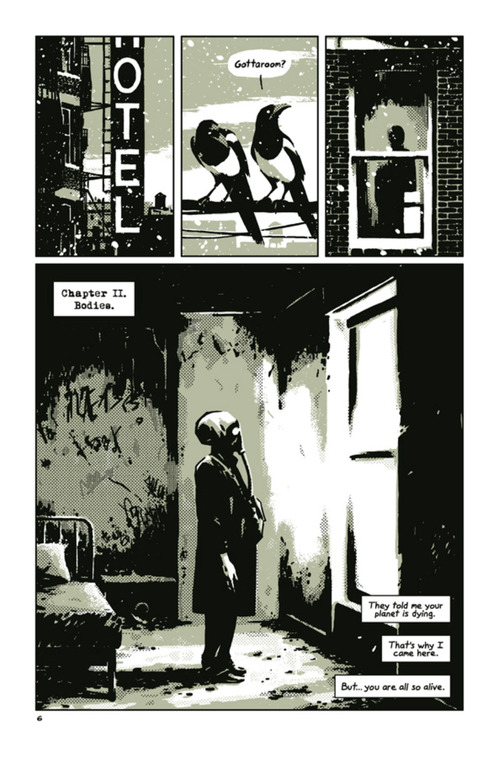 Overall, I thought that this was an eloquent and intriguing introduction to this tale. Nocenti has caught my attention with this one, and this combined with Aja's art, makes for something very special. I recommend grabbing a copy of this as soon as you can.
I'm already waiting with bated breath for the next chapter.
I'm giving this issue 5 out of 5 stars!
---
COMIC DETAILS
CREATIVE TEAM: Ann Nocenti and David Aja
PUBLISHER: Dark Horse Comics/Berger Books
GENRE: Science Fiction/Graphic Literature
PUBLICATION DATE: August 01, 2018
REVIEWER: Dana Folkard