Hardware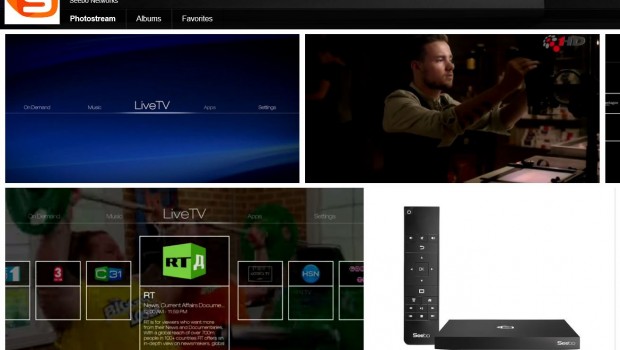 Published on March 16th, 2015 | by admin
Seebo SeeLive TV Gives Aussies More Free Entertainment
Innovative subscription-free streaming service delivers extra channels in free-to-air TV format 
Melbourne, Australia, 16 March 2015 – Seebo Networks has today announced the launch of locally developed SeeLive TV technology across its Seebo product range. SeeLive TV provides access to live Internet-based TV (IPTV) streamed channels alongside live free-to-air TV broadcast channels, allowing viewers to switch from a stream to a broadcast channel without a noticeable transition. SeeLive TV affords budget-conscious Australians more choice without added subscription fees and the burden of expensive payTV packages.
SeeLive TV offers viewers a truly seamless hybrid broadband and broadcast experience, and enables access to a diverse and ever-growing range of streamed content to enjoy. SeeLive TV launches with fifteen dedicated IPTV channels through the Live TV tab on Seebo devices.
The IPTV channels offer a range of news, sports, documentaries, shopping, arts, entertainment and music channels from around the world. SeeLive TV channels include popular news titles such as Aljazeera, CNN and BBC World News, music titles including Vevo, 1HD and GoticaTV and special interest titles such as Russia Today, popular tech channel USTWiT, VTV and for American sports fans Pac12, plus many more.
"For decades, Australians have paid more for television and entertainment than many of our overseas kin. In our fast-paced society, viewers want to be able to access more content with immediacy and without the added burden of ongoing subscription fees", says David Mitchell, Director of Product and R&D, Seebo Networks.
"We are passionate about supporting Australian consumers and content providers alike. We developed this unique technology to allow us to seamlessly serve up streamed content right alongside broadcast channels to enhance the Australian TV viewing experience. SeeLive TV offers access to an ever-growing number of IPTV channels and vast array of free content readily available. Importantly, it also gives content providers a platform to share their content with the general public," he added.
SeeLive TV is available on all current Seebo devices, including Seebo MAXX and the Seebo entertainment hub.
SeeLive TV video tutorial: https://www.youtube.com/watch?v=buFNvJp28h8
SeeLive TV Channels:
SeeLive TV Channels
RT Genre: News, current affairs, documentaries RT is for viewers who want more from their news and documentaries. With a global reach of over 700m people in 100+ countries, RT offers an in-depth view on newsmakers, global trends, present-day conflicts, politics and business.
The Pentagon

Genre: News and current affairs from US Pentagon

The Pentagon channel deliver timely, relevant DOD news and command information to military members, families and DOD civilians worldwide.

Gothic TV (English)

Genre: Music

24 hours of the best gothic and metal music clips from Within Temptation, Evanescence, Sirenia, Lacuna Coil, Nightwish, Delain, Tarja, Katra, After Forever and many more Goth and metal tracks.

VTV

Genre: The Arts

Vernissage TV brings you the world of art to TV. From a range of unique artists covering exhibitions and events in the fields of contemporary art.

HSN TV Genre:  Shopping

HSN offers 24/7 shopping TV with thousands of unique products in fashion, beauty, home, jewellery and electronics straight from the US.

BBC World News

Genre: News and current affairs

BBC News for up-to-the-minute news, audio and feature stories. BBC is one of the most trusted world and UK news sources.

Lobas

Genre: Music

Lobas deliver 24/7 music clips from the latest to the greatest in Pop and R'n'B bands and artists from around the globe. Let it run for a party playlist!

CNN World News

Genre: News and current affairs

Find the latest breaking news and information on the top stories, weather, business, entertainment, politics and more on CNN World news.

USTwist

Genre: News (Technology)

Twit provides news, commentary, help, how-tos, reviews and perspective on the latest trends in digital tech. Join Leo Laporte, Mike Elgan, Megan Morrone and Father Robert Ballecer along with other seasoned experts and journalists for over 20 shows focused on different areas of technology

Vevo

Genre: Music

Vevo brings you the hottest Pop, R'n'B and Top 40 tracks straight from their site.

Aljazeera

Genre: News, current affairs, documentaries

Aljazeera focuses on people and events that affect everyday lives. They bring topics to light that often go under-reported, listening to all sides of the story and giving a voice to the voiceless.

Vevo 2

Genre: Music

A dedicated Country and Western music channel – from the latest and most voted songs by lovers of the genre.

QVC Extra

Genre: Shopping

QVC's dedicated fashion and jewellery channel for daily style inspiration from UK.

1HD

Genre: Music

A collection of HD music video from around the globe. From Pop to the latest dance releases, 1HD has it all.

Pac 12

Genre: Sports

Pac 12 Networks for basketball, US football and baseball from twelve of the most prestigious universities in the world.

 
About Seebo Networks
Seebo Networks was founded in 2011 with the goal to set free a world of entertainment. This user-friendly technology brings together IPTV, HDTV, Live TV, VoIP, Music, Pictures, Apps and Social Media on a single smart device. Seebo is backed by the L+O group, a privately owned Australian company founded in 1975.