Films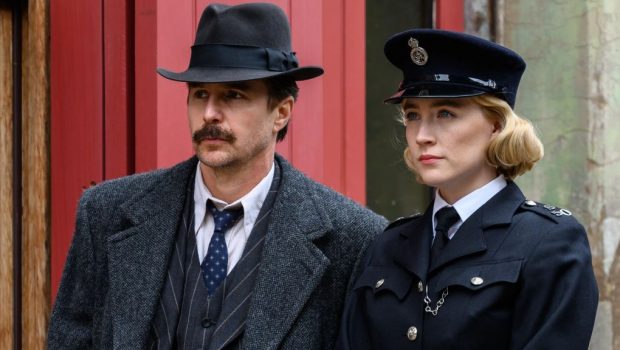 Published on October 2nd, 2022 | by Tim Chuma
See How They Run (2022) Review
Summary: Trying to hard to show you how smart and funny it wants to be. Should have gone either fully with the comedy or comitted to the thriller and not both.
Set in 1950s West End London, a successful stage production of Agatha Christie's Mousetrap has its movie plans disrupted when the proposed director is killed in the theatre. On the case are Inspector Stoppard (Sam Rockwell) and eager beaver Constable Stalker (Saoirse Ronan). Stoppard would rather work alone but he is told he has to have her on the case and there is a lot at stake as the play's has political connections they are all too willing to use to make life difficult for the police.
This is a set-up for a mystery story you would have seen a million times before and the movie is all too willing to play with your expectations of that. That is main problem with it as it is trying so hard to show that it is smart and wants you to know it. There are a bunch of references to Agatha Christie's work, the movie industry and the British theatre scene which some people may get more out of as this movie seems to have a lot that went into it that may end up being more interesting than the movie.
For example the play Mousetrap actually did have a movie planned to get made but still has not as the play is still in production as of 2022. Richard Attenborough (Harris Dickinson) and Sheila Sim (Pearl Chanda) really where in the play at the time also. It is hard to play someone who actually has a lot of people that know what they are like but play them in a fictionalised setting.
The stuff about movie making and telegraphing the ending is way too cute and made me want to wring the neck of the screenwriter, pity someone got to there first.
Saoirse Ronan is the best in the movie as she is so fun and pretends to take everything at face value even though she really does not. She is not fooled by the Inspector saying he went to the "dentist" when really we wants to sneak off to the pub when they are trying to question witnesses.
Sam Rockwell does alright in his role supposedly based on a "competent" Inspector Clouseau. He doesn't seem to be that confident from what I see in this and seems to want to be off on his own and not trust anyone.
The setting and production values are good, I am not sure they are really up to Wes Anderson level as that is a world into itself these days and not really set in the real world at all. This at least has a basis in reality.
There is nothing really that bad about this movie but then again there is not really that much that makes it stand out. Having a bet each way in comedy and mystery and not going fully into one or the other does not help it as you wish it would just go one way or the other.
Trailer
Film details:
Director: Tom George
Writer: Mark Chappell
Starring: Kieran Hodgson, Pearl Chanda, Gregory Cox, Harris Dickinson, Maggie McCarthy, Charlie Cooper, Ruth Wilson, Oliver Jackson, Tomi Ogbaro, Reece Shearsmith, Sian Clifford, Adrien Brody, David Oyelowo, Jacob Fortune-Lloyd, Ania Marson, Saoirse Ronan, Sam Rockwell, Tim Key, Philip Desmeules, Laura Morgan, Pippa Bennett-Warner, Angus Wright, Shirley Henderson, Paul Chahidi, Lucian Msamati, Tolu Ogunmefun
Genre: Mystery, Comedy
Length: 98 min