Comics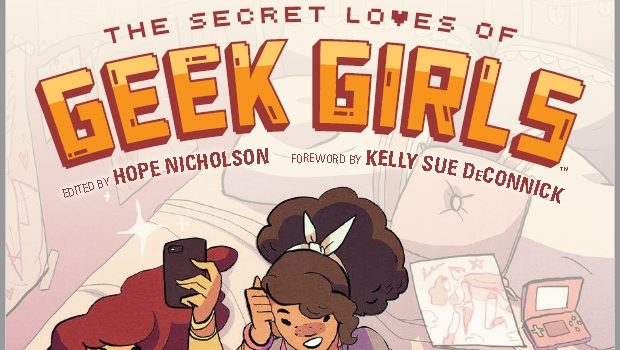 Published on October 3rd, 2016 | by Chris O'Connor
The Secret Loves of Geek Girls Comic Review
Summary: Multiple stories with common themes reminds us we are all essential the same neurotic messes as the next person.
I wasn't expecting this! I've reviewed a few comics now and the format is largely the same, basic panel format, layout etc. Secret Loves of Geek Girls has that… but it also has small essays, ode's to geekdom, heart felt missives. There's a certain courage required to expose your inner thinkings to the general public, but the fact that these amazing writers found that courage and gifted us with their inner monologues is certainly to our benefit. If you are part of geek culture (and if you are on this website there's a pretty good chance you are) and especially if you haven't found your geek match yet… not only does this collection give you a reassurance that you are not alone… it arguably also gives a few clues as to how you could go about snaring your plus one, your IRL partner. There are sweet stories, sad stories and to be blunt.. some reasonably eye opening stories, but all of them are someone's voice… someones inner thoughts released into the ether for others to hear, to learn from and to take solace in.
Writing
There are quite a number of contributors to this collection and they each have their own voices. The styles and depth vary from one writer to the other but there is a surprising amount of soul exposure occurring here. I don't know if the female side of the comic writing world has a larger representation of queer culture or if it's balanced but it would seem from this collection that there is a high number of queer lady writers and to hear their voices and the trans, gender fluid voices is wonderful.
Artwork
There's a lot less artwork than I was expecting but as with the writing there is a good mix of styles and some great pieces that show the intimacy that the artists have with their work. Styles range from the very Mangaesque to the rawness of an indie title… all complementing their stories wonderfully.
Final Thoughts
There is sure to be something for everyone in this collection. I enjoyed all the stories though I have to respectfully refute one authors notion of what happens once the credits roll on The Princess Bride! (when you read it you will know what I mean). The real strength of the writing here is the honesty, the rawness. The willingness of the authors to expose their inner selves is both enlightening and I think extremely reassuring. Male, female, intersex, genderfluid, trans… really anyone can get something from these stories. We sometimes need to be reminded that our crush, our person of interest, the "dreamy" person we are infatuated with can be just as awkward and uncomfortable as us… just as we have no idea how to start a relationship, they too may be suffering from an equal amount of cluelessness.
I highly recommend The Secret Loves of Geek Girls
Publisher: Dark Horse Comics
Writer: Margaret Atwood, Marjorie Liu, Mariko Tamaki, Marguerite Bennett (among others) Edited by Hope Nicholson
Artist: Margaret Atwood, Jen Vaughn (among others)
Cover Artist: Noelle Stevenson
Genre: Non-fiction, Graphic Literature
Format: Full Colour, 280 pages, TPB
Release Date: October 5th, 2016