Games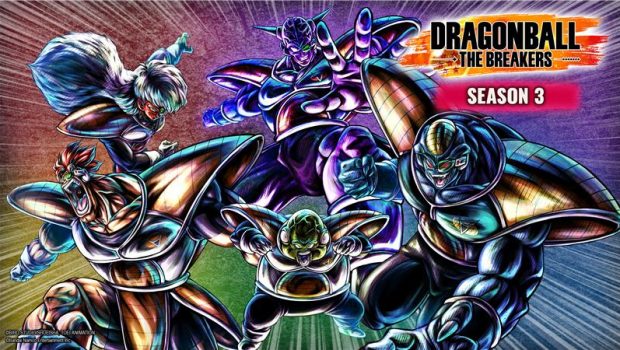 Published on June 10th, 2023 | by Adrian Gunning
Season 3 of DRAGON BALL: THE BREAKER is available now!
Discover Season 3 of DRAGON BALL: THE BREAKERS, with its package of added content and characters, available now!
DRAGON BALL: THE BREAKERS Season 3 includes a new Raider, new Survivor Skins, additional Transpheres, as well as customizable items. Start playing as Dende, King Kai and Fortuneteller Baba today in DRAGON BALL: THE BREAKERS Season 3!
Get to play the Ginyu Force, a Team-up type Raider roaming the Temporal Seams of Season 3!
Though Guldo does not have search skills, his Super Attacks "Time Freeze" and "Paralysis" can halt the movements of Survivors and help you track them down!
As Recoome, you can use a scouter which helps you search for Survivors! Along with his close-range attacks and Super-Attacks, no Survivor will escape your sight.
Third form: Jeice & Burter
The two Raiders are cooperating, as you control Jeice and Burter will assist you when you attack. Their skills "Purple Comet Crash" and "Crusher Ball," are wide-reaching duo Super Attacks, so you can sweep away a group of Survivors all at once!
Fourth form: Captain Ginyu
Level 4 lets you control Captain Ginyu who can boost his stats depending on the members who were switched out by filling their evolution gauge! The successful switch-out of Guldo will boost Ginyu's HP; successful switch-out of Recoome will boost damage and successful switch-out of Jeice & Burter will boost movement speed!
With Ginyu's infamous skill "Body Change" you will be able to change your body with any Survivor's.
New transpheres introduced in Season 3 of DRAGON BALL: THE BREAKERS include:
Gohan (Teen, Super Saiyan 2): "You're All Going to Pay!" When equipped, floating souls will appear where allies have been defeated. Collecting those souls increases the amount of limit gauge and the amount of damage inflicted.
Bardock (Super Saiyan): "Power to Change the Future". This skill increases the limit gauge of Ultimate Dragon Change to Level 4. In addition, the active skill "Instant Descent" can be used in the air to land on the ground in an instant.
Goten (Super Saiyan): "Young Talent". The skill increases the damage you take but prevents staggering or being blown away during a dodge while you're Dragon Changed.
Get to see all the latest content available, and the Ginyu Force united in this new trailer: https://youtu.be/A-S4ZTuPc8A
Ginyu Force, Dende and King Kai, are available individually in the in-game shop via TP token. In addition, "Raider and Survivor Skin Set" combining the three characters is also available. Fortuneteller Baba can be attained by unlocking Dragon Tier at 50.
Besides new characters, new customization items and more will be added in the in-game shop.
The game will also release a new map "Snowy Mountain," which will be available as free update.
The game is available on PlayStation 4, Xbox One, Nintendo Switch and PC, and compatible with PlayStation 5 and Xbox Series X|S.
For more information on DRAGON BALL: THE BREAKERS and other products from Bandai Namco Europe please visit: www.bandainamcoent.eu. Follow us on Twitter at: https://twitter.com/DBTB_EN