Hardware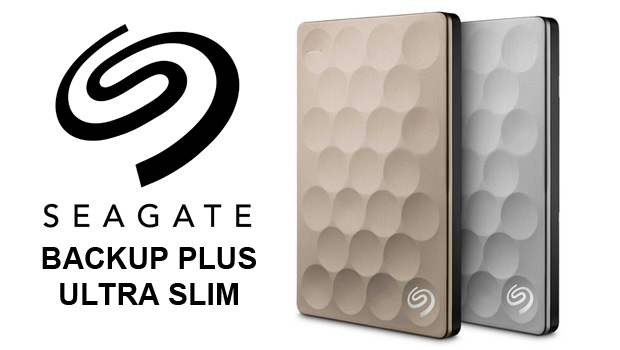 Published on April 25th, 2017 | by Tory Favro
Seagate Backup Plus Ultra Slim Review (2 TB)
Summary: The Seagate Backup Plus Ultra Slim offers stylish portability and although not the fastest drive on the block, it has a good price point.
Seagate have launched their new "ultra-thin" portable storage hard drive with their BACKUP PLUS ULTRA SLIM that supports both USB 2.0 and 3.0 plus it comes with two years of 200GB of storage on OneDrive. Best of all and as mentioned, it's quite a slim drive which easily allows you to move this hard drive around and more importantly, it allows it to be used by a variety of devices and not just computers because you can use it with smart devices as well.
Out of the box, the first thing that you may notice about the drive is how lightweight it is and I also like its metallic-like appearance which is available in two colours gold and platinum (reviewed). To add to its appearance, it has this slight honeycomb texture to the top which definitely makes it stand out from its competitors plus it has an LED to inform the user when it's being used. So for looks, it's quite a stylish portable hard drive with a great price point. We found the drive from $130AUD (April 2017) online!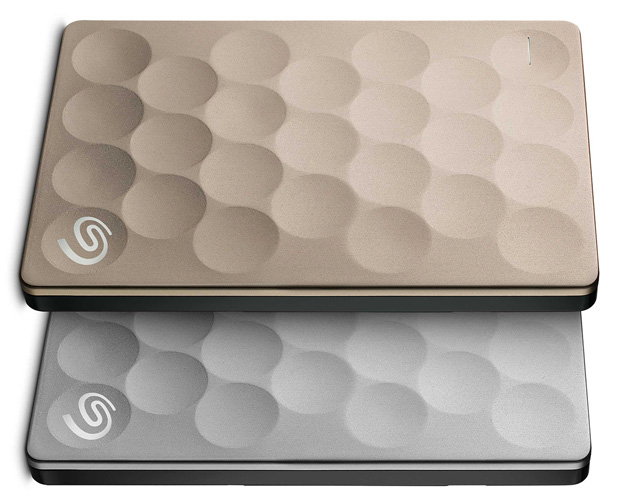 This portable hard drive measures at 113.4 x 76 x 9.6mm, weighs in at 135grams which once again is quite small and is available in sizes from 1 terabyte to 2 (reviewed). In terms of technology, the Backup Plus Ultra Slim uses traditional hard drive technology (5400RPM) and Seagate should be commended its small form factor for this technology. It's also ready to be used straight from the box which even includes a USB 3.0 cable (albeit small one) so no external power-supply is needed.
Although installation is relatively non-existent on PC's, you do need to install some software to get the most out of the hard drive which includes the Seagate Dashboard which allows you to easily back-up files and Lyve which allows you to view photos and videos remotely from the drive. When using Seagate Dashboard, it gives you four options that include PC Backup, Mobile Backup, Social (save and share your social media) plus Restore. There is also an option to add cloud storage here which of course includes OneDrive.

There are a couple of limitations with the unit such as the 200GB storage on OneDrive must be activated by 30 June 2017 and there is no software encryption. If you wanted to use software encryption, you could download third party software so there is a way around this and there is no carrying pouch or case while transporting this device. It does however come with a limited 3-year warranty for some additional piece of mind.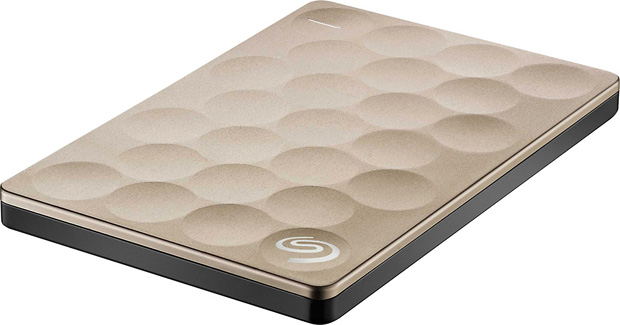 When it comes to performance, the Seagate Backup Plus Ultra Slim is definitely a midrange unit which scored a sequential read speed of 127.9MB/s and 63.21MB/s for write (on average) via CrystalDiskMark. HDTune scored 131.1MB/s (read) and 62.42mb/S (write). Connecting it to USB 2.0 dramatically reduced these speeds to 43.2MB/S (read) and 41.23MB/S (write) but thankfully most people have USB 3.0 these days. Overall, it may not be the fastest drive on the block but for most users, its portability aspect works very well.
Final Thoughts?
In the end, the Seagate Backup Plus Ultra Slim successfully ticks all the measurements needed for true portability which offers okay speeds to read/write for something so tiny, using older but still relevant technology.