Hardware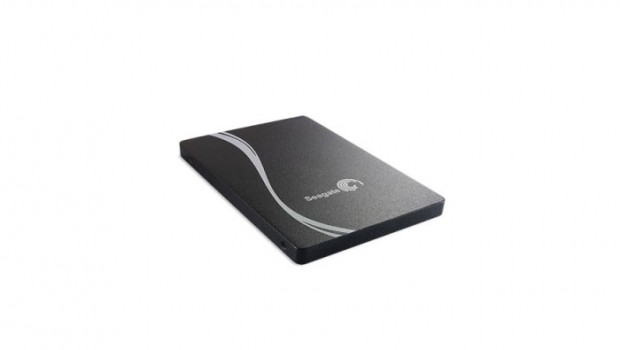 Published on February 22nd, 2014 | by admin
Seagate 600 SSD 240GB Review
Summary: If you're a PC enthusiast or gamer and looking to upgrade, then you should really check out the Seagate 600 SSD!
600 SSD 240GB
Distributor: Seagate
Product Type: Hard Drive
Reviewer: James Wright
Review Date: Feb 2014
Welcome to the new breed of hard drives that not only targets work but also gamers with the new Seagate 600 SSD (solid-state drive) that comes in four sizes that include 120, 240 (reviewed) and 480GB. Best of all this drive targets laptop users which allows you to upgrade your stock standard drive to something more powerful for both the PC and the Mac. The drive also comes in 2 sizes (this is pretty clever) that supports both 5mm and 7mm, depending on your laptop size plus a 3-year warranty for some additional piece of mind.
Seagate 600 SSD 240GB Features
Best-In-Class SSD performance: Average of 10K IOPS/W (measured at 50% writes)
High random R/W IOPS: up to 85,000/30,000 (6Gb/s SATA interface speed)
Ultra-fast speed
High data integrity
Consistent performance
Low power consumption
Solid-state drives or SSD have been around for awhile now but each year, the manufacturers manage to make them even more powerful which translates to faster boot-times and quicker loading. The loading time is ideal for both work and play. SSD's are also considerably more efficient when it comes to power and even have better shock resistance should the unthinkable laptop drop happen. This is due to no rotating platters or drive heads and if 50% faster than traditional drives. In terms of power efficiency, the drive runs at around 1.05 watts while idle and up to 3.28 when writing data.
Seagate 600 SSD 240GB Specifications
Capacity: 240GB
Interface: SATA 6Gb/s
Average Operating Power: 1.57W
Shock Operating: 1500Gs
Operating shock duration (max): 0.5ms
Seagate also improve the speed of their drive for certain indexing programs through front-end caching which in turn makes finding your particular search results quite fast. The drive itself is powered by the Link-a-Media (LAMD) SSD controller that from our testing does quite a decent job. Another interesting element of the drive is how tiny it is and this is definitely great news for ultra-thin laptop owners. It's almost like having four USB sticks put together, it's that small. The outer casing of the drive looks quite sturdy that also adds to its shock resistance.
Benchmarking
In terms of benchmarking, we tried three programs that include Bench32, Crystal Disk Mark and HD Tune Pro. We also tested the drive with PCMARK8 on our Windows 8 test machine. Please be aware that benchmarking is all subjective and is dependent on the components inside your PC, including what build of Windows you have, what programs are installed and a variety of other elements. We did test this on an i7 Intel based desktop system on a vanilla (no software installed) Windows 8 system.
The first test was CrystalDiskMark which is a popular and straight forward disk benchmarking software program. We did test the program several times (fresh reboot) and we did find some fluctuation between results. However on average, the drive scored the followed;
Seq Read [MB/s] 515.9 / Write [MB/s] 463.4
512K Read [MB/s] 365.3  / Write [MB/s] 451.3
4K Read [MB/s] 26.12 / Write [MB/s] 57.12
4K QD32 Read [MB/s] 365.4 / Write [MB/s] 341.4
HD Tune Pro produced a maximum read-time of 498.8 MB/s and a write-time of 445.4 MB/s. ATTO Disk Benchmark was our last program that produced a write speed of around 424 MB/s and a read speed of 533 MB/s which was similar to Crystal Disk Benchmark.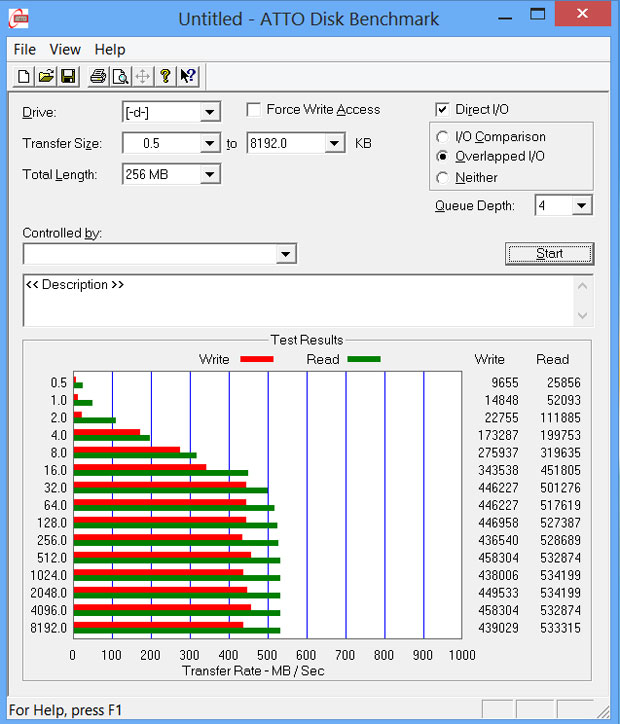 In terms of PCMark8, the drive scored a very respectable 5000 with a bandwidth of 301.83MB/s. Some of the other storage tests like Microsoft Excel scored 8.9 seconds to 128.2 seconds for Battlefield 3. Once again tests are very subjective with hardware and these "tests" only show one aspect of the drive. However for using this drive for almost a month now, I did find it to quite a fast drive, especially for loading and playing games with a noticeable difference than some of its competitors.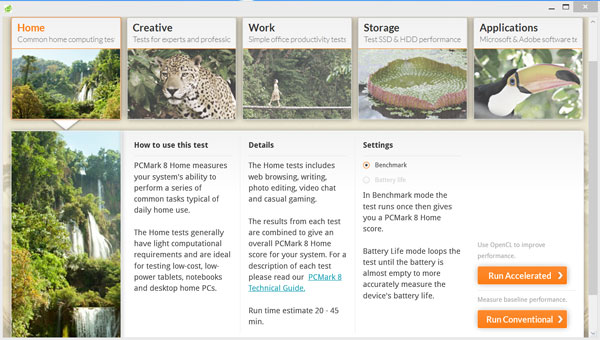 Final Thoughts?
The Seagate 600 SSD 240GB is quite a decent drive that is ideal for thin or ultra-thin laptops and definitely gives its competitors a run for their money. It has some excellent read/write times, great power efficiency and although there are a few drives faster available, it is quite affordably priced that we could happily recommend this to the laptop market. If you're a PC enthusiast or gamer and looking to upgrade, then you should really check out the Seagate 600 SSD!
Recommended!
Full Seagate 600 SSD 240GB Specifications
Capacities and Models

5mm form factor: 120GB (ST120HM001), 240GB (ST240HM001) and 480GB (ST480HM001)
7mm form factor: 120GB (ST120HM000), 240GB (ST240HM000) and 480GB (ST480HM000)

Interface: SATA 6Gb/s
NAND Type: MLC
Performance

Sustained Sequential Read/Write Command Rate (MB/s), 128KB: >500/>400 (>500/>300 for 120GB models)
Random Read/Write Command Rate (IOPS) Peak, 4KB: Up to 80K/70K (80K/60K on 120GB models)

Configuration and Reliability

Nonrecoverable Read Errors per Bits Read, Max: 1 per 1016
Annualized Failure Rate: 0.58%
Maximum Data Written to Device per Day: 40GB (20GB for 120GB model)
Maximum Data Written to Device During 3-year warranty period: 72TB (36.5TB for 120GB model)

Power Management

+5V Max Start Current (mA): 950
Average Sleep Power (W): 0.6
Average Standby Power (W): 0.6
Average Idle Power (W): 1.1
Average Operating Power (W): 0.75

Environmental

Internal Operating Temperature (C°): 0 to 70
Nonoperating Temperature (C°): -55 to 95
Temperature Change Rate/Hr, Max (C°): 20
Relative Humidity, Noncondensing (%): 5 to 95
Shock, 0.5ms (Gs): 1500
Vibration, 20Hz to 2000Hz (Grms): 11.08

Dimensions and Weight

7mm Dimensions (HxWxD): 7.0mm/0.276″ x 69.85mm/2.75″ x 100.45mm/3.955″
5mm Dimensions (HxWxD): 5.0mm/0.197″ x 69.85mm/2.75″ x 100.45mm/3.955″
Weight: 77g/0.17lb (7mm), 67/0.15lb (5mm)