Games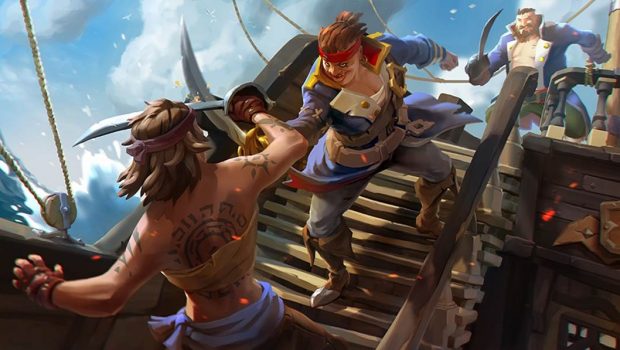 Published on June 18th, 2020 | by Adrian Gunning
Sea of Thieves' Latest Monthly Update Is Live!
The latest Sea of Thieves free monthly update has arrived, with Haunted Shores bring more new features that are available across Xbox One, Windows 10, Xbox Game Pass and Steam.
An all-new enemy type, Ghost Ships, now appears in fleets to unleash spectral weapons and provide a true sailing challenge for players. Agility and crew communication will be just as important as combat skill if you're looking to sink these ships!
You can also now encounter Ghost Ships led by Captain Flameheart's very own flagship, the Burning Blade. There are valuable Damned treasures to be looted, with unique sails to be unlocked by fearless pirates who send enough of Captain Flameheart's Ghost Ships back to the Sea of the Damned.
Ghost Ships Come to Sea of Thieves in June's Free Haunted Shores Update
by Joe Neate, Executive Producer at Rare
Prepare for a supernatural encounter on the Sea of Thieves this month as that re-emerging tyrant, Captain Flameheart, makes a new bid for control of the waves! June's free monthly update Haunted Shores is available today for all Sea of Thieves players across Xbox One, Windows 10 PC, Steam and with Xbox Game Pass, bringing with it an armada of spectral surprises.
Ghost Ships Rise to Seek Vengeance
We're pleased to unleash a whole new type of encounter this month and look forward to seeing how well our players react and adapt. Captain Flameheart's spirit, recently released from captivity, continues to grow in power and has now found a way to rally supernatural support from the Sea of the Damned! His Ghost Ships are the latest threat to reach these seas, and though their phantom forms may be easier to destroy than earthly ships, they're fearsomely armed and sure to outnumber living pirates.
Crewed by lost souls, these swift fleets provide a twist on the usual challenges of ship combat as they attack with otherworldly weaponry and drop mines to catch the unwary. As danger lies in all directions and the ships themselves prove perilous to the touch, agility and crew communication will be just as important as combat skill!
Flameheart's Flagship 
The centrepiece of this update is an emergent event featuring Captain Flameheart's own ship, the Burning Blade. With the arrival of Haunted Shores, Flameheart's looming skull will now manifest over islands like the clouds that represent Skeleton Forts or Skeleton Ship battles. However, this particular sign means that the Burning Blade and an armada of Ghost Ships has appeared around an island, as if searching the Sea of Thieves for something…
These will prove to be tough encounters, with Flameheart's floating skull not just acting as a beacon but giving orders to his ships and berating meddlesome pirates. The Phantom and Wraith Cannonballs fired by the Ghost Ships are as unnerving as they are powerful, but supplies can be claimed by players for their own use after defeating the Burning Blade. There are valuable Damned treasures to be looted too, plus unique sails to be unlocked by fearless pirates who send enough of these Ghost Ships back to the Sea of the Damned.
Expanding the Adventure 
Ghost Ships won't be fading away after this month's big event – they're a permanent addition to the game, providing a new way for pirates to gain gold and reputation with the Order of Souls alongside their usual Skeleton Bounties. Players can accept these Voyages right now from Order of Souls representatives or from Duke in the nearest tavern.
There's even more to do this month thanks to a refresh of Daily Bounties and other events, all trackable via the Events Hub. Expect a new playlist of Bounties offering bonus gold and Doubloons for completing in-game tasks, plus special time-limited events such as The Hunter's Call, that will  boost rewards for deliveries of cooked meat from sharks and Megalodons, so if anyone falls overboard during a battle with the phantom fleets, they might consider pulling their weight in the shark-hunting stakes instead.
The shanty system also gets a boost in Haunted Shores as instrument-wielding pirates can now use the menus to jump straight to a favourite tune. Better yet, the range of shanties has grown with several new songs for you and your crew to belt out on deck, on shore or in the tavern, including fan favourites such as 'Maiden Voyage' and 'We Shall Sail Together'!
Last but not least, the Pirate Emporium enjoys its usual monthly update, ushering in the appropriately undead-themed Blighted Ship Set for fans of State of Decay. You'll also find some pets that have been transformed into living treasures by the Gold Curse, a range of new outfits for your furry or feathery sidekicks and even animal-themed pirate dance emotes for players who want to laugh in the face of Flameheart's threats.
Enjoy exploring all these additions alongside this month's hair-raising headline challenge – one that's sure to create some surprises between players once they pick up some of those hard-hitting supernatural cannonballs!
Find Out More 
For more information on the Haunted Shores update, including full release notes, visit the Sea of Thieves website. The update is available for free to all Sea of Thieves players who have bought the game on Xbox One, on Windows 10 PC or via Steam, or players who have access to it with Xbox Game Pass. Simply download and install the latest Sea of Thieves update to get access.
New to Sea of Thieves? Join the fun with our Maiden Voyage, a narrative-driven tutorial experience separate from Adventure and Arena modes. New Sea of Thieves players will begin their travels within this scenario, which provides guidance and information to fledgling sailors.
Learn more about Sea of Thieves at www.xbox.com/seaofthieves, or join the ongoing adventure at www.seaofthieves.com/ where you can embark on an epic journey with one of gaming's most welcoming communities!