Games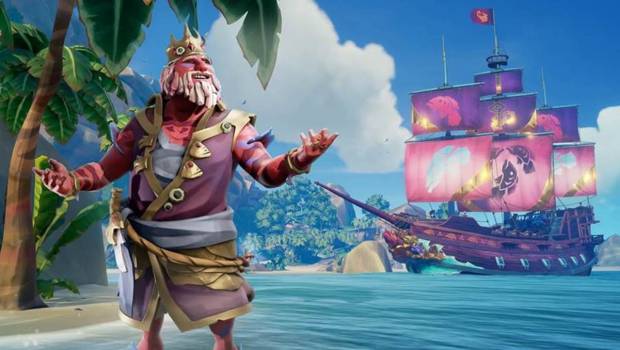 Published on May 28th, 2020 | by Alex Novus
Sea of Thieves' Free Lost Treasures Update Available Now by Joe Neate, Executive Producer at Rare
The Sea of Thieves is a place full of tales to be told and challenges to be faced, never more so than in May's free monthly update Lost Treasures – available now for all Sea of Thieves players on Xbox One, Windows 10 PC and Xbox Game Pass! With a brand new checkpoint system to help all pirates progress through our Tall Tales, plus Daily Bounties and events to rally the most resourceful crews on the seas, there's a packed month of activity ahead.
Take Up the Tall Tales
Tall Tales in Sea of Thieves are exciting narrative-driven adventures that delve into the stories behind some of its prominent people and places. Nine of these Tales make up the Shores of Gold sequence, while another two arrived in recent monthly content updates The Seabound Soul and Heart of Fire.
Tall Tales can be played at any time, and this month's update introduces new features to make them easier than ever to seek out and enjoy: tooltips on the map now show you where to begin and help set the scene for each Tale, while newly implemented checkpoints mean you can play through at your own pace and never have to worry about starting from scratch! As a bonus, take part in our Tall Tales Retold time-limited events in June and there may be new rewards for travelers who thought they'd earned everything… 
Get Rich with Daily Bounties
Expect something new to do on every day of the Lost Treasures update as our Daily Bounties come into effect. Check the What's New messages when you jump into the game to see what challenge awaits you that day, and tackle it head-on to keep this new income stream of gold and Doubloons flowing.
These Daily Bounties don't just involve taking down named targets – they're mini-objectives that cover goals as diverse as handing in specific types of treasure, finding your way to a far-flung location or disposing of enemy mobs with a particular flourish. Get ready to flex a whole range of Sea of Thieves skills!
Fill Your Pirate Event Planner
If daily commitments are too rich for your blood or, conversely, you want more activities to keep you on the seas, Lost Treasures backs up the Bounties with additional weekly and one-off events. Every Friday during this update, players are invited to end the working week with a boost from the Fort Night event, which increases the returns on all Stronghold treasure taken from Skeleton Forts.
Meanwhile, the Reaper's Rewards event offers prizes of new emotes to pirates who double down on their Reaper duties – all you have to do is fill quotas of Reaper's Chests, Reaper's Bounties and Reaper's Bones Emissary Flags delivered to The Reaper's Hideout. Or go darker still and give your ship an undead makeover when the Blighted Bonus breaks cover: a promotion that brings some State of Decay sensibilities to Sea of Thieves' world, tempting pirates to take possession of the Blighted Flag, Sails, Hull and Figurehead!
The Hunter's Haul fishing event will also make a return during the Lost Treasures update, so make sure your rod and line skills are on point as there are Ancient Coins up for grabs to spend in the Pirate Emporium. What wonders can be found in the Emporium this month? A full Ruby Splashtail Ship Set and Splashtail Monarch cosmetics! Perfect.
You can even capitalise on your extra earnings by cashing in during the fixed Gold Rush windows each day, two separate hour-long slots that ensure even more bang for your booty. So whether you'll be gathering goods from Tall Tales, picking apart Forts for profit or filling your boots with the spoils of Daily Bounties, get this latest free Sea of Thieves update and claim your share of Lost Treasures!
Find Out More
For more information on the Lost Treasures update, including full release notes, visit the Sea of Thieves website. The update is available for free to all Sea of Thieves players who have bought the game on Xbox One or on Windows 10 PC, or players who have access to it with Xbox Game Pass.
Simply download and install the latest Sea of Thieves update to get access. New to Sea of Thieves? Join the fun with our Maiden Voyage, a narrative-driven tutorial experience separate from Adventure and Arena modes. New Sea of Thieves players will begin their travels within this scenario, which provides guidance and information to fledgling sailors.
What's more, we're officially coming to Steam June 3! Learn more about Sea of Thieves at http://www.xbox.com/seaofthieves, or join the ongoing adventure at http://www.seaofthieves.com/ where you can embark on an epic journey with one of gaming's most welcoming communities!