Films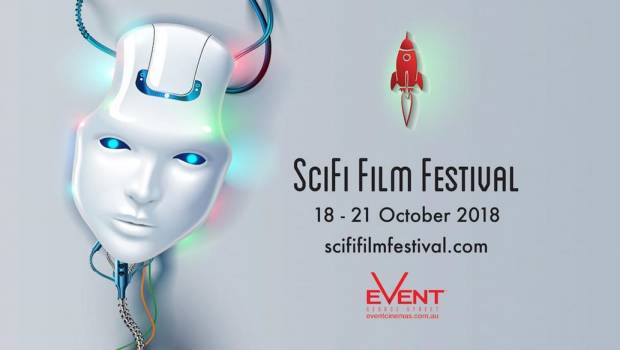 Published on September 5th, 2018 | by Damien Straker
SCIFI FILM FESTIVAL LAUNCHES 2018 PROGRAM
Australia's leading celebration of science-fiction cinema, the SciFi Film Festival, will celebrate its fifth anniversary with a wondrous line-up of breathtaking works from the planet's most visionary filmmakers.
From 18th to 21st October, Sydney audiences seeking an adventurous movie-going experience will converge on the Event Cinemas George St complex to view 25 groundbreaking genre works from 11 countries, including two world premieres, 18 Australian premieres and 3 New South Wales premieres.
Nine features and 16 short films will play across the four days of the SciFi Film Festival. Countries represented include Australia (6 films), the United Kingdom (5), the U.S.A. (4), Germany (2), Canada (2), Hong Kong (1), France (1), The Netherlands (1), Lebanon (1), Austria (1) and the Dominican Republic (1).
Opening Night  audiences  will  be  treated  to  a  thrilling,  unique  cinematic experience with the Australian premiere of Johann Lurf's ★. This towering achievement examines how the night sky and the deep void that lies beyond, has been portrayed on screen in 100 years of cinema. The Austrian 'constructuralist' has compiled starscapes from over 550 films, from the silent era to 2018, resulting in a captivating work of the imagination; a montage-doc that celebrates humanity's drive to explore the galaxy and how filmmakers have conjured that experience for us all.
Screening on Friday October 19 are films that will explore the 'alien' sub-genre. To commemorate the 25th anniversary of her iconic TV show 'The X-Files', Gillian Anderson will re-engage with her loyal fanbase with the Australian premiere of the conspiracy-theory thriller, UFO. Close out your Friday evening of extra-terrestrial interaction with CANARIES, a 'Shaun-of-the-Dead'-style comedy/sci-fi romp in which Welsh New Year's Eve partygoers must face off against an invading intergalactic force.
Across the weekend, the eclectic program will present films that have played such festivals as Karlovy Vary, FrightFest, Sitges and Sundance: Direct from its award-winning World Premiere at SXSW, PROSPECT stars the remarkable Sophie Thatcher in an interplanetary survival thriller; Dominican director Héctor Valdez remakes the Australian time-travel/rom-com 'The Infinite Man' as the delightfully off-kilter romp PEACHES; and, the rise of A.I. and the impact of sentient robotics is explored in the quietly-frightening documentary, MORE HUMAN THAN HUMAN.
Two Australian features are highlights of the 2018 features roster. Director Adam Harris will present his heart-warming 'Star Wars'-themed documentary, MY SAGA, followed by a Q&A session with his friend and co-host of SBS's 'The Feed' program, Marc Fennell; and, direct from its World Premiere at the Karlovy Vary Film Festival, the confronting dramatic feature REFLECTIONS IN THE DUST will be presented by writer/director Luke Sullivan for a session that is sure to inspire a passionate post-screening panel discussion, to be hosted by Fiona Williams, host of the hit podcast Eyes on Gilead and managing editor of SBS Movies.
Closing Night will be a celebration of '80s nuclear paranoia, with final-session honours bestowed upon the cult classic MIRACLE MILE. Writer/director Steve De Jarnatt's 1989 romantic thriller, starring Anthony Edwards and Mare Winningham and featuring a soundtrack by Tangerine Dream, will see the inside of a Sydney cinema for the first time in three decades. Ahead of the feature presentation, director Johann Earl will screen the World Premiere of his alien warzone actioner SHIFT, starring Bianca Bradey ('Wyrmwood: Road of The Dead').
Soaring visions and complex themes are central to the 2018 short films selection. The 16 shorts feature a selection of truly inspired cinematic works from such fields as animation (Alex Fung's EKO); steampunk-influenced animatronics (Fadi Baki Fdz's MANIVELLE: THE LAST DAYS OF THE MAN OF TOMORROW); music video aesthetics (Marc Adamson's AFTER WE HAVE LEFT OUR HOMES); experimental (Xavier Brydges' WESTALL); and, effects-heavy deep-space drama (Bobby Bala's THE SHIPMENT). One of Australia's most respected film journalists, Travis Johnson, will host a Q&A with attending directors on the passion for genre storytelling that drives their short film projects.
All features will be in Official Competition for festival honours in the categories Best Film, Actor, Actress, Music/Sound and Effects. Short films will vie for awards in Best Australian and Best International categories. The Jury Members will be announced closer to the festival dates.
The Sci-Fi Film Festival supports positive gender representation in its 2018 selection; 16 of the 25 productions (or 64%) feature a woman in one of the four key production positions. Five female directors have their works represented in the program – JESSICA CHAMPNEYS ('Star Wars: Dresca', US); SOPHIA SCHONBORN ('Spacedogs', Germany), KAT WOOD ('Stine', U.K.), FEMKE WOLTING (co-director, 'More Human Than Human', The Netherlands) and EMILY LIMYUN DEAN ('Andromeda', Australia/U.S./Germany).
Making its debut in 2018 is The SciFi Film Festival Vanguard Award, presented to an individual whose unique creative endeavours display a determination and fearlessness in the face of adversity. The inaugural honouree will be 2000 Sydney Paralympian-turned-actress, Sarah Houbolt, star of REFLECTIONS IN THE DUST.
The 2018 SciFi Film Festival is the first to be overseen by program director Simon Foster, managing editor of the website Screen-Space and a veteran film industry journalist, broadcaster and commentator. Foster previously served as Head of Jury at The Night of Horror/Fantastic Planet Film Festival as well as jury and panel duties at such notable events as Monster Fest, The Byron Bay International Film Festival, Sydney Underground Film Festival, the MIFF sidebar Telescope, Melbourne Documentary Film Festival and the South Australian Screen Awards. Founder and festival director Tom Papas, who maintains stewardship in all other capacities, handed him the 2018 programming reins in late 2017.
FILMS: 25
Features – 9
Shorts – 16
WORLD PREMIERES: 2
SHIFT (Short Film; Session 10)
THE SHIPMENT (Short Film; Session 8)
AUSTRALIAN PREMIERES: 18
STAR (Feature; Session 1)
UFO (Feature; Session 2)
CANARIES (Feature; Session 3)
INVADERS (Short Film; Session 3)
STAR WARS: DRESCA (Short Film; Session 4)
MELOCOTONES (PEACHES; Feature; Session 5)
LIEBESBRIEF (Short Film; Session 5)
PROSPECT (Feature; Session 6)
METTA VIA (Short Film; Session 6)
REFLECTIONS IN THE DUST (Feature; Session 7)
EKO (Short Film; Session 8)
STINE (Short Film; Session 8)
THOSE WHO CAN DIE (Short Film; Session 8)
ANDROMEDA (Short Film; Session 8)
AFTER WE HAVE LEFT OUR HOMES (Short Film; Session 8)
SPACEDOGS (Short Film; Session 8)
MANIVELLE: THE LAST DAYS OF THE MAN OF TOMORROW (Short Film; Session 9)
WESTALL (Short Film; Session 2)
THALAMOS (Short Film; Session 8)
NEW SOUTH WALES PREMIERES: 3
MY SAGA (Feature; Session 4)
ZACKMAN (Short Film; Session 8)
MORE HUMAN THAN HUMAN (Feature; Session 9)
CLOSING NIGHT:
MIRACLE MILE  30th Anniversary Screening
First New South Wales screening since its original limited release.
BY COUNTRY:
6 – AUSTRALIA (Westall; My Saga; Reflection in the Dust; Andromeda; Thalamos; Shift)
5 – U.K. (Canaries; Invaders; Eko; Stine; After We Have Left Our Homes
4 – U.S. (UFO; Star Wars Dresca; Prospect; Miracle Mile)
2 – GERMANY (Liebesbrief; Spacedogs)
2 – CANADA (Metta Via; The Shipment)
1 – HONG KONG (Zackman)
1 – FRANCE (Those Who Can Die)
1 – THE NETHERLANDS (More Human Than Human)
1 – LEBANON (Manivelle The Last Days of The Man of Tomorrow)
1 – AUSTRIA (Star)
1 – DOMINICAN REPUBLIC (Melocotones)
FEMALE DIRECTORS: 4
JESSICA CHAMPNEYS (Star Wars: Dresca)
SOPHIA SCHONBORN (Spacedogs)
KAT WOOD (Stine)
EMILY LIMYUN DEAN (Andromeda)
HASHTAGS:
#scififilmfestival
#sfff #sfff18, #sfff2018
SOCIAL MEDIA: 
FACEBOOK: https://www.facebook.com/scififilmfestival/
TWITTER: @scififilmfest