Events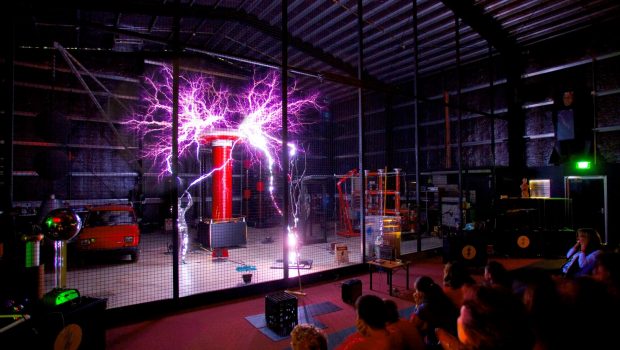 Published on June 20th, 2022 | by Adrian Gunning
Scienceworks lights up for the opening of Illuminate: How Science Comes to Light
Scienceworks has unveiled a new exhibition that transports visitors to a neon-filled festival-like environment where they can explore the science behind one of our most valued resources, light.
Illuminate: How Science Comes to Light transforms the special exhibition gallery at Scienceworks into a dedicated space for families to engage with science, technology, engineering, and math (STEM) by tinkering with light in all its forms through hands-on, interactive play.
Visitors will be transported to a bush setting at dusk where the lights are twinkling, and a music festival is kicking off. Whether you're jamming with other laser beats drummers, exploring how machines see or cutting shapes on the shadow stage, visitors will feel like the main act, playing with light and shade. Like any good festival, there are also moments of rest, quiet contemplation and creativity as well as collaborative art elements exploring the science of colour mixing at the pixel mixer and colour connections exhibits.
The exhibition is divided into six zones, including:
The Refractory: Use tools that bend light to make things appear bigger or closer so that we can see things better.
Sensor Sonic: Dance through sensors to make percussive beats, spin dials to program music with colour and scan barcodes to create your own soundscape.
Wonder Vision: Disappear behind an invisibility shield and find out how our eyes see by playing with a simple camera that turns everything upside down.
Chroma Zone: Mix assorted colours by adding or removing parts of the visible light spectrum.
Light & Shade: Light travels in a straight line, when it is blocked, a shadow is cast. Grab your friends and family, get up on stage, and dance with shadows.
Mirror Mirror: Create patterns of colour with a giant kaleidoscope and experiment with your appearance using a mix of image morphing mirrors.
Danny Pearson, Minister for Creative Industries said: 'There's no better way to learn about science than through hands-on activities and play – and the Illuminate exhibition provides so many opportunities to do just that.'
'The exhibition will light up curious minds of all ages and adds to the exciting new experiences across our museums this year.'
Jonathan Shearer, General Manager, Scienceworks said: 'As Scienceworks celebrates its thirtieth anniversary, we are thrilled to open this new exhibition. We wanted to inject our brand of fun, whole-body learning through play to the topic of light and optics. Illuminate: How Science Comes to Light is where you can experiment with light sensors, lenses and lasers to explore colour, sight and the way light moves through different materials. Explore all of this together with your friends and family for an active and creative learning experience.'
Since opening its doors in 1992, exhibitions such as Illuminate: How Science Comes to Light have been an instant success.
Lynley Crosswell, CEO Museums Victoria said: 'Scienceworks has inspired and nurtured more than 10 million inquisitive minds since first opening its doors thirty years ago.'
'Our new experience Illuminate: How Science Comes to Light encourages play, exploration, and creativity reflecting our museum's role in fostering life-long engagement with STEM and preparing young Victorians for the science and technology-led workforce of the future.'
'Today, Scienceworks attracts around 500,000 visitors per year, double the number of visitors it was originally built for 30 years ago. At the forefront of science education in Victoria, Scienceworks continues to introduce millions of children to STEM through its interactive and innovative exhibitions and programs.'
Throughout the opening weekend of Illuminate: How Science Comes to Light and for Scienceworks' upcoming winter school holiday program, visitors will enjoy amphitheatre shows and activities that celebrate the science behind light. These include:
The Colour Combo Show
12:30pm & 1:30pm | Free with museum entry
Light makes our world colourful! Explore how adding and subtracting different light creates a vivid array of colours.  What would the world really look like through rose tinted glasses? Discover colour in this 20-minute live show jam packed with vibrant demonstrations.
Glow Lab
10:30am – 3:00pm | Free with museum entry
Explore light and colour in Glow Lab. Make your own party hat and decorate it with invisible UV pens and fluorescent markers to see it glow under UV light. You can even take your colourful creation home!
Light Demonstrations
10:30am – 3:00pm | Free with museum entry
Have some fun with mini light demonstrations in the STEM Lab. Can you bend light? Write your name using light? Or trick your brain into seeing colour that is not there?
Illuminate: How Science Comes to Light
14 May 2022 to July 2023 – Tickets on sale now
Scienceworks, 2 Booker Street Spotswood VIC 3015
Price range $0 – $12 plus museum entry $0 – $15
Website: https://museumsvictoria.com.au/scienceworks/whats-on/illuminate/x`