Comics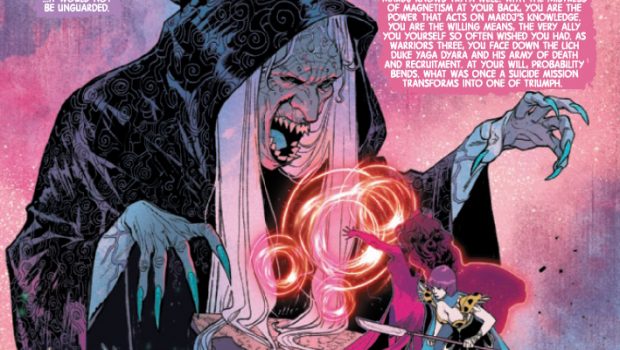 Published on March 12th, 2023 | by Tim Chuma
Scarlet Witch #3 Review (2023)
Summary: A good self-contained story with the wrap-around narrative at the start and end. I did not feel lost not knowing what had happened before though.
Polaris is visiting her sister the Scarlet Witch's magic shop when the "last door" seems to open by itself. The Scarlet Witch says it never does so and it turns out it is someone from Sub-Atomica coming for their aid. They both shrink down and go off on an adventure in that realm.
This was an interesting story in that there was not really any dialog when they were off in Sub-Atomica (I think maybe a different place than the Quantum Realm or they would have called it that) so it makes it a showcase for the artwork in this issue.
There is a bit of a wrap-around for the main storyline at the start and end of this issue but it mainly a stand-alone story so I did not feel like I missed anything by skipping one of the issues in this series so far.
Worth it if you are a fan of the Scarlett Witch and want to see her off doing her own thing. This series does seem to have strong emphasis on women characters in general. Maybe not as much as She Hulk but still fairly good.
Comic details:
Writer: Steve Orlando
Penciler: Sara Pichelli
Cover Artist: Russell Dauterman
Publisher: Marvel
Published: March 08, 2023