Games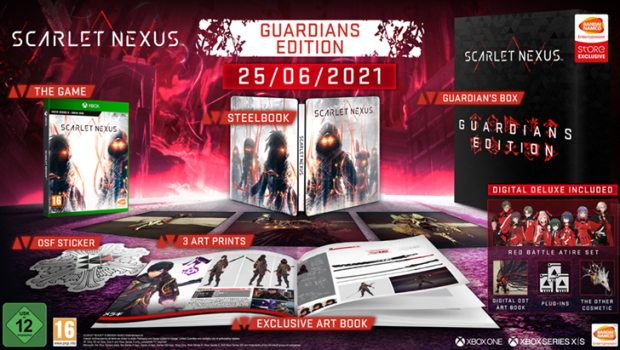 Published on March 19th, 2021 | by Adrian Gunning
SCARLET NEXUS to launch on June 25th with pre-orders available now
Pre-orders for SCARLET NEXUS are available now! The game will be available from June 25, 2021 on Xbox Series X|S, Xbox One, PlayStation®5, PlayStation®4 and PC Digital.
Featuring a dual story, begin your adventure with either Yuito Sumeragi, an energetic recruit from a prestigious political family, or Kasane Randall, the mysterious scout whose power and skill has gained great notoriety among the OSF. As their different experiences interweave with each other, it is only then that you will reveal the full story and unlock all the mysteries of SCARLET NEXUS caught between technology and psychic abilities.
Check out the latest trailer revealing a bit more about Kasane and her party members, as well as the teaser of the upcoming SCARLET NEXUS animation series produced by Sunrise: https://youtu.be/-FUCGHBjqXc
SCARLET NEXUS will be available in Standard, Deluxe and Guardian editions with an early purchase bonus – available to pre-order on digital stores and with participating retailers only.
The Deluxe Edition (digital only) includes:
SCARLET NEXUS game, a Digital Art Book, the Original Soundtrack, Special Battle Attire Set -Red-, Cosmetic "The Other" and SAS Plug-in
SCARLET NEXUS game, 3 Art Prints, a hardcover Art Book, OSF Sticker, a steel book and all the digital items from the Deluxe Edition.
Pre-order bonus includes:
Special Battle Attire Set -Audio-, Cosmetic "Dream Catcher", Cosmetic "Face Vision Seal" and Attachment Set "Baki".