News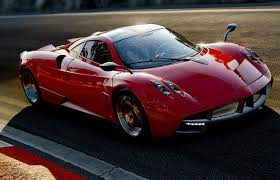 Published on October 11th, 2013 | by admin
SOME SAY THIS ONE CAN ACTUALLY BE BEATEN – TOP GEAR RELEASES THE STIG'S DIGITAL COUSIN
BBC Worldwide and Xbox collaborate to produce a Digital Cousin for The Stig, making his debut in Forza Motorsport 5 for the new Xbox One on November 22nd. 
"@BBC_TopGear Some say he can be beaten! Top Gear releases the Stig's Digital Cousin with Forza Motorsport 5 #TheStig #Forza5 http://www.youtube.com/watch?v=c6u0ioMnWS4&feature=youtu.be"
Frustrated petrol-heads and gamers everywhere will be donning their virtual crash helmets in anticipation of the imminent release of "Forza Motorsport 5"[1] where they will have the first opportunity ever to try and beat the BBC motoring entertainment TV show's white-suited test driver The Stig – albeit his Digital Cousin.
In an exclusive new video released today by BBC Worldwide, the tame racing driver's digital counterpart can be seen clocking up some perfect lap times around a test track, while the Xbox One Racing Team V8 Supercar crew are unaware. Unlike the real-life Stig however, it's rumoured that for the very first time ever this will be a more fallible Stig – and one that can be beaten – but only if you're really good! Players will be able to test themselves against him in "Forza Motorsport 5", coming exclusively to Xbox One this November 22nd.
This weekend be sure to tune in to the 2013 Supercheap Auto Bathurst 1000 on Network Seven to see the Xbox One Racing Car make its debut on Mount Panorama. Catch the wildcard entry with international champion race car drivers, Andy Priaulx and Mattias Ekström take to the wheel during the competition.
Duncan Gray, Top Gear's Commercial Director at BBC Worldwide says: "Trying to beat The Stig on track has long been the petrol-fuelled dream of Top Gear fans everywhere and whilst Jeremy and the team did not want to frustrate or embarrass gamers by putting forward the real Stig, they did help us track down a potentially more fallible relative of their tame racing driver."
Dan Greenawalt, creative director on "Forza Motorsport 5", said "The partnership between Forza Motorsport and Top Gear has featured many highlights over the years. Including The Stig's digital cousin in the game is a natural extension of that creative partnership. Now, on top of racing against the best virtual drivers in the world online or against brand new cloud-powered Drivatar opponents in career mode, players can tackle the digital cousin of one of the world's most celebrated racing icons."
In "Forza Motorsport 5", players will be able to experience Top Gear in numerous ways throughout the game. Players will be able to race the Top Gear test track – every corner from Hammerhead to Gambon meticulously recreated with unprecedented accuracy. An all-new Career Mode will feature events and opponents that are true to each car's automotive heritage. "Forza Motorsport 5" career events are organized by car genre – including vintage cars, sports compacts, grand touring, exotics and more. Jeremy, James, and Richard will be on hand, providing their unique perspective through voiceovers on the collection of cars featured in the career mode events.
Click below to view the video on YouTube  – or via TopGear.com
---
[1] Rated G in Australia; AUD$89.95 RRP (Limited Edition AUD$99.95 available only at EB Games)