Switch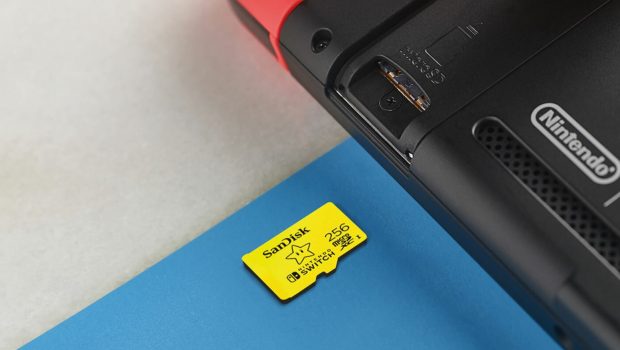 Published on July 16th, 2023 | by James Wright
SanDisk microSDXC Card for Nintendo Switch Review
Summary: The SanDisk microSDXC Card for Nintendo Switch is a true power-up for this console
It's-a me SanDisk microSDXC Card for Nintendo Switch err… Mario!
Welcome to the all-new power-up for your Nintendo Switch from SanDisk that is like a Super Mushroom from Super Mario Bros. The SanDisk microSDXC Card has been designed for the Nintendo Switch courtesy of its (up to) 100MB/s write and 90MB/s read times on this 256GB card that we reviewed and has an affordable RRP of $79AUD (July 2023).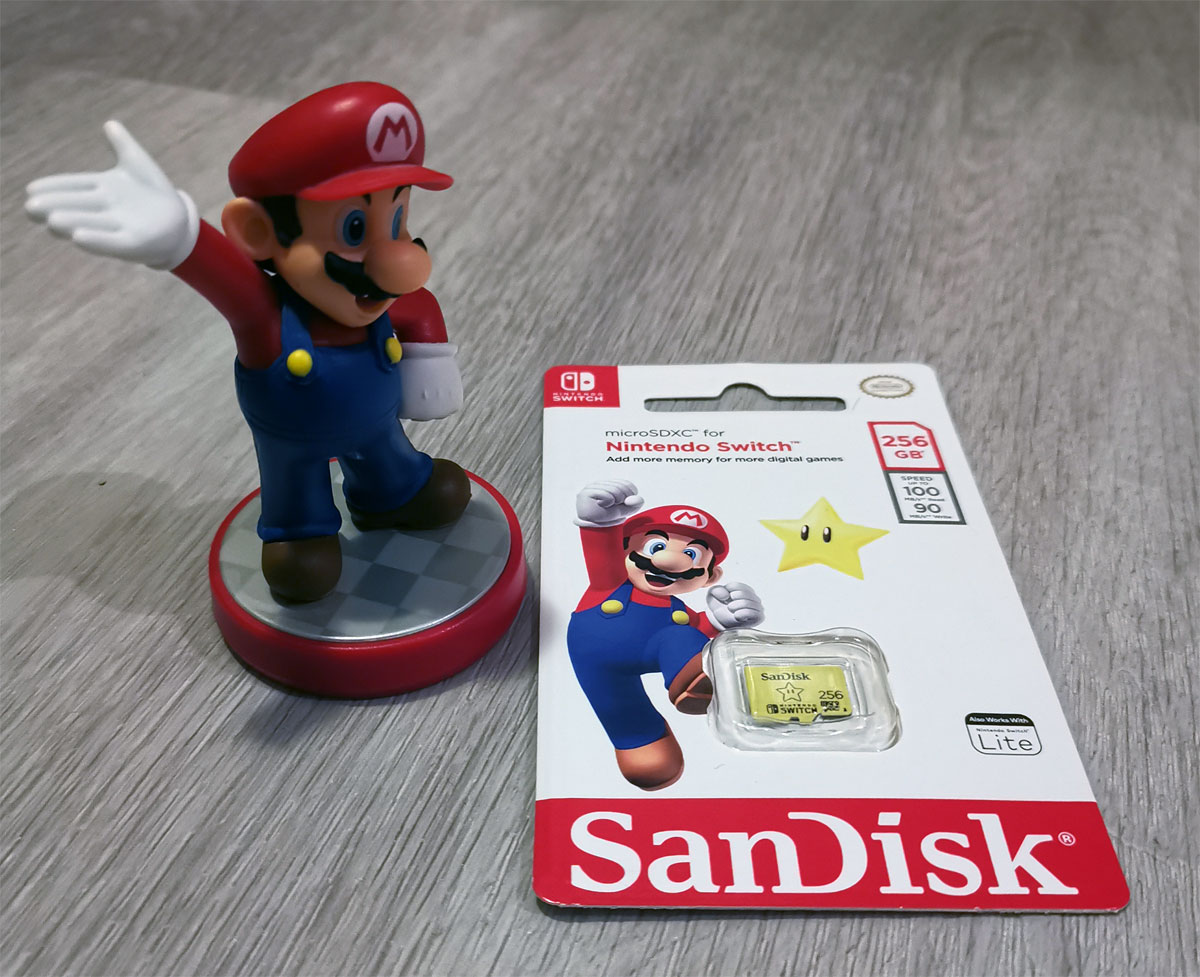 If you're looking for other sizes, there is also a 64GB option at $29, a 128GB one at $59 and also a whopping 512GB that comes in at $179AUD (June 2023). So depending on budget, there is a card for you and sometimes these cards can be found cheaper if you do a search online, however we would recommend you purchase it from a reputable seller.
As it is a microSDXC U3 card, it can be used by other compatible devices that makes it ideal for recording 4K Ultra HD or additional storage on smart devices. Another highlight is that the card is that it is water proof, temperature proof, shock proof and x-ray proof that adds (almost) post-apocalyptic protection to your Switch games and save data.
In terms of packaging (kudos to SanDisk and Nintendo) because it's a true celebration of Mario that features our favourite plumber in his iconic pose of punching the air plus one of the gold stars from the game, Super Bros. Further, the microSDXC is bright yellow and also has an image of the Super Mario Bros. star branded onto the card that mirrors the gamer aesthetics perfectly.
However check this out…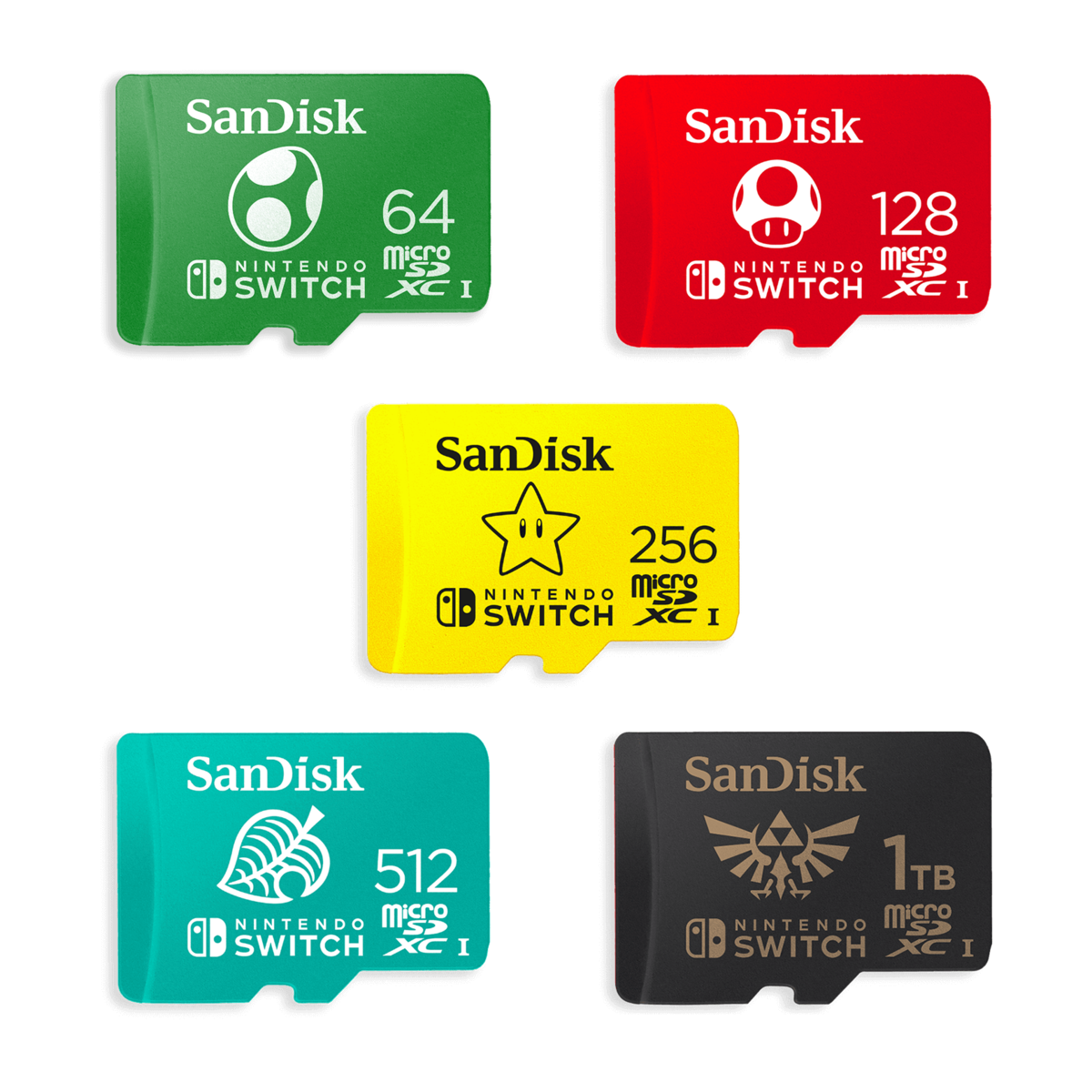 Wow hey? Yep, there are other designs also available!
To use the card, you simply place it into the microSDXC Card slot on your Nintendo Switch and your console will immediately detect it. If you do use the card on another device first, you may need to reformat it through the "Format microSD Card option" that is found in the system settings on the console itself. However once it's installed, the 256GB card can conservatively store around 35-games, give or take.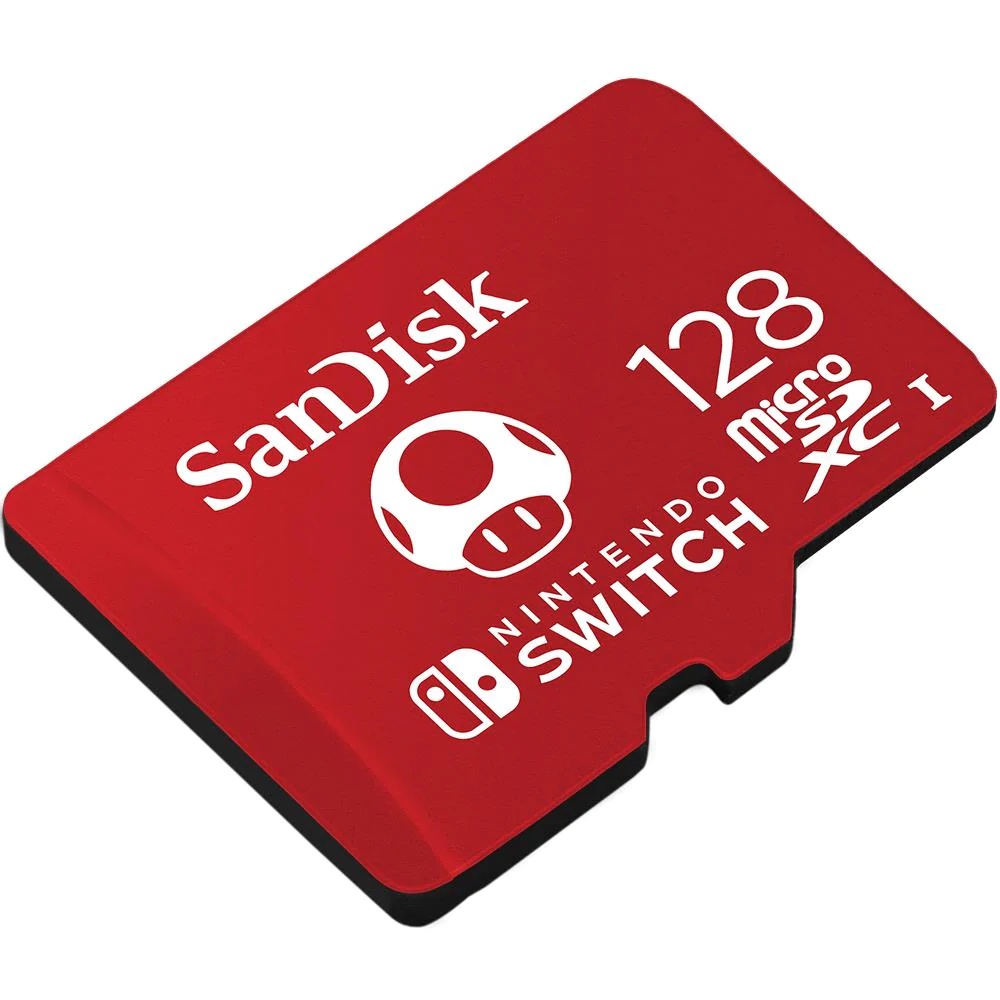 The latest Zelda game, Tears of the Kingdom comes in at 16.3GB, however most games on the Switch are not that large fortunately which makes this card perfect for a storage upgrade. According to Nintendo, the yet to be released new Mario Bros game will be around 4.5GB, so as you can see, a 256GB card can hold plenty of titles.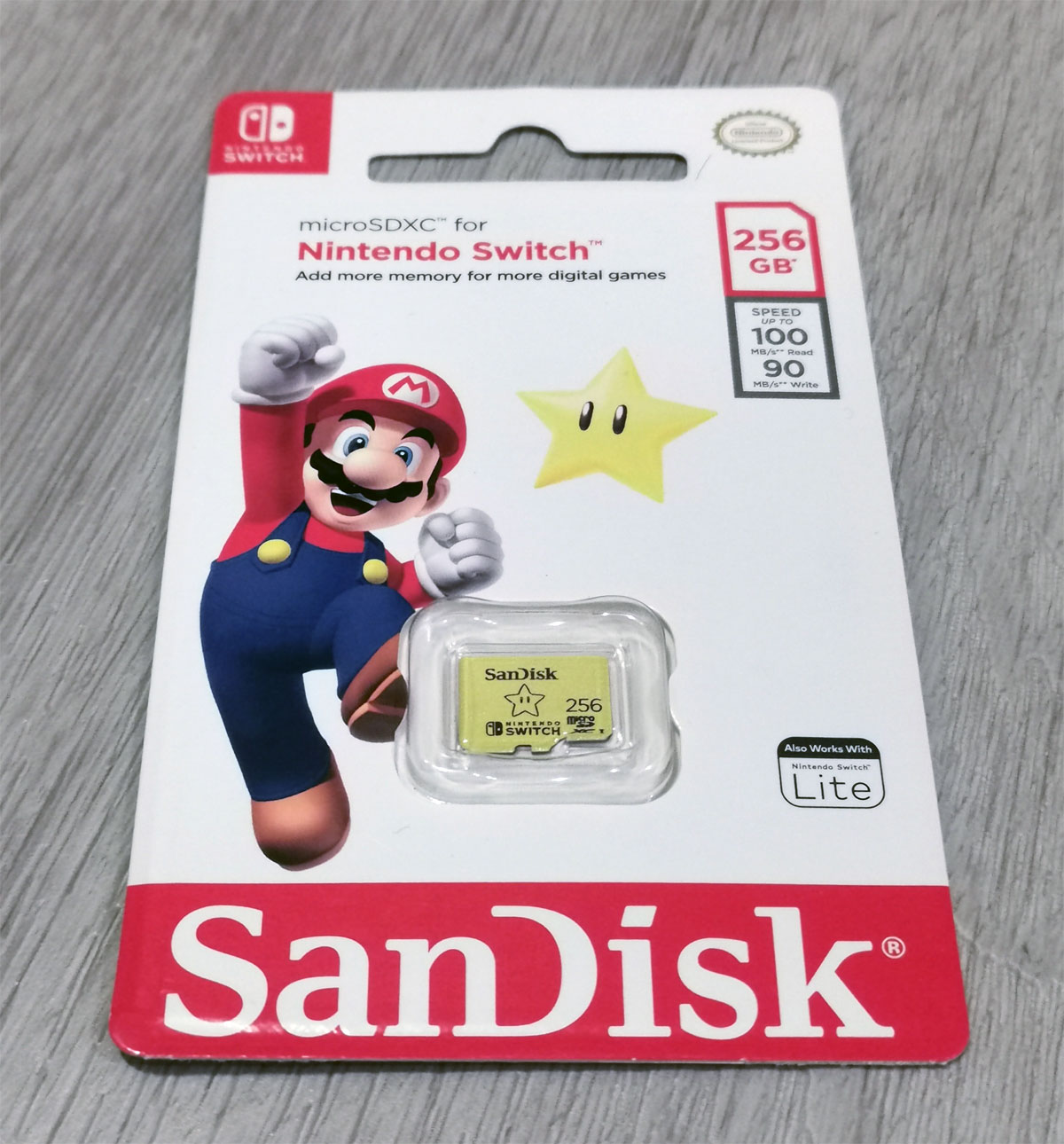 Final Thoughts?
The SanDisk microSDXC Card for Nintendo Switch is not only affordably priced but comes in different sizes to suit needs and budgets but more importantly, it is a very fast card that allows you to store a plethora of games that increases the portability nature of one of the world's most popular gaming consoles.
Highly Recommended!
Product Overview
The officially-licensed SanDisk microSDXC card for the Nintendo Switch provides dependable, high-performance storage for your console.
Nintendo®-Licensed for Nintendo Switch
The SanDisk microSDXC card for the Nintendo Switch game system is designed to provide dependable storage as you conquer new levels.
Get in the game fast
With transfer rates up to 100MB/s2, the SanDisk microSDXC card for Nintendo Switch delivers consistent high performance, so you can load games fast.
Store more, carry less
With the SanDisk microSDXC for Nintendo Switch, you're able to keep your favourite digital games in one place so you're ready for game time anytime.
Lifetime limited warranty
The SanDisk microSDXC card for Nintendo Switch is backed by a lifetime limited warranty3, so your games always have a dependable space to call home.
Key Features
Design, tested and approved for Nintendo Switch™ game system
128GB1 of additional storage
Transfer rates up to 100MBs2 to get you started quicker
Single card to store multiple games
Lifetime limited warranty3
1 GB=1,000,000,000 bytes. Actual user storage less
2 128GB-512GB: Up to 100MB/s read speed; up to 90MB/s write speed. 64GB: Up to 100MB/s read speed; up to 60MB/s write speed. Based on internal testing; performance may be lower depending upon host device interface, usage conditions, and other factors. 1MB = 1,000,000 bytes.
3 30-year warranty in Germany, Canada, and regions not recognizing lifetime warranty. See www.sandisk.com/wug.