Hardware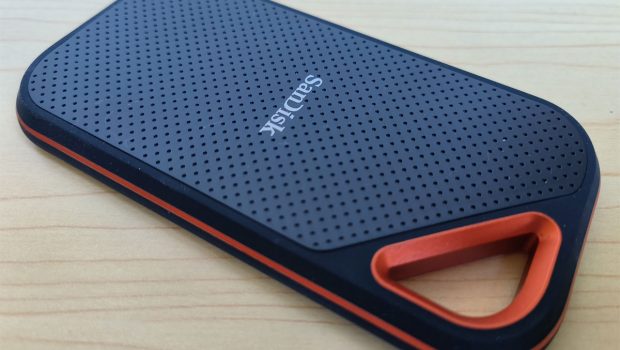 Published on October 3rd, 2022 | by Admin
SanDisk Extreme Pro Portable SSD Review
Summary: SanDisk Extreme Pro Portable SSD is a speed demon if you have the hardware to run it!
The SanDisk Extreme Pro Portable SSD V2 is the perfect external SSD that not only offers high speed read/write times, it also adds an almost apocalyptic proof shell, including 256-bit AES hardware-based encryption password protection to ensure your data is safe. For further peace of mind, it offers a 5-year warranty so you can rest assured that your data is safe on the SanDisk Extreme Pro Portable SSD V2.
In order to maximise the advertised read/write speeds of up to 2000MB/s, you do need access to a USB-C port that supports USB 3.2 Gen 2x2which allows for two lanes of 10Gpbs that combined, gives you access up to 20Gbps. However it will work on all USB and USB-C ports, but your mileage will vary. Another highlight of the device is that you can connect it to smartphones that makes it quite a versatile portable SSD.
Unboxing
Well-packed from SanDisk, the first thing that you will notice about this device is how compact it is and more importantly, it feels quite rugged in its design that will hopefully protect your data from drops, including liquids due to its IP55 rating. The unit is also comprised of rubber and aluminum with a neutral colouring of orange and black. The drive is also available in two sizes, 1TB (reviewed), 2TB and 4TB with the base model retailing for around $379UD (October 2022).
In terms of size, the SanDisk Extreme Pro Portable SSD V2 measures at 57.8W x 10.3D x 110.8H mm with a weight of just 0.078 kg that allows you to throw it in your backpack or even pocket for that matter. Also supporting the user's data requirements of different connections, is that it comes with two cables, USB-C to USB-C and USB-C to USB-A.
While the drive works immediately once connected to your PC, Mac or smartphone, if you want to use the SanDisk Security Software, this will need to be installed separately and is compatible with either PC or Mac. The software will then allow you to protect your data courtesy of its 256-bit AES hardware encryption.
Benchmarks
As mentioned, you need access to a USB 3.2 Gen 2×2 port to experience the "super speed"of up to 2000MB/s for read and write, however via a USB-C connection on our test machine we managed to reach the following speeds via Crystal DiskMark 6.0 (which are still impressive for an external drive);
Final Thoughts?
The SanDisk Extreme Pro Portable SSD V2 is a very impressive external drive that offers some spectacular speeds if you have the right architecture. Given the read/write speeds of up to 2000MB/s, it makes it an ideal product for 4K, content creators and photographers. Additionally, it offers some unparalleled protection in both physical and data sense.
Highly Recommended!