Hardware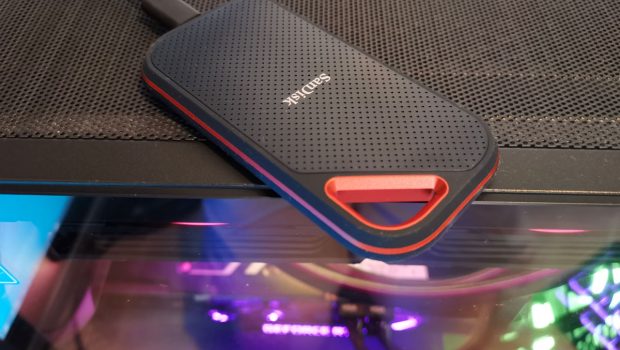 Published on January 24th, 2023 | by Tony Smith
SanDisk Extreme Pro Portable SSD Review (2TB)
Summary: Thee SanDisk Extreme Pro Portable SSD is a portable speed demon!
The SanDisk Extreme Pro Portable SSD has been built for true portability and more importantly has been designed to survive (well almost) a post-apocalyptic scenario courtesy of its IP55 rating that protects it from splashes and dust, including drops from up to 2 metres courtesy of its protective case. Unlike standard USB thumb drives or other portable SSD's, the SanDisk Extreme Pro Portable SSD gives an impressive level of protection to your precious data. Another highlight is that the device uses NVMe solid state performance technology that boasts read / write speeds of up to 2000MB/s for lighting fast access to this portable SSD.
Full Specifications
Capacity: 1 TB – 4TB
Interface: USB 3.2 Gen 2 x2 Connector
USB-C Compatibility: USB 3.2 Gen 2×2 (20Gb/s), USB 3.0, USB 2.0
In order to maximise the advertised read/write speeds of up to 2000MB/s, you do need access to a USB-C port that supports USB 3.2 Gen 2x2which allows for two lanes of 10Gpbs that combined, gives you access up to 20Gbps. However it will work on all USB and USB-C ports, but your mileage will vary. Another highlight of the device is that you can connect it to smartphones that makes it quite a versatile portable SSD.
SanDisk also provide all the cables to start using the SSD and to install it onto your PC or Mac, you simply connect it to your computer and it will automatically appear as an external drive. Once out of the box, you do notice that it is a slightly heavier unit than non-protective drives but this is a moot point. I also like the carabiner  loop on the top right hand hand which doe3s makes it easier to carry or you can clip it onto something. The exterior also has a textured grip plus a bumper around the unit to help disperse any force if you were to drop the SanDisk Extreme Pro Portable SSD. For capacities, there is 1, 2 (reviewed) and 4TB.
Unboxing Gallery
In terms of size, the SanDisk Extreme Pro Portable SSD V2 measures at 57.8W x 10.3D x 110.8H mm with a weight of just 0.078 kg that allows you to throw it in your backpack or even pocket for that matter.
Also supporting the user's data requirements of different connections and as mentioned, is that it comes with two cables, USB-C to USB-C and USB-C to USB-A.
While the drive works immediately once connected to your PC, Mac or smartphone, if you want to use the SanDisk Security Software, this will need to be installed separately and is compatible with either PC or Mac. The software will then allow you to protect your data courtesy of its 256-bit AES hardware encryption.
Benchmarks
As mentioned, you need access to a USB 3.2 Gen 2×2 port to experience the "super speed"of up to 2000MB/s for read and write, however via a USB-C connection on our test machine we managed to reach the following speeds via Crystal DiskMark 6.0 (which are still impressive for an external drive);
Final Thoughts?
The SanDisk Extreme Pro Portable SSD V2 is a very impressive external drive that offers some spectacular speeds if you have the right architecture. Given the read/write speeds of up to 2000MB/s, it makes it an ideal product for 4K, content creators and photographers. Additionally, it offers some unparalleled protection in both a physical and data sense. Oh… also ideal for travellers and those who take way too many photos on their smartphones.
Features
1 2 4 Finish First with Powerful SSD Performance
From the brand trusted by professional photographers worldwide, the SanDisk Extreme PRO® Portable SSD provides powerful solid state performance in a rugged, dependable storage solution.
Nearly 2x as fast as our previous generation!
Fast and Dependable
Get powerful NVMe™ solid state performance featuring 2000MB/s2 read/write speeds in a portable drive that's reliable enough to take on any adventure.
Work Faster and Longer
Save time storing and transferring data with the forged aluminum chassis that also acts as a heatsink to deliver higher sustained speeds.
Travel Worry-Free
Get peace of mind when you're out in the world thanks to a 5-year limited warranty3 and a forged aluminum chassis-silicon shell combo that offers a premium feel and added protection.
Tough Enough to Take with You
Up to two-meter drop protection and IP55 water and dust resistance,5 and a handy carabiner loop for securing to your belt or backpack all make this drive rugged enough to take anywhere.
Encryption for Extra Security
Help keep private content private with the included password protection featuring 256 bit AES
hardware encryption.4
Professional-Grade Storage
From SanDisk®, the brand professional photographers worldwide trust to handle best shots on their toughest assignments.