Hardware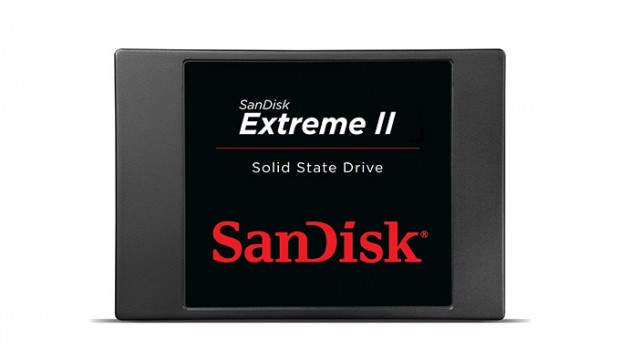 Published on September 16th, 2013 | by Admin
SanDisk Extreme II 240GB Review
SanDisk continue to be a contender in the world of Solid State Drives (SSD) by not only offering performance but great value for money. For the uninitiated, SSD's are now the norm and future of hard drives and are considerably faster than traditional drives due to the technology used. In this case, it's the advanced 19 naometer (nm) manufacturing process that really take the flash memory architecture to a whole new level.
Compared to the original Extreme SSD, SanDisk have made some subtle differences that now include the new Marvell 88SS9187 controller plus a few changes to the structure of the drive which in turn creates a faster and more reliable unit. Add in the nCache acceleration technology and this drive is perfect for a plethora of uses from computer enthusiasts, photographers and gamers for example. This is also not to say that end-users won't notice a huge difference either and should definitely investigate this drive. The Extreme II also uses less power than traditional drives, is considerably cooler and boasts some impressive read/write times.
Specifications

•  Available capacities: 120 GB, 240 GB and 480 GB**
•  Dimensions: 2.75 x 3.96 x 0.28 in. (69.85mm x 100.5mm x 7.0 mm)
•  Operating temperature: 32ºF to 158ºF (0ºC to 70 ºC)
•  Storage temperature: -67ºF to 185ºF (-55ºC to 85ºC)
•  Interface: SATA Revision 3.0 (6 Gbit/s)
•  Shock: Resistant up to 1500 G @ 0.5 m/sec
•  Vibration (Operating/Non-operating) : 5 gRMS, 10-2000 HZ / 4.9 gRMS, 7-800 HZ
•  Power Consumption (active): 0.22w
•  Support: Five-year limited warranty in the US; five-year warranty elsewhere
There are three drives available in the Extreme II series that include 120GB ($199AUD), 240GB ($349AUD) and the 480GB ($599) model. The drive also boasts a 5-year warranty with SanDisk stating that the drive can deliver over 80 terabytes of written data over its lifetime. Given these figures, most drives generally outlive their expected warranty. The drive is even compatible with all SATA 6Gb/s motherboards and backward compatible with other SATA speeds.
Features

•  Controller  Marvell 88SS9187 (Monet)
•  NAND  SanDisk 19nm eX2 ABL MLC NAND
•  Standards  7mm 2.5-inch design, SATA 3, SATA 2, SATA
•  Sequential Read  Up to 550MBps
•  Sequential Write  UP to 500MBps
•  4KB Random Read  Up to 95K IOPS
•  4KB Random Write  Up to 78 IOPS
•  Endurance  80TB Written
•  OS supported  Windows, Mac, Linux
Test System
In relation to testing and benchmarking the drive, users need to be warned that there is not just one definitive score as these results are dependent on just about everything from type of RAM, motherboard and CPU speeds. If Windows is having a bad hair day… this can cause the results to be pushed out as well! Even so, after our testing of the Extreme II, our results did mirror that those of SanDisk.
System Specifications

•  Intel Core i7-3770K
•  ASUS Maximum V Gene LGA Intel Z77
•  8GB Corsair Vengeance Memory DDR4 @ 1600Mhz
•  Crucial m4 SSD 256GB Drive
•  Windows 8 64-bit
Installation
The drive can be installed in a variety of computer configurations from notebooks to desktops. The first thing that struck me about the drive was the size and weight which is almost non-existent. Installing into our test machine was quite easy thanks to our CoolerMaster case which had a slot for the unit. Last but not least, we needed to connect it to the PC and then power the drive itself. It would have been a conservative 5 minutes to install it into our test machine.
Once the drive was installed into our test machine, Windows 8 booted up considerably faster on our clean system at just under 12 seconds. We also tested a variety of other programs such as manipulating large files in both excel and Photoshop CS5, copying large files (5-10GB) and the drive produced some great results. Copying a 1GB file to the drive happened in under 5 seconds and a 20GB file copied at 120 seconds.
PCMark 8
We tested the Extreme II with PCMark 8 which is one of the world's leading benchmarking programs for PCs and is considered a must have software package for computer enthusiasts and gamers who want to get the most out of their systems. From our testing, the drive scored an impressive 4973 which is definitely on the higher end of the spectrum. PCMark 7 actually scored 5473.
Crystal DiskMark
Crystal DiskMark is another excellent software package that tests the speed of various hard drives and it produced some impressive results again. The Crystal DiskMark (read) results were 33.12 (4K), 321.2 (4K @ 32QD), 339.3 (512K) and 524.5 (Sequential). With write speeds, the program reports 319.2 (4K @ 32QD), 34.3 (4K), 463.1 (512K) and 520.2 (Sequential).
ATTO Disk Benchmark
ATTO is a great program for pushing the drive to extremes and in the final test, the Extreme II scored 545.23MB/s read and 522.92MB/s write times which is where you want an SSD unit to be.
Final Thoughts?
The SanDisk Extreme II is a very powerful drive that offers great performance and exceptional read/write speeds. The drive is relatively well priced compared to its competitors and if you're looking to upgrade, wish to use high intensity application/games or have a drive specifically for operating system, than we could happily recommend the Extreme II. Faults? None at all!