Hardware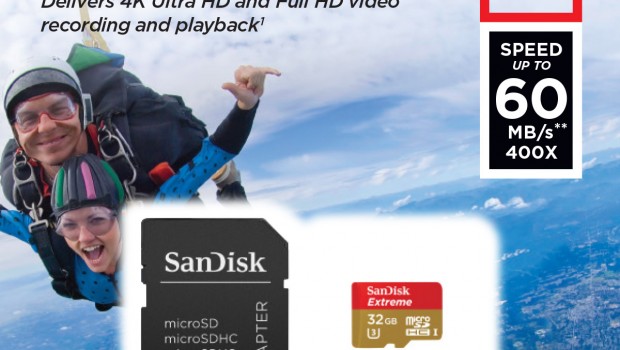 Published on October 15th, 2014 | by admin
SanDisk Announces SanDisk Extreme® microSD™ UHS-I Memory Cards for Action Cameras – Built to Match the Harshest Conditions
Enables the Next-Generation of 4K Ultra HD Video Capture 
Sydney, Australia, Oct. 15, 2014– SanDisk Corporation (NASDAQ: SNDK), a global leader in flash storage solutions, has announced the SanDisk Extreme® microSDHC™/microSDXC™ UHS-I memory cards for action cameras, to give extreme sports enthusiasts the speed, quality, capacity, and durability they need to confidently capture the moment in breathtaking detail. Now rated UHS Speed Class 3 (U3)1, these fast, high-performing cards are well-matched with action cameras, as they deliver the performance required to capture unforgettable Full HD and 4K Ultra HD action video2. The SanDisk Extreme microSDHC/microSDXC UHS-I memory cards for action cameras offer read/write speeds of up to 60MB/s/40MB/s* to enable users to capture the most daring adventures in stunning detail.  With the new cards, action camera users can quickly transfer files and view their thrilling adventure on today's new 4K TVs and monitors.
The SanDisk Extreme microSD UHS-I cards are built for extreme durability3.  Perfect to endure all the action, the cards are waterproof, shockproof, and X-ray proof, and are capable of operating in temperatures ranging from -13 to 185 degrees Fahrenheit.
"We are committed to offering customers a range of memory solutions that stand up to environmental extremes, including temperature, water, shocks and x-rays. These new memory cards give users the confidence that their high quality video will be there to share with others when the adventure is done," said George Saad, Country Manager, ANZ, SanDisk.
SanDisk  also recently announced the 512GB** SanDisk Extreme PRO® SDXC™ UHS-I card, the world's highest capacity full-sized SD™ memory card, along with the SanDisk Extreme PRO microSDXC UHS-I card, the world's fastest microSD UHS-I memory card. These new offerings expand the company's impressive portfolio of 4K Ultra High Definition (3840x2160p) capable products. For more than 25 years, SanDisk has been committed to delivering breakthrough technologies that expand the possibilities of storage.
Pricing and Availability
The SanDisk Extreme microSDHC/microSDXC UHS-I memory cards for Action Cameras are available from October, in capacities of 32GB and 64GB and range in pricing from AUD$49.00 to AUD$99.00 ERP. More information can be found at SanDisk.com.