Comics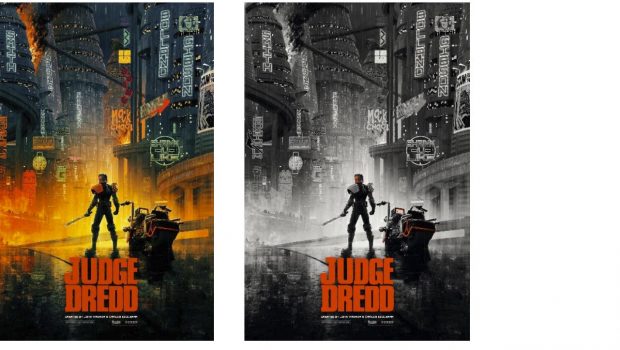 Published on June 24th, 2023 | by Adrian Gunning
SAN DIEGO COMIC CON: Rebellion announces exclusive Judge Dredd poster drop
The greatest future city is coming to the greatest show on Earth – Rebellion is pleased to announce an exclusive limited edition Judge Dredd fine art poster by Matt Ferguson is coming to San Diego Comic Con next month.
Fresh from promotional movie posters for Marvel Studios and Star Wars, Ferguson plunges us into the violent, crime-ridden megalopolis of Mega-City One as Judge Dredd stands ready to dispense justice – a hyper-cop for the hyper-future!
This is the poster drop for San Diego – a stunning 24" x 36" offset litho fine art poster printed on gorgeous 300gsm Accent Recycled stock, with each copy individually numbered and limited to just 400 copies in colour.
Also available will be a super-limited variant edition – a special 'black, white and Dredd' with vivid reds picked out against the monochrome of the nightmare urban noir, in an edition of 100.
It is the first time Rebellion has offered such a high-end poster as its exclusive Comic Con merch and copies of both variants will be available exclusively from the Rebellion booth (#2121) at San Diego Comic Con from Previews Night on Wednesday 19 July. Sales are limited to 50 copies a day for the colour edition and 10 of the black and white, available each day of the show, including Previews night.
For subscribers to 2000 AD, 150 copies of the colour edition and 50 of the black and white edition will also be available to buy direct through the 2000 AD webshop at shop.2000AD.com from 12pm BST on Thursday 20 July.
To create his vision of the city created by John Wagner and Carlos Ezquerra, Ferguson has drawn on over 45 years of Judge Dredd comics from the legendary British comic book powerhouse 2000 AD. This poster comes packed with Easter eggs for fans old and new – from signs advertising the 'ugly clinics' of Otto Sump and Mega-City One's 'Smokatorium', to a raging Block War, and including the names of the greatest creators to ever work on Judge Dredd such as John Wagner, Carlos Ezquerra, Brian Bolland, and Ron Smith.
A graphic designer and artist from Sheffield in the UK, Matt is best known for working with Marvel Studios and Disney, including designing key artwork for many MCU films and official Star Wars promotional posters. He is the co-founder and Creative Director of Vice Press, has had exhibitions at galleries in the US and UK – including Bottleneck Gallery – and is well known in the industry for his beautifully stylised creations for established film and TV properties.
Matt said: "I have been a long time fan of 2000 AD and Judge Dredd and I always love working in that universe of comics, so it was great to apply techniques I would typically use for a movie poster on a project like this. It's always fun to pack posters with easter eggs and Mega-City One is perfect for such a poster. Get wise! Get Ugly!"
The 24" x 36" offset litho fine art poster by Matt Ferguson is an edition of 400 with a black-and-white variant of edition of 100, available from Booth #2121 at San Diego Comic Con (19-23 July) and, exclusively for 2000 AD and Judge Dredd Megazine subscribers, from shop.2000AD.com from 12pm BST on Thursday 20 July.
The posters join Rebellion's other Comic Con exclusive – the brand new hardcover Judge Dredd: The Darkest Judge collection with a thrilling undead Dredd cover by legendary Batman artist Greg Capullo. 300 copies will be available at the Rebellion booth at San Diego, while the remaining 200 are available for 2000 AD subscribers to order online through the 2000 AD webstore.