Hardware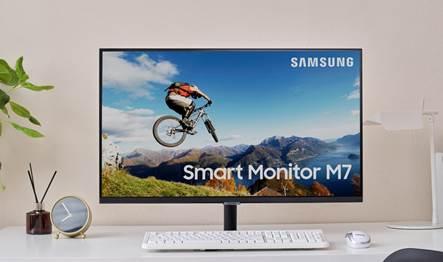 Published on January 7th, 2021 | by Andrew Bistak
Samsung unveils introduces revolutionary Neo QLED technology
Samsung Electronics has today unveiled its 2021 range of audio visual products including its revolutionary Neo QLED TV range, a 110-inch MicroLED display and upgrades to its lifestyle TV lineup.
Australian pricing and availability will be announced in coming weeks.
Quotes to be attributed to Hass Mahdi, Director of Audio Visual at Samsung Electronics Australia.
Neo QLED
"Samsung is renowned as a pioneer in audio visual technology. We were the first to launch 8K TV in Australia and we're extremely proud to continue our leadership with the introduction of the Neo QLED TV range in 2021.
"Neo QLED features an incredible new screen technology that produces incredibly clear and accurate pictures. We've achieved this by replacing the traditional LED module lens with a micro-layer, which allows for precise light control in a small package. This incredible new innovation has allowed Samsung to reduce the width of our TV displays by up to 50% achieving an amazingly slim design for the 2021 TV line-up including our lifestyle TV range."
110-inch MicroLED
"Samsung recognises that in today's modern home, the living room serves more functions than ever before, which is why we're introducing a TV that combines superior picture quality and total flexibility – the 110-inch MicroLED.
"Samsung's vision for its MicroLED display has been building since we first introduced the technology in 2018. The bezel-less design features pure RGB LED light for incredible picture quality while delivering the same smart TV features as Samsung's latest QLED models.
"At this stage we're considering bringing the 110-inch MicroLED to Australia."
Lifestyle TV
"Since launching The Frame in 2017, Australians have shown us that the design and aesthetics of their TV matters. In 2021, we'll bring to market a brand new The Frame that will be 50% slimmer than the 2020 model, include new frame colours and finishes in addition to new content options on The Art Store allowing it to blend in seamlessly with home décor and precisely mimic art.
"As we continue to reimagine the role of the TV in our homes, Samsung's impressive lifestyle TV range will showcase new design forms and software updates that meet the changing consumer demands as our spaces become an extension of ourselves."
Eco packaging and remote control innovation
"At Samsung our innovation is not limited to the displays and the designs of our TVs. In 2021, Samsung's eco packaging solution will be brought to all TV products to help responsibly manage waste created from product purchases by allowing customers to repurpose TV boxes into small-scale pieces of furniture. We will also see the introduction of a more sustainably-designed TV remote, made from recycled plastic that will charge via solar or indoor lighting and is designed to greatly reduce battery waste further strengthening our sustainable approach in 2021.
"With so many new features, designs and innovation across Samsung's entire TV range in 2021, I have no doubt we are set to continue to lead the industry both in terms of our technology but as the number one TV brand in Australia and around the world."