Hardware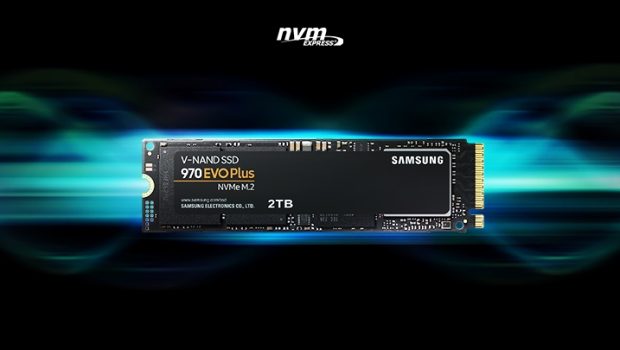 Published on February 12th, 2019 | by James Wright
Samsung SSD 970 EVO Plus Review
Summary: The Samsung SSD 970 EVO Plus allows you to level-up your hard drive speed!
The future of SSD is here again courtesy of V-NAND technology with Samsung's new SSD, the 970 EVO Plus that fully maximises the ultra-fast NVMe (Non-Volatile Memory express) host controller interface and storage protocol that is considerably faster than traditional SSD's. With a M.2 Form Factor, the Samsung SSD 970 EVO Plus is available in three sizes that include 250, 500 and 1000GB with sequential read speed of up to 3,500MB/s and sequential write speeds of up to 3,300MB/s. A 2TB model will also be available from April 2019.

Adding to the features of this SSD is the latest 96-layer (3-bit per cell) NAND flash memory which has been upgraded from 64-layers plus the speedy PCIe 3.0 x 4 interface and the Phoenix Controller with optimised firmware and TurboWrite which increases write speeds due to its buffering. According to Samsung, the 970 EVO Plus is up to 53% than the previous model which of course is dependent on certain tests and system configurations, including stated read and write speeds.
Nonetheless, the Samsung SSD 970 EVO Plus is still a very faster drive and most consumers will be thoroughly pleased with the results. The unit also comes with an impressive 5-year warranty, hardware encryption and the very useful Samsung Data Migration app which allows you to transfer information from your existing SSD to the new 970 EVO Plus. Furthermore you have access to the Samsung Magician which is a drive management tool that basically monitors the health and speed of this SSD, including checking for updates. Needless to say, here's some decent features inside the Samsung SSD 970 EVO Plus.

Specifications
Capacity
250GB, 500GB, 1TB, 2TB
Interface
PCIe Gen 3.0 x4, NVMe 1.3
Sequential read
Up to 3,500 MB/s
Sequential write
Up to 3,300 MB/s
Random read
Up to 620,000 IOPS
Random write
Up to 560,000 IOPS
NAND
5th generation Samsung V NAND
Controller
Samsung Phoenix Controller
Warranty
Five years
Endurance
150 TBW (250GB)
300 TBW (500GB)
600 TBW (1TB)
1,200TBW (2TB)
However it's all about the speed and in order to take this SSD through the tests, we used our Intel Core i9-9900K test system with 32GB of DDR4-2666 RAM. Our first test was the highly popular CrystalDiskMark benchmark app which gives the user a great snapshot of its potential speed. As you can see, the speeds do mirror the advertised rates from Samsung. With read speeds of up to 3444.2MB/s and write speeds of 3193.4MB/s, it will definitely make accessing your large data files or playing games a considerable faster experience.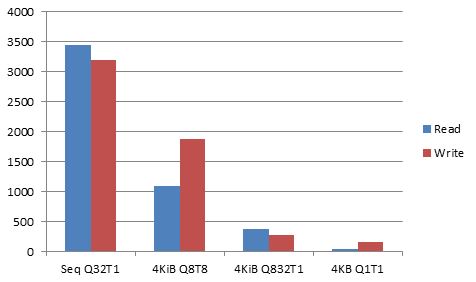 Next up was ATTO Disk Benchmark which is an application designed to measure your storage systems performance with transfer sizes and test lengths for reads and write speeds. Like CrystalDiskBenchMark, it's quite a popular tool for testing hard drives. ATTO Disk Benchmark also mirrors a more real-world score. Although moving or accessing smaller files isn't the greatest speed, large files really fly on this drive so if you are doing video editing, you are in luck.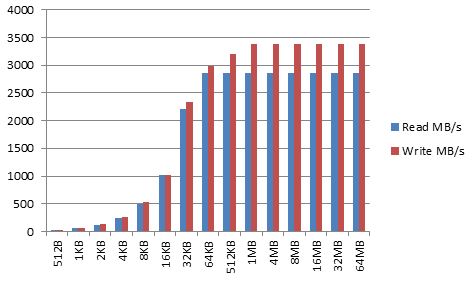 The last test was PCMark which was the storage benchmark with the drive scoring a respectable 5091 that really gives its competitors a run for their money. What I like about PCMark is that it emulates real-world usage and without getting into semantics, this SSD scored at the higher end of the spectrum.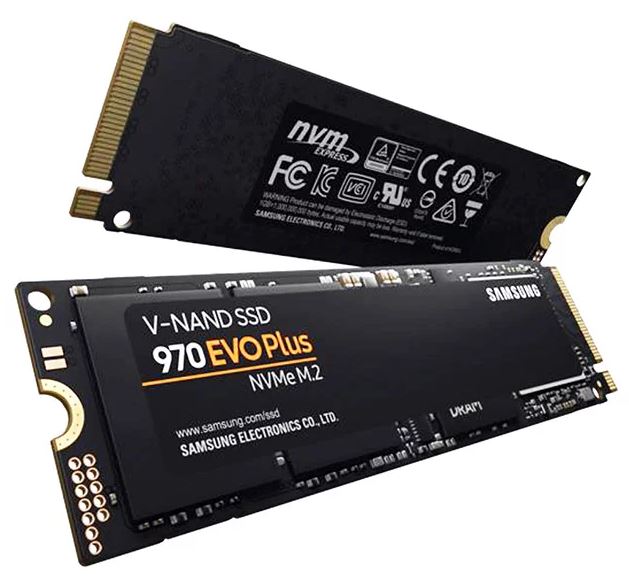 Final Thoughts?
The Samsung SSD 970 EVO Plus is an impressive and affordably priced SSD which delivers speed and if you have access this technology, it's a must have hard drive for your desktop system. The take home message is if you are looking for a speed boost, the Samsung SSD 970 EVO Plus ticks all the right boxes, especially if you're a gamer of PC enthusiast!