Hardware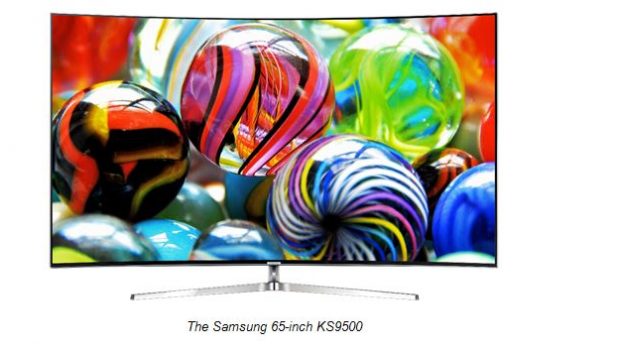 Published on May 11th, 2016 | by admin
Samsung introduces the ultimate TV experience to Australia
Sydney, Australia – May 11, 2016 – Samsung Electronics Australia has today announced the local pricing and availability for its 2016 home entertainment product line-up, featuring the next generation of Quantum dot display TVs, and the first ever Ultra HD Blu-ray player available in the Australian market.
Samsung's 2016 SUHD TVs offer incredible picture quality with Quantum dot display technology, and a simplified smart TV experience, making it easy for Australians to access their broadcast and online streaming entertainment services. The range also features a stunning 360-degree design, including a metallic stand, and a profile that has been engineered for a premium look from every angle.
"The new range of SUHD TVs represent the pinnacle of what television should deliver Australians, while making the experience easy, whatever your home entertainment habits are," said Carl Rose – Vice President, Consumer Electronics, Samsung Electronics Australia. "The way Australians experience home television has evolved dramatically in terms of viewing habits and access to on-demand or streaming services. With the arrival of technologies like HDR, and access to 4K Blu-ray discs, this launch comes at an important time for the industry."
"Our goal is to create the ultimate television experience for Australians, bringing together multiple content sources in one seamless, easy-to-use interface, while delivering an amazing picture with our Quantum dot display technology," Rose added.
Quantum dot display: Ultimate picture quality
Samsung's 2016 SUHD TVs feature a cadmium-free, 10-bit Quantum dot display, offering true-to-life picture quality, stunning brightness, exceptional contrast and the most lifelike colours ever offered by Samsung.
With 71 per cent of Australian households featuring an open-plan living room layout1, the new SUHD TV range is suited to a wide range of home settings – whether the TV is set in the centre of a room, next to windows featuring bright sun during daylight hours, or mounted on a wall.
Whatever the lighting conditions or placement in a home, Samsung's latest TVs offer a premium look and feel, as well as strong colour and brightness due to cutting edge Quantum dot display technology. All of Samsung's 2016 SUHD TVs also offer an excellent high dynamic range (HDR) experience, with peak brightness of 1,000 nits for a higher level of contrast between light and dark images.
Samsung's SUHD TV range further enhances the viewing experience by minimising light reflection with its Ultra Black technology. By reducing the glare on the screen, Ultra Black makes it easier for Australians to watch their favourite content regardless of how well-lit the room is.
360 design: Beautiful from any angle
Four years after introducing its first curved TVs to the world, Samsung is launching a range that pushes design to new heights. More than ever before, TVs are the focal point of the lounge room, so Samsung has worked to create a range of SUHD TV panels that look stunning at all times.
Whether on or off, Samsung's 360-degree design eliminates all unnecessary elements, reducing the use of screws from the rear construction of the TVs to create an elegant product that is beautiful from every angle.
Single Remote and Smart Hub deliver the ultimate easy-to-use experience
Operating on the Tizen operating system (OS), Samsung's 2016 Smart Hub simplifies and streamlines navigation of content, making movement between content sources easy.
Whether operating in-TV apps, streaming services, compatible external players or games, or more traditional TV sources, the digital interface and new SUHD TV remote are designed to make using the TV uncomplicated. In addition, a customisable interface will enable Australians to create their own Smart Hub layout so they can prioritise and manage their favourite content.
New Smart Hub– The 2016 Smart Hub is designed to provide easy access to content all in one place. Live TV, streaming services, games and even the home screen menu offer access to programs more quickly and easily than ever before experienced in a Samsung TV.
Samsung One remote– Eliminating the need to juggle multiple remote controls for compatible connected devices, the Samsung Smart TV is designed to automatically recognise the type of compatible set-top box, game console, or home theatre system that is connected, with the One remote controlling all the devices.
Easier access to content– Streaming movies and TV shows from third party providers such as Netflix, Stan, and Presto, and accessing apps such as YouTube is now even easier.
Australia's first Ultra HD Blu-ray player
Samsung has also unveiled its first Ultra HD Blu-ray Player, the UBD-K8500, which is HDR compatible and offers up to four times the resolution and 64 times the detailed colour expression of a conventional Samsung Blu-ray player. It features a sleek, curved front design, and is available now for purchase.
When paired with a Samsung SUHD TV's Quantum dot display and HDR content, the new UHD Blu-ray player delivers a level of picture quality never before seen in the home. The UBD-K8500's built-in upscaling technology is also able to enhance the picture quality from standard Blu-rays and DVDs, and also plays CDs.
Samsung has partnered with Hollywood studios to ensure consumers have a selection of Ultra HD Blu-rays with astonishing HDR picture quality. This year, 20th Fox is slated to release films like The Martian, The Revenant, and others.
Enhanced audio with Samsung soundbars
Accompanying Samsung's TV range is a selection of audio solutions that bring style and cinematic sound into Australian homes. The range features both curved and traditional soundbars, immaculately designed to complement the full breadth of Samsung's TV range.
Thanks to its side-firing speakers, the sweeping arc of Samsung's flagship Series 8 Curved Soundbar offers a rich, immersive audio experience with its 9.1 channel sound. With each speaker boasting a dedicated amplifier, the Series 8 was engineered and tuned by the Samsung Audio Lab to provide perfectly balanced sound from one end of the bar to the other.
Samsung's soundbars also bring elegance and simplicity into Australian homes with TV SoundConnect, which enables Australians to connect their soundbar to compatible Samsung TVs without the need for messy cables.
In addition to its soundbar range, Samsung is launching its Wireless Rear Speaker Kit, which offers Australians a space-efficient and easy-to-use audio solution that is designed to create cinema-like sound in any room.
Pricing and Availability 
SUHD TVs
Samsung Series 9 KS9800 88-inch SUHD TV – Available July 2016
Samsung Series 9 KS9500 78-inch SUHD TV – Available July 2016 Samsung Series 9 KS9500 65-inch SUHD TV – RRP $6,299, available now Samsung Series 9 KS9500 55-inch SUHD TV – RRP $4,299, available now
Samsung Series 9 KS9005 75-inch SUHD TV – RRP $10,999, available July 2016
Samsung Series 9 KS9000 65-inch SUHD TV – RRP $5,999, available now Samsung Series 9 KS9000 55-inch SUHD TV – RRP $3,999, available now
Samsung Series 8 KS8500 65-inch SUHD TV – RRP $5,799, available now Samsung Series 8 KS8500 55-inch SUHD TV – RRP $3,899, available now
Samsung Series 8 KS8000 65-inch SUHD TV – RRP $5,499, available now Samsung Series 8 KS8005 60-inch SUHD TV – RRP $4,499, available June Samsung Series 8 KS8000 55-inch SUHD TV – RRP $3,599, available now
UHD TVs
Samsung Series 7 KU7500 78-inch UHD TV – available August 2016 Samsung Series 7 KU7500 65-inch UHD TV – available July 2016 Samsung Series 7 KU7500 55-inch UHD TV – available July 2016
Samsung Series 7 KU7000 65-inch UHD TV – available July 2016 Samsung Series 7 KU7000 55-inch UHD TV – available July 2016 Samsung Series 7 KU7000 49-inch UHD TV – available July 2016
Samsung Series 6 KU6000 70-inch UHD TV – available July 2016 Samsung Series 6 KU6000 65-inch UHD TV – RRP $3,899, available now Samsung Series 6 KU6000 60-inch UHD TV – RRP $2,999, available May Samsung Series 6 KU6000 55-inch UHD TV – RRP $2,199, available now Samsung Series 6 KU6000 50-inch UHD TV – RRP $1,899, available May Samsung Series 6 KU6000 40-inch UHD TV – RRP $1,399, available now
HD TVs
Samsung Series 5 K5500 49-inch HD TV – available July 2016 Samsung Series 5 K5500 40-inch HD TV – available July 2016 Samsung Series 5 K5500 32-inch HD TV – available July 2016 Ultra HD Blu-ray Player
Samsung UBD-K8500 Curved Ultra HD Blu-ray Player – RRP $599, available now
Soundbars and Speakers
Samsung Series 8 Curved Soundbar, RRP $1,599, available now Samsung Series 7 Curved Soundbar, RRP $1,299, available now Samsung Series 6 Curved Soundbar, RRP $899, available now
Samsung Series 6 Soundbar, RRP $849, available now Samsung Series 5 Soundbar, RRP $699, available June Samsung Series 4 Soundbar, RRP $549, available now Samsung Series 3 Soundbar, RRP $399, available now
Samsung Wireless Rear Speaker Kit, RRP $179, available now