Hardware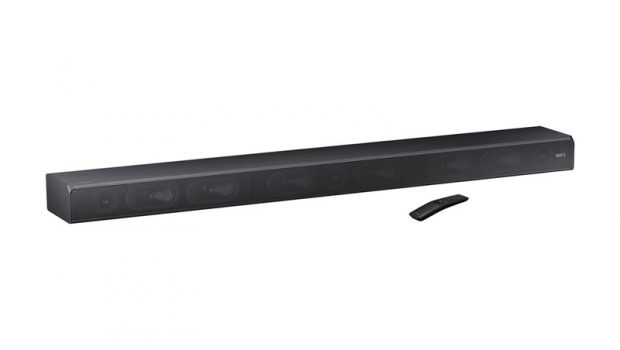 Published on April 13th, 2017 | by Admin
Samsung introduces the next evolution in soundbars with its new Sound+ series
The new range brings room-filing sound with deep bass from a "One Body" soundbar

SYDNEY, Australia – April 13, 2017 – Samsung Electronics Australia has today launched its latest soundbar range, the Sound+ series, including the HW-MS6501 (curved) and HW-MS650 that feature a single soundbar design with no need for a separate subwoofer.
The new range was developed by Samsung's state-of-the-art Audio Lab in Valencia, California, and is designed to bring superior sound quality through a simple, woofer-integrated soundbar to provide a rich cinematic sound in a "One Body" solution.
"Australians want high a performance soundbar that is easy to pair with their TVs. Thanks to the research and development carried out at our Audio Lab, the new Samsung Sound+ series not only offers exceptional sound quality, but removes the need for a separate sub-woofer. When paired to Samsung's QLED TV and UBD-K8500 UHD Blu-ray player it provides an unrivalled home entertainment experience" said Carl Rose – Vice President, Consumer Electronics, Samsung Electronics Australia.
"Building on the sellout success of last year's Samsung HW-K950 Dolby Atmos®-enabled soundbar, Samsung has moved forward to create a new soundbar range for all Australians who are passionate about enjoying a high quality sound experience in their homes."
A "One Body" Experience for Deep, Dynamic Bass
The HW MS6501 (curved) and HW-MS650 Sound+ soundbars include six built in woofers using advanced technologies such as multi-speaker control and distortion-cancelling technology enabling the long excursion woofer units to move simultaneously without distortion. The result is deep and detailed bass, all from a sleek unit.
Both Sound+ soundbars can be easily mounted onto your TV with a one-mount bracket[1], and also includes TV power cord that goes into the soundbar for cleaner cable management[2]. For a simplified yet enhanced user experience, Australians can now control the Sound+ soundbar with their Samsung TV One Remote, enabling streamlined management of the EQ settings and sound effects.

Wide sound coverage
Equipped with a Wide Range Tweeter, the Sound+ series delivers sound throughout the room while helping retain the clarity of dialogue and sound effects. The Wide Range Tweeter covers a larger crossover range of 600Hz to 30kHz – providing sound dispersion at high frequency.
Add reality to sound
With the Smart Sound Mode in the Sound+ series', sound effects are automatically optimised to the content, amplifying yet preserving the quality and richness of original sound. The optional rear wireless kit is also available for a more immersive surround sound system[3], and is fully controllable with the Multiroom App to stream your favourite music.[4]
In addition to the Sound+ lineup, Samsung has also introduced its M Series soundbars, featuring an enhanced subwoofer for quality bass and voice clarity, Bluetooth music streaming and streamlined usability through its One Remote and Wireless Connectivity features[5].
The M Series range, which includes a separate subwoofer, delivers a powerful bass with its improved speaker unit, with each model enabled with Wireless Connectivity to create a total wireless environment when paired with your compatible Samsung TV.[6]
Local pricing and availability

Both Sound+ and M Series are available in Australia now from leading retailers with a RRP starting at $399.

Sound+
Soundbars
HW-MS650/XY – RRP $799
HW-MS6501/XY – RRP $899
Accessories
SWA-9000S/XY – RRP $249
WMN300SB/XY – RRP $69

M Series
Soundbars
HW-M360/XY – RRP $399
HW-M450/XY – RRP $549
HW-M4500/XY – RRP $599
HW-M550/XY – RRP $699
Accessories
SWA-8500S/XY – RRP $179
[1] One mount bracket is sold separately, and only compatible with Sound+ series.
[2] Works with a two-pin TV power input with power consumption less than 400W.
[3] SWA-9000S is compatible with all Sound+ soundbars.
[4] Requires compatible Samsung device
[5] Requires existing wireless network
[6] Requires existing wireless network