Hardware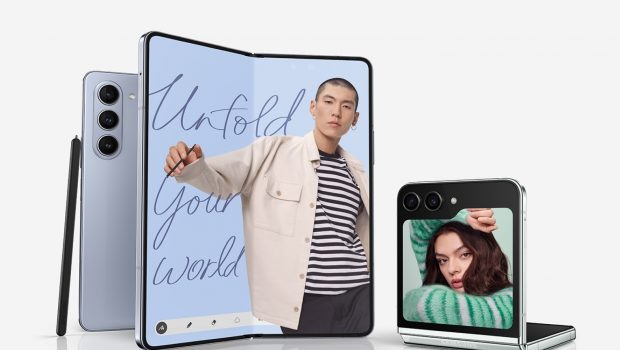 Published on October 25th, 2023 | by Andrew Paul
Samsung Galaxy Z Flip 5 Review
Summary: Welcome to the foldable revolution with the Samsung Galaxy Z Flip 5
While smartphones have been around for a considerable amount of time now (in the tech work anyway), most people consider the 2007 Apple iPhone as the first "modern" smartphone that was a true game changer courtesy of its touch display. Two years later in 2009, Samsung released their first Galaxy smartphone and since then, all these devices featured a rectangular shape with a touch screen.
Fold it, flip it, stand it. Amazing hands-free photography with Flex Cam – Samsung
However there is a new revolution in smartphones and paying homage to the flip phones of yesteryear, Samsung have launched (which is not their first), the all-new Galaxy Z Flip 5 that not only comes with a wealth of powerful features but you're able to close the phone (including the 6.7" touch display) into a very compact device. Aesthetically, it is also one of the nicest looking phones on the market and is available in two sizes, 256GB and 512GB that comes in a range of "popping" colours.
Welcome to the revolution!
Samsung Galaxy Z Flip 5 Key Features
6.7″ Main AMOLED infinity flex display with up to 120Hz adaptive refresh rate and 3.4″ cover display (425ppi)
Cover screen: 3.4in AMOLED
Processor: Qualcomm Snapdragon 8 Gen 2
RAM: 8GB
Storage: 256 or 512GB
Connectivity: 5G, nano sim + esim, wifi6E, NFC, Bluetooth 5.3 and GNSS
Operating system: One UI 5.1 based on Android 13
IPX8 water resistant rating that is designed to protect against spills or splashes (1.5-metre depths for 30 minutes)
12MP OIS Dual Rear + 10MP Front camera
Shoot hands free from all kinds of angles with Flex Mode
Octa core Snapdragon 8 Gen2 chipset
3,700mAh Typical Battery with 25W Super-Fast Charging and wireless PowerShare
In terms of design, the Samsung Galaxy Z Flip 5 boasts a very intuitive and stylish build that as mentioned, you can fold this full-sized smartphone into half which makes it super compact.
According to Samsung, the Galaxy Z Flip 5 is made from armour aluminum on the frame and hinge cover, including scratch-resistant Gorilla glass on the back of the device and further, it has an IPX8 water rating as well! The IPX8 rating means the phone could be submerged in up to 1.5 metres of fresh water for up to 30 minutes – this unfortunately excludes pools and the beach but if you do spill something on it, it will be well protected. Further, Samsung state that the new Galaxy Z Flip 5 is 25% more durable than previous models.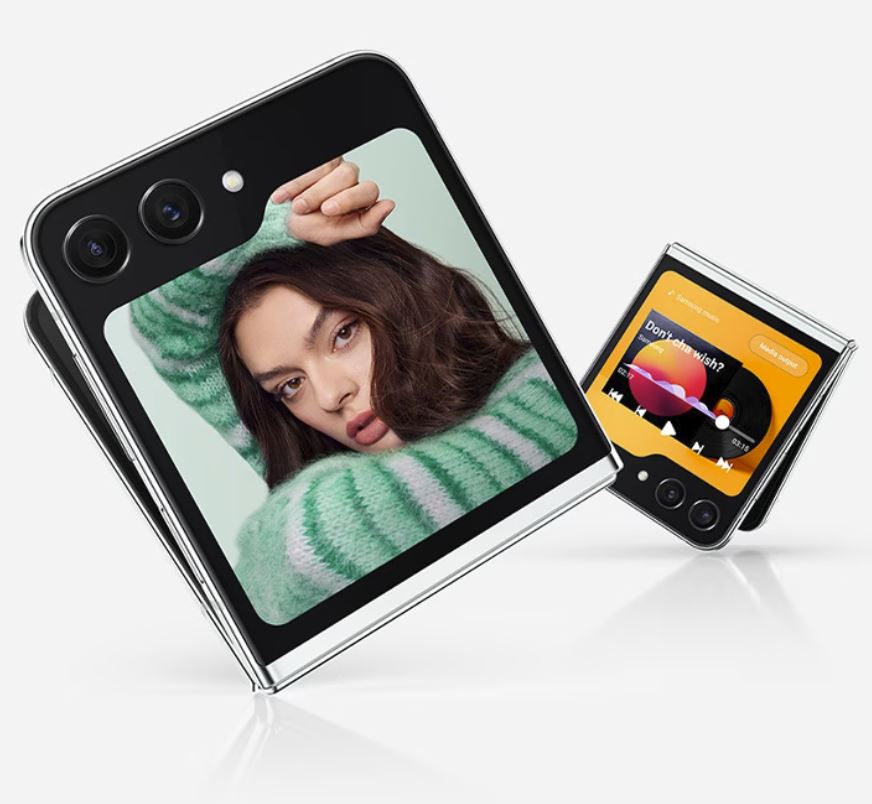 Box Contents
Handset
Ejection Pin
Quick Start Guide
Data Cable (C to C)
Gallery
When "closed", there is an external screen on the rear which allows you to take selfies, including accessing apps and notifications, without physically opening the device. This also allows you shoot hands free from all different kinds of angles thanks to its Flex mode. Because the phone can open and fold, this is where "Flex Mode" come into play as you can adjust the positioning of the camera in order to get that perfect selfie or group shot.
What about size and weight? The phone is quite lightweight and weighs in at just at 187 grams with a fully opened size of 165.2 x 72.2 x 6.9mm and a compact (folded) size of 84.9 x 71.9 x 15.1mm. The ability to fold this smartphone is a godsend because it makes carrying the device much more versatile. And the fold on the screen? When open the Galaxy Z Flip 5, you can see a slight fold on the screen, however this does not impact on the visuals whatsoever and the zero-gap hinge also helps.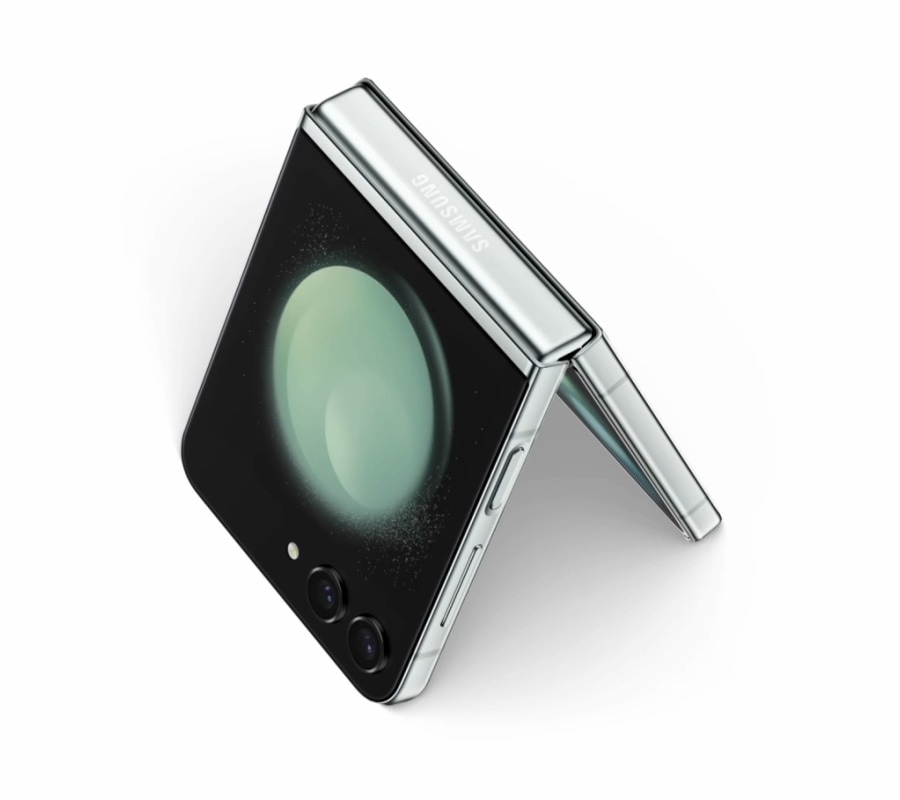 The screen quality of the Galaxy Z Flip 5 is exceptional that boasts vibrant colours, crystal clear images and extremely sharp text that makes it perfect for reading, surfing the net, watching films, playing games and just about everything and anything that you do on a smartphone. The cover screen (when the device is closed) is actually a 3.4" screen that is also super clear for notifications.
Additionally this screen be tweaked in order to give the Galaxy Z Flip 5 a little of your personality, including customising the widgets displayed. I must admit that the cover screen is a very useful feature that gives you a quick snapshot of notifications, including time, date and weather… as a result, it's less distracting than your non-foldable phones. Further, the power button serves as a finger print reader as well!
Once setup, the Galaxy Z Flip 5 is a super-fast and responsive smartphone thanks to the Qualcomm Snapdragon 8 Gen 2 processor, 8GB RAM and generous storage (256 or 512GB, depending on model). Although the phone runs Android 13, it uses Samsung's One UI 5.1 which is an operating system skin to make the phone more user friendly and thankfully it's not that bloated like some of the other smartphone companies.
Benchmarks
The first test was 3DMARK for Android that tests smartphones from a gamer perspective and the Samsung Galaxy Z Flip 5 is a gamer phone. To add some perspective on the 3DMARK score, the Asus ROG Phone 7 Ultimate, a gamer smartphone scored 3734 for the Wildlife Extreme test and the Samsung Galaxy S23 Ultra is 3724. As you can see, the Z Flip 5 is just behind at 3614 that makes this smartphone ideal for gaming!
Next up was PCMARK for Android and the Samsung Galaxy Z Flip 5  scored 14495. There are other smartphones that score in the high 17000's but needless to say, the Z Flip 5 is still a powerhouse for everyday tasks and app use.
Given the scores for both benchmarks, it's an all-round phone that excels at gaming and everyday use thanks to the fast processor and RAM that allows you to get the most out of your smartphone.
Charging and Battery
It also has a super generous all-day battery (3,700m) that could easily get you through two days without a charge. To fully charge the device, it takes 90 minutes thanks to quick charge and it also supports wireless charging.

Photography
The cameras (front and rear) do capture some impressive shots with the rear two 12-megapixel cameras being the primary powerhouses. Given that, they take good photos, especially in bright light. Night images are sometimes a hit and miss, however this is generally the norm across most smartphones. One thing that is missing is a true optical zoom, opposed to digital which just magnifies the existing image but for most users, this would be a moot point. Additionally it captures video well as done the 10MP selfie camera. Sure, there are better smartphones available with higher quality cameras but Galaxy Z Flip 5 is no slouch and here are some example we took on this foldable smartphone.
Gallery
Final Thoughts?
In conclusion, the Samsung Galaxy Z Flip 5 is one of the best flip phones available that not only looks very stylish but is also quite powerful thanks to its processor and RAM. Needless to say, Samsung have successfully bridged the gap between a traditional smartphone (e.g. rectangular) to foldable with a spectacular screen and excellent build quality.
Brilliant!