Hardware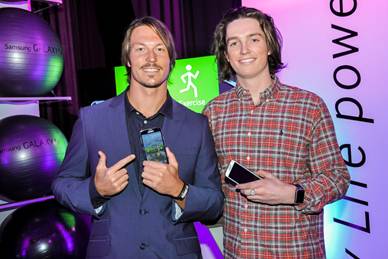 Published on March 27th, 2014 | by admin
Samsung GALAXY S5 touches down in Australia
Suited to the Australian lifestyle, the GALAXY S5 powers lives with meaningful and relevant features
Sydney, Australia – March 26, 2014 – Samsung Electronics Australia today announced local pricing and availability of its latest flagship smartphone, the Samsung GALAXY S5, at a launch event at Sydney's prestigious Museum of Contemporary Art. The GALAXY S5 will be made available for retail sales from April 11, 2014 for RRP $929.00, and features a fresh new design and groundbreaking feature set for the GALAXY range.
The Samsung GALAXY S5 has been designed to offer Australians a premium experience, feature rich functionality and support for the everyday lifestyles of consumers, with a range of new and upgraded mobile apps and tools.
"The GALAXY S5 is an amazing evolution in Samsung's smartphone technology, with features that are genuinely helpful and relevant to the everyday lifestyles of Australians," said Arno Lenior, Chief Marketing Officer, Samsung Electronics Australia.
"It's dust and water resistant and offers health and fitness management tools including a Heart Rate Monitor. It also has a fantastic camera and mobile payment technology that will give users the ability to make everyday credit card purchases with the tap of the phone," Lenior added.
In addition to mobile tap and pay capabilities, the GALAXY S5 also features a fingerprint scanner that can be used to unlock the phone and make online payments through a partnership with PayPal.
The GALAXY S5 is IP67 certified water and dust resistant1, features enhanced S Health functions including a Heart Rate Monitor (HRM) and Ultra Power Saving Mode to help conserve battery life. The GALAXY S5 offers consumers a smartphone to complement and actively enhance everyday life.
"Samsung has delivered a phone that will offer Australians a fantastic set of features, great freedom to use their phone in wide range of environments, and a form and colour range that style conscious people will love," Lenior added.
Sleek Design, Look and Feel
With a distinct embossed back case and sleek format, the GALAXY S5 offers a luxurious and stylish look and feel. The back case is soft to touch and easy to grip. It will also be made available in a range of colours, unique to the range, including Charcoal Black and Shimmery White, which will be available at launch, with Copper Gold and Electric Blue also coming soon.
Resistance to Dust and Water
The GALAXY S5 is an ideal match to the Australian environment – from the outback deserts of the Northern Territory to the sandy iconic coastline of the East Coast. With its IP67 certified design1, the latest smartphone from Samsung is dust and water resistant to a maximum of one metre for up to 30 minutes.
Ultra Power Saving Mode
The GALAXY S5 comes with Ultra Power Saving Mode, a new feature to the Samsung GALAXY range, which turns the display to black and white and shuts down specific apps and non-essential tools to help minimise battery consumption. Ultra Power Saving Mode will offer users substantially extended battery life, up to 24 hours at 10 per cent of battery – a huge benefit for many Australian's – from the busiest professional to the young festival goer arranging a meet-up with friends.
Mobile Tap and Pay
The GALAXY S5 offers Near Field Communication (NFC) mobile tap and pay functionality. Existing and new Westpac and Commonwealth Bank customers will be able to enjoy the convenience of mobile tap and pay on the GALAXY S52.
If you're a customer of a participating bank, simply by tapping the GALAXY S5 against any tap and pay capable machine, Australians can make quick and easy payments on-the-go.
What's more, with Samsung's embedded NFC solution, Australians can register numerous cards and accounts on their compatible Samsung GALAXY smartphone so they can easily manage their finances. This is something that no other smartphone manufacturer can currently offer Australians.
A World of Possibilities at Your Fingertips
The GALAXY S5 also includes a fingerprint scanner – a unique password that users can never forget. Australian's can register up to three fingerprints on the GALAXY S5 and utilise them to unlock the phone and access web-based accounts and Samsung Apps.
Samsung has made available the Software Development Kit (SDK)11 for the fingerprint scanner and anticipates more applications will use this technology in the coming months.
As mobile internet shopping continues to increase dramatically in Australia, Samsung has also announced a global partnership with PayPal. With 5.5 million active PayPal accounts in Australia, Samsung's partnership with the online payment provider allows consumers to change the way they transact online6. Australian GALAXY S5 users will be among the first in the world to use the fingerprint scanner to make online payments using their mobile phone.
Health and Fitness
The GALAXY S5 features the enhanced S Health 3.0 app3, offering more tools to help active and health conscious Aussies to track their exercise regimen and manage their fitness on-the-go. Similar to its predecessor, S Health 3.0 provides GALAXY S5 users with a comprehensive personal fitness tracker and food diary.
New additions to the GALAXY S5's S Health feature include an in-built Heart Rate Monitor which enables consumers to explore health tracking regimens3. By simply placing their finger on the infrared scanner next to the camera flash, users can get a reading of their heart rate, whether it is post-exercise or while making their way through their day.
For an even more customised experience, the S Health 3.0 app also pairs with popular third party applications6. To take the fitness features of the GALAXY S5 to the next level, Australians can pair their smartphone with Samsung's next generation of wearable devices, including the Gear 2, Gear 2 Neo smartwatches and the Gear Fit4 smart fitness band. Coupled with these stylish wearable technologies, the GALAXY S5 can provide a fitness solution for Australians seeking to enhance their wellbeing.
Capture the Moments that Matter
For Australian smartphone users, a great camera is essential. Australians are highly active across social media; regularly capturing moments with their smartphones and sharing via Facebook, Twitter and Instagram. The new GALAXY S5 offers a 16 megapixel camera with an interface designed to allow for easy capturing, editing and sharing of photos.
The GALAXY S5 camera also has an exceptional autofocus speed that can focus in less than half a second. It also features an advanced High Dynamic Range (HDR) setting that can reproduce natural light and colour with striking depth and tone range, allowing consumers to capture great images of moving objects and scenes with high contrasts in light. HDR also works for High Definition video capture.
Tap Into Fast Connections
The GALAXY S5 offers Samsung's most advanced 4G experience and Wi-Fi performance, delivering fast data speeds which help enable exceptional media consumption and productivity.
As Australians increasingly consume video content on-the-go, the GALAXY S5 features a Download Booster, which allows the user to simultaneously utilise both their 4G and available Wi-Fi connections to help speed up downloads, delivering a smoother viewing experience with less buffering 5.
Pricing and Availability
The GALAXY S5 will be available for $929.00 for pre-order from March 27, 2014 at the Samsung Experience Stores in Melbourne and Sydney. The GALAXY S5 will go on sale in Australia from April 11, 2014.
The Samsung GALAXY S5 will also be made available through selected partners including Telstra, Vodafone, Optus and Virgin Mobile.