Games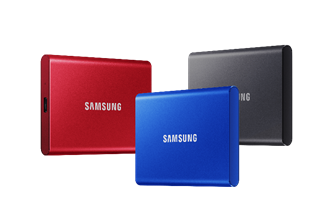 Published on May 27th, 2020 | by Adrian Gunning
Samsung expands its popular Portable SSD T7 range
Following the launch of Samsung's T7 Touch portable SSD in January, a new addition to the range is now available in an array of striking colour options that are presented in a clean and simple design.
Samsung's new T7 portable SSD combines sleek, compact design with super-fast transfer speeds via the USB 3.2 Gen 2 standard that people have come to expect. The streamlined business card-sized portable SSD can be slipped into nearly any pocket and can hold up to 2TB of data – that equates to approximately 680,000 photos[1] or 1,230 hours of full HD footage[2].
The T7 portable SSD offers a significant speed upgrade over previous storage solutions. With a read/write speed of up to 1,050/1,000MB/s[3] respectively, it is approximately twice as fast as its predecessor, the T5. Moreover, the device can reach its maximum speed when used with an Internal NVMe SSD like the SSD 970 EVO Plus.
"The Samsung portable SSD range continues to push the boundaries of innovation within the category with the addition of the T7 and its great colour options. This portable storage solution is the ideal everyday storage companion for those looking to save video and photo content from a variety of USB-compatible devices like a camera, mobile phone or tablet.
"The T7 builds on an incredible offering in portable storage for people seeking fast, safe, reliable, and compact options to store and protect important data." Matt Nelson, Head of Memory, Samsung Electronics Australia.
To ensure reliable connectivity with any compatible device, the drive comes with a USB Type-C-to-C cable and a USB Type-C-to-A cable, and is compatible with Windows, Mac and Android operating systems. Security is also included with password-protected AES 256-bit hardware data encryption. The T7 also includes a three-year limited warranty.
Samsung's new T7 portable SSD is available in three colour options, including Metallic Red, Indigo Blue and Titan Grey. Available now at major retailers and Samsung.com starting at $209 for 500GB, $379 for 1TB, and $669 for 2TB.
Specifications
Category
Samsung Portable SSD T7 Touch
Samsung Portable SSD T7
Capacity
2TB/1TB/500GB
Interface
USB 3.2 (Gen 2, 10Gbps) with backward compatibility
Dimensions (LxWxH)
85 x 57 x 8.0mm (3.3 x 2.2 x 0.3 inches)
Weight
58 grams (2.0 oz)
Transfer Speed
Up to 1,050 MB/s
UASP Mode
Supported
Encryption
AES 256-bit hardware data encryption
Security
Password Protection S/W

Fingerprint Recognition

Password Protection S/W
Software
Samsung Portable SSD Software 1.0[4]
Certifications
CE, BSMI, KC, VCCI, C-tick, FCC, IC, UL, TUV, CB
RoHS Compliance
RoHS2
Colours
Black & Silver
Titan Gray, Indigo Blue
& Metallic Red
Connectivity
USB type-C-to-C, USB type-C-to-A
[1] Photo : 2.8MB
[2] Full HD Video : 1920 x 804 (24fps), 2.99GB, 1:58:36
[3] Performance may vary depending on host configuration. To reach maximum read/write speeds of up to 1,050/1,000 MB/s, respectively, the host device and connection cables must support USB 3.2 Gen 2 and the UASP mode must be enabled.
[4] Software requires Windows 7 and higher, Mac OS X 10.10 and higher, or Android 5.1 (Lollipop) and higher. Older versions of the Windows, Mac, and Android operating systems may not be supported.