Uncategorized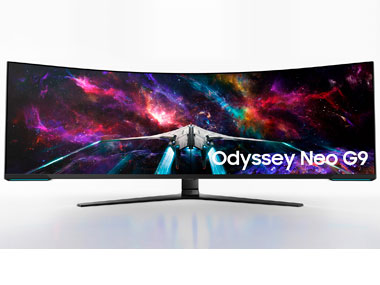 Published on August 23rd, 2023 | by Adrian Gunning
Samsung Electronics Unveils World's First Dual UHD Gaming Monitor: 57″ Odyssey Neo G9
Samsung Electronics Australia has today announced the future of gaming monitors with the newest entry in its Odyssey gaming monitor range – The Odyssey Neo G9 (G95NC model), the World's First Dual UHD monitor[1] with an astounding 57" display. The new monitor sits at the pinnacle of Samsung's premium gaming monitor lineup.
"As we stride forward as pioneers in the global display industry, Samsung consistently seeks to redefine the boundaries of excellence, particularly in response to the ever-evolving needs of the gaming community. With the introduction of the world's first dual UHD monitor[2], the 57" Odyssey Neo G9 paves the way for monitors in 2023 and beyond, helping gamers see new levels of detail with an incredible field of view, said Phil Gaut, Senior Director of Display and Brand Memory, Samsung Australia. The Neo G9 transcends conventional limits, boasting cutting edge technology for those seeking a truly immersive experience with enhanced colour expression and pin sharp imagery, opening the doorway to adventure like never before."
Odyssey Neo G9 Offers Gamers Incredible Immersion and Performance
The 57" Odyssey Neo G9 (G95NC model) is designed to deliver groundbreaking visual experiences for gamers looking to enhance performance and sharpen their competitive edge. With the World's First Dual Ultra-High-Definition (DUHD) screen[3] and a suite of high-speed connectivity options, the 57" Odyssey Neo G9 earned the Best of Innovation Award at CES 2023.
The 1000R curvature in the 32:9 screen is as wide as two 32" UHD monitors, wrapping around users with pin-sharp images and a wide field of view, immersing them in their games like never before.
Quantum Matrix Technology powers Samsung's Quantum Mini LED lighting in the screen, which offers small, discrete dimming zones. The result is incredible distinction between light and dark areas of the screen, with sharp contrast and reduced blooming.
The Odyssey Neo G9 makes the most out of its Quantum Mini LED lighting by combining it with VESA Display HDR™1000. With 1,000 nit peak brightness, HDR content appears vivid and life-like, with accurate colour and contrast reproduction. Gaming worlds feel realer than ever with the 240Hz refresh rate and 1ms gray-to-gray (GTG) response time[4], whilst also incorporating AMD FreeSync™ Premium Pro which syncs the screen for a stable, lag-free picture.
The Odyssey Neo G9 offers VESA-certified DisplayPort (DP) 2.1 connectivity, which facilitates smooth gaming, efficient video playback and the Neo G9's DUHD resolution up to 240Hz.[5] In addition to DP2.1, the it also offers HDMI 2.1 and a USB hub, so gamers can hook up all their devices to simplify their set up.
"By bringing DisplayPort 2.1 connectivity to their premium gaming monitor, Samsung is opening new doors for gamers," said Scott Herkelman, senior vice president and general manager, Graphics Business Unit at AMD. "More bandwidth, high speeds and fast refresh rates provide new levels of performance and visual fidelity in games, and together the new Samsung displays and Radeon RX 7000 Series graphics cards will deliver vivid and immersive gaming experiences yet."
With such a wide, high-definition screen and a generation-defining new input, gamers can use the 57" Odyssey Neo G9 in place of multiple monitors, keeping their desk clean from clutter, while creating a comfortable multitasking single-screen environment. Picture-in-Picture and Picture-by-Picture modes offer multiple inputs at a single glance, and the monitor utilises Auto Source Switch+ to instantly connect to new devices without flipping through input sources. An ergonomic stand, Core Lighting+ and CoreSync also enable the monitor to fit in virtually any environment and mood match the vibe of respective games with ambient lighting.
With the launch of the Neo G9, Samsung's Odyssey range offers a monitor for every gaming experience, with a size and price point for every member of the gaming community, all designed to give them an unfair advantage.
Pricing and Availability
For more information about Samsung's Odyssey OLED monitors and the full Odyssey lineup, visit: https://www.samsung.com/au/monitors/odyssey-gaming-monitor/
[1] At time of publication – August 2023.
[2] At time of publication – August 2023.
[3] At time of publication – August 2023.
[4] The actual response time may vary based on content and monitor settings.
[5] Dual UHD 240Hz is supported only by graphics cards that support Display Port 2.1 (UHBR 13.5) or HDMI 2.1 (FRL 6). Support and actual refresh rate may vary by graphics card.