Hardware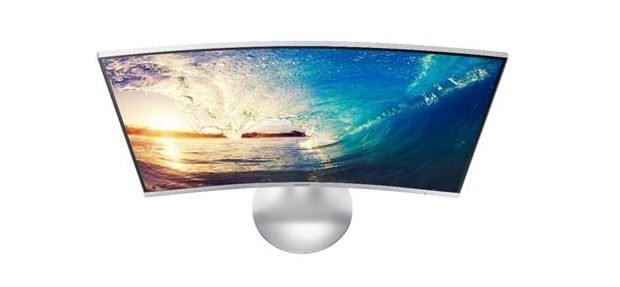 Published on June 1st, 2016 | by admin
Samsung Electronics Expands Curved Monitor Portfolio with Five New Displays
SYDNEY, Australia – 1 June 2016 – Samsung Electronics Australia today announced its new curved monitor line-up including the CF391 (32-inch model), CF591 (27-inch model) and CF390 (22, 24 and 27-inch models). Samsung's newest curved displays are designed to meet the diverse requirements of personal and work lifestyles, catering to professionals, home-offices and families.
Since releasing its first curved LED monitors in 2015, Samsung has continued to build on its display legacy to refine the design and meet growing demand from various consumer groups. The new CF390, CF391, and CF591 monitors feature many of Samsung's latest innovations, including a variety of curves ranging from 16° to 22°, and superb picture quality, delivering optimal presentation.
"The 2016 range of Samsung monitors deepens our range of beautifully crafted curved screens that will provide an incredibly rich and immersive experience," said Todd Lynton, Director – Business Solutions, Samsung Australia. "The monitor market is undergoing an exciting evolution in terms of panel design and technology, as well as how people use them to interact with content, whether they're streaming online or working."
The 2016 Samsung monitor line-up includes five new curved models and a range of curvatures from 16° to 22° of a circle. The variations of curvature provided a range of options for Australians who may be seeking a monitor with a subtle curve, or a deeper look and feel.
"Samsung has experienced a strong uptake in demand for curved monitors since launching our first range. We see clear growth in this market which is why we are responding by extending our range, as well as the degree of curvature in specific ranges." Lynton added.
Viewing Experience
Curved monitors have been found to deliver a more comfortable viewing experience for some users than comparable flat-screen alternatives, according to the results of a recently-completed Harvard Medical School study.[1]
The study found fewer reports of eyestrain during and after content searches on a curved monitor than with a flat-screen monitor, with increased reports of difficulty focusing, blurred vision and eye tiredness when participants viewed content on the flat-screen monitor.
Gamers and home entertainment users also benefit from Samsung's new range, with four of the five displays including embedded AMD FreeSync™ Technology[2] over HDMI® functionality that synchronises screen refresh rates with AMD graphics cards (sold separately) to help combat input latency, stutter and lag when viewing interactive video content.
To deliver a uniform presentation, Samsung's CF390, CF391 and CF591 monitors offer a wide viewing angle, which is designed to help users view content seamlessly from multiple locations in the room.
Deep Blacks, Bright Whites, Rich Colour
By combining curvature and wide-angle viewing with premium colour presentation and accuracy maintenance features, Samsung's curved displays bring minor visual details to life – even when watching movies or playing video games. The CF390, CF391 and CF591 display' 3,000:1 (typ) static contrast ratio is nearly three times higher than that of the standard Samsung monitor alternatives[3], and presents content with deep blacks and pristine whites. All curved monitors are reinforced with Samsung's Vertical Alignment (VA) panel technology to help reduce backlight bleed and produce a complete, high-quality picture.
To help amplify image detail, Samsung's active colour crystal technology supports a wider sRGB colour gamut with the CF591 monitor. This feature enables the CF591 to present a wider range of colour hues and values than conventional Samsung displays, creating a more vivid viewing experience.
For gamers, Samsung's Game Mode setting can automatically adjust picture conditions to become lighter or darker as dictated by gameplay, while also helping minimise screen stuttering and tearing. These benefits, combined with the displays' tight curve radius, work to provide gamers with a more realistic and immersive experience.
A Sleek, Stylish Design
Samsung's CF591 curved monitors feature a boundless, thin-bezel design without a viewing border that fosters an immersive and captivating experience to draw audiences in.
Additionally, Samsung's new monitors are built to be both practical and attractive, making them a perfect addition to any office or home entertainment setting. The CF591 feature a metallic silver front and glossy white back that accentuate the monitors' curved structure. A circular stand elevates the look of the base while simultaneously providing stable support. Likewise, CF391 and CF390 users can easily adjust their screen viewing angle with the display's ergonomic tilt components.
An All-in-One Entertainment Centre
Through rich sound quality and versatile connectivity, the CF591 display transforms on-screen content into a superb experience. The CF591 monitor features built-in dual 5W speakers that deliver enriched sound quality while helping to manage speaker and cable clutter on desktops. The CF591 also provides easy connectivity and visual continuity through an embedded interface containing HDMI, D-Sub and Display Port inputs, while the CF 391 features Display Port and HDMI inputs, and the CF390 offers HDMI and D-Sub inputs.
Pricing and Availability
The new curved monitor range is available now from selected retailers, with recommended retail prices as set out below:
CF390 (22-inch model) RRP$289.95
CF390 (24-inch models) RRP$349.95
CF390 (27-inch models) RRP$519.95
CF591 (27-inch model) RRP$549.95
CF391 (32-inch model) RRP$699.95
Key Specifications
Model
CF391
CF591
CF390
Design
Curved Display
Display
Size
31.5"
27"
21.5" / 23.5" / 27"
Curvature
22°
19°
16° / 17° / 19°
Resolution
1920 x 1080
Response Time
~5ms (GTG) on average
Contrast Ratio
Mega Dynamic
Colour Support
16.7M
Refresh Rate
60Hz
Design
Colour(s)
White
Silver and White
Black High Glossy
Stand Type
Circular
Video Input
Display Port x1 HDMI x1
Display Port x1, HDMI x1,

D-Sub

HDMI x1 D-Sub
Audio In
No
Yes
No
[1] Study titled "Comparison of Flat and Curved Monitors: Eyestrain Caused by Intensive Visual Search Task".
[2] FreeSync not available on CF391
[3] For example, LS22E390HS/XY, LS24E390HL/XY, LS27E390HS/XY