Hardware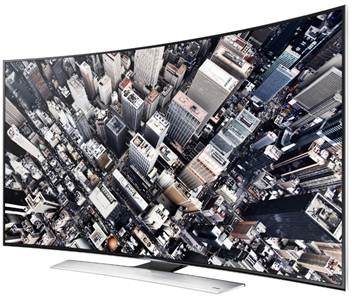 Published on April 29th, 2014 | by admin
Samsung Electronics Australia launches its first Curved Ultra High Definition LED TVs
SYDNEY, Australia – 29 April, 2014 – Samsung Electronics Australia has today announced the new 2014 Ultra High Definition1 (UHD) LED2 TV line up which includes its first Curved UHD LED TV range. The new range builds on Samsung's commitment to innovation in television technology and showcases its advancements in product design by offering Australians a stunning, immersive viewing experience. The new Samsung Series 8 and Series 9 UHD LED TVs will begin shipping to selected retailers and the Samsung Experience Stores soon.
"We're incredibly excited to deliver Samsung's first curved UHD LED TVs to market in Australia, TVs that will deliver the most advanced and immersive viewing experience Samsung has to offer. We are confident that these TVs will change the way our customers experience visual content in the home," said Philip Newton, Corporate Vice President, Samsung Electronics Australia. "This year, the expansion of the Samsung UHD LED TV range and introduction of our curved TV technology represents our firm commitment to driving fundamental advancements in offering Australians and the most innovative products possible," he added.
The new curved UHD LED TV range from Samsung will be made available in a selection of different sizes that have been designed to cater to the diverse needs and requirements of Australian customers.
Key features across the new 2014 Samsung UHD LED TV range include:
Curved designs: Provides an immersive viewing experience thanks to the new form factor
Multi-Link3: Divides the TV screen into four sections to bring contextual multitasking and multi-screening to the big screen
More Intuitive Smart Hub4: Allowing Australians to take control of their entertainment experience and new Games panel
Auto Depth Enhancer7: A proprietary algorithm automatically adjusts contrast to create a sense of depth on Samsung Curved UHD LED TVs
Support for current UHD standards1: HEVC, HDMI 2.0, HDCP 2.2, MHL 3.0 and potentially future Samsung software upgradability with the new Samsung UHD One Connect Box8
Updated Quad Core processor: Faster Samsung Smart TV performance
An incredible immersive viewing experience
This year, Samsung is blending a curved TV design with its UHD LED TV technology. The adoption of curved TVs in 2014 will see Australians embrace a bold new cinematic experience for the home. Samsung has developed a curvature of 4200R5.
The new Series 9 Curved UHD LED TV features Samsung's PurColor™6 technology, which is designed to reproduce colour on the panel to express more detailed shades than available on all previous Samsung Smart TVs. With Samsung's Auto Depth Enhancer7 algorithm, regions of images on the TVs are automatically adjusted to create a sense of depth on the new curved screens.
In addition to the Series 9 Curved UHD LED TV series (HU9000), the curved form factor is also expanded to the flagship Series 8 FHD LED TV (H8000). This second generation of Samsung curved screens can also be wall mounted with the specially designed kit (sold separately) and is compatible with VESA Standards.
UHD One Connect Box8
With the new UHD One Connect Box now available, 2013 Samsung UHD Smart TV customers will be able to view some of the latest content in a wide range of formats and through selected multiple audio visual connections.
The UHD One Connect Box has been designed to help customers remain up-to-date with developing Samsung Smart TV and Smart Hub features.
Faster and more intuitive Smart Hub4 – featuring the new Multi-Link3
The new Multi-Link feature brings information and multitasking to the big screen, enabling users to delve deep into their home entertainment by splitting the screen into multiple sections and allowing users to watch a show on a free to air channel whilst viewing content from either Samsung Apps or the Internet. Users can search for the latest statistics or view current tweets about a sporting match while simultaneously watching a game on a free to air channel, on the same screen.
While enjoying content on a free to air channel, users can also populate a right-hand screen with the Web browser or relevant YouTube video content for side-by-side enjoyment of related information streams.
With the updated 2014 Samsung Smart Hub, TV content is organised into five separate panels to offer users flexibility and control of the entertainment experience through a range of panel menus. A new additional Games Panel allows customers to experience big-screen exhilaration with minimal entertainment system clutter. There will be a variety of popular family, sports, action and racing games from leading partners like EA Games that can be downloaded from Samsung Apps4. A new Multimedia panel combines the previous Photo/Video/Music and Social panels to enjoy personal content and connections. 
Along with voice interaction, TV motion control has been improved and refined by adding the 'finger gesture' feature that people can use to change the TV channel, adjust the volume, search and select what they want to watch. For example; users can scroll to a previous channel or Smart Hub panel or stop the video by motioning their finger in a specific way.9 
New Home Entertainment Sounds Line-up
Samsung has also announced an expanded range of audio products aimed at elevating the home entertainment experience it offers Australians. With the new Wireless Audio Multiroom System10, Samsung has built on ways people can enjoy high quality sound throughout multiple rooms of the house.
The 7.1 surround sound Series 7 Home Theatre System (HT-H7750) is an all-in-one home entertainment solution. The 1330W system features Samsung's 2014 Smart Hub4, an upscaling Blu-ray player, valve amp technology, and compatibility with the Samsung Wireless Audio Multiroom System.
The Samsung Wireless Audio Multiroom M5 and M7 speakers can be used alone or in combination with other multiroom speakers to create an integrated home sound system. Two M7s can also be paired to create a wide stereo effect in a single room, or combine with five speakers (sold separately) with a compatible Samsung Smart TV, to create a 5 channel system.
Samsung's Series 7 Soundbar (HW-H751) delivers clear, crisp sound when used in conjunction with a compatible Samsung Smart TV. Combining natural tones of valve amplification and Samsung digital audio technology, the Series 7 Soundbar produces warm and full sound ranges to compliment a Samsung UHD LED TV experience. With its sleek, metallic design, the Series 7 Soundbar can add a modern twist to the Australian lounge room.
The Series 7 Soundbar also supports Samsung's TV Sound Connect11 feature which outputs TV audio through the device wirelessly via Bluetooth. This greatly simplifies and streamlines installation of the system at home. The 320W unit also is compatible with Samsung's growing roster of Wireless Audio Multiroom products.
For more information on the new products announced, please visit: www.samsung.com/au/tv  

Pricing and Availability
Samsung Series 9 Curved UHD LED TV 78"+ (HU9000) – RRP $16,999, available in June 2014
Samsung Series 9 Curved UHD LED TV 65"+ (HU9000) – RRP $6,999, available in April 2014
Samsung Series 9 Curved UHD LED TV 55"+ (HU9000) – RRP $4,999, available in April 2014
Samsung Series 8 UHD LED TV 48"+ (HU8500) – RRP $2,999, available in May 2014
Samsung Series 8 UHD LED TV 55"+ (HU8500) – RRP $3,999, available in May 2014
Samsung Series 8 UHD LED TV 65"+ (HU8500) – RRP $5,699, available in May 2014
Samsung Series 8 Curved HD LED TV 65"+ (H8000) – RRP $5,699, available in April 2014
Samsung Series 8 Curved HD LED TV 55"+ (H8000) – RRP $3,799, available in April 2014
Samsung Series 7 Home Theatre System (HT-H7750) – RRP $1,099, available in May 2014
Samsung Wireless Audio Multiroom M7 speaker – RRP $499, available in May 2014
Samsung Wireless Audio Multiroom M5 speaker – RRP $399, available in May 2014
Samsung Series 7 Soundbar (HW-H751) – RRP $899, available in May 2014