Games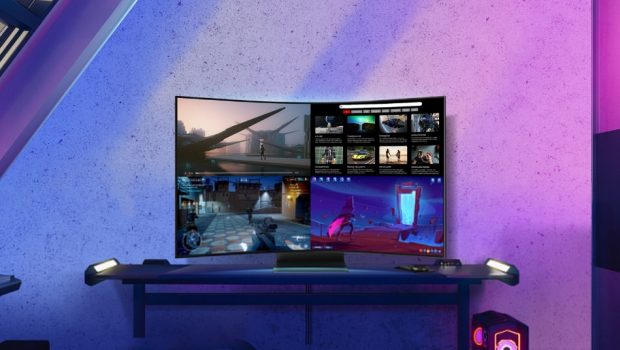 Published on November 7th, 2023 | by Adrian Gunning
Samsung Electronics Australia brings the Odyssey Ark 2nd Gen to Australia
Samsung Electronics Australia has today announced the local availability of the Odyssey Ark 2nd Gen Curved UHD Gaming Monitor (G97NC model), building on the success of its predecessor and offering a range of new features to take gaming to the next level.
Available exclusively from the Samsung Online Store for RRP $3,999, the Odyssey Ark 2nd Gen is set to impress gamers looking for the ultimate big-screen gaming experience.[1]
"We are thrilled to bring these new enhancements to the Odyssey Ark, which assist in creating the ultimate entertainment screen for premium gaming experiences," said Phil Gaut, Senior Director of Display and Brand Memory, Samsung Australia. "The new features come from Samsung's mission to meet the dynamic needs of the gaming community, in which ground breaking design, performance and personalisation is optimised to inspire a new way of gaming."
"The enhanced 55" Odyssey Ark delivers 4K Picture Quality, 1000R Curvature, a Matte Display and Quantum Matrix Technology to increase connectivity and compatibility, so users can spend more time unlocking their best gaming potential."
First launched in 2022, the Odyssey Ark (G97NB) set its mark as the world's first 55-inch 1000R curved gaming screen, featuring an innovative interface for gamers to enjoy a truly captivating experience when playing games and enjoying content. Significant upgrades including the new Multi View lets users see input from up to four devices at once[2], taking advantage of the monitor's impressive screen real-estate.
The Odyssey Ark 2nd Gen features a newly enhanced Multi-View for epic gameplay. Image simulated for illustrative purposes.
Making immersion stronger than ever before
The Odyssey Ark combines stunning picture quality, a flexible interface and incredible surround sound to create a space for gamers to connect, compete and multi-task during gameplay without missing the most exciting moments. Its lifelike images on the 55-inch screen delivers visuals that can heighten the senses, creating a personal gaming theatre. This is complemented by 1000R curvature[3] to wrap around the field of vision for maximum immersion.
The new rendition includes support for external devices with A DP (DisplayPort) 1.4, which has been added to the Odyssey Ark's three HDMI ports to increase compatibility and the KVM Switch[4], making the Odyssey Ark a single command station for a smooth multitasking experience across multiple devices.
The Multi View feature has been notably upgraded to establish connectivity and a multi-screen experience for users to split the screen up into four windows (three in Cockpit mode). This upgrade echoes the sentiment of gamers, who have previously enjoyed the immersive experience of Multi View, who can now experience consuming a variety of content, playing multiple games at once, or viewing a handful of documents all through one screen.
Flex Move Screen allows users to change the screen size from 55 to 27 inches, moving the position of the games to any direction it is intended to be in, also allowing gamers to adjust the ratio from 16:9 to 21:9 or 32:9. This can seamlessly be controlled by the Ark Dial, an exclusive controller offering a thrilling opportunity to unlock new possibilities through the world of gaming.
Users are immersed in lifelike images thanks to the Odyssey Ark 2nd Gen's 55-inch screen and 1000 curvature that creates an immersive, adrenaline-fueled experience.
A tailored gaming environment
For a cinema quality gaming setup, the Odyssey Ark utilises Samsung's Matte Display and Sound Dome Technology. The Matte Display provides anti-glare protection, reducing glare by absorbing light, helping users minimise distractions and maintain focus. Its Sound Dome technology blends an AI Sound Booster and Dolby Atmos to help enhance the sound experience with four speakers at each corner, and two central woofers, resulting in realistic and rich sound which totals to 60 watts.
To give gamers a competitive edge when speeding through fast environments, the 165Hz refresh rate, on the Odyssey Ark 2nd Gen brings together a 4K (3,840 x 2,160) resolution featuring 1ms response time (GtG)[5] with AMD FreeSync Premium Pro, helping to maximise on-screen accuracy.
Personalise your setup with Gaming Hub
Through a Wi-Fi connection, users can also enjoy Smart TV functionality, transforming the Odyssey Ark 2nd Gen into a platform to access popular streaming apps, through Samsung Gaming Hub[6], which seamlessly integrates music and streaming services to personalise entertainment options during gameplay. Samsung Gaming Hub makes it easy for gamers to search, stream, and enjoy content from leading partners with no additional hardware or downloads needed.
Pricing and Availability
The Samsung Odyssey Ark 2nd Gen is available via the Samsung online store for RRP $3,999.00.[7]
To learn more about Samsung's Odyssey Ark monitors and the full Odyssey lineup, visit: samsung.com/au/monitors/odyssey-gaming-monitor
[1] Refers to RRP price at time of publication.
[2] In Cockpit Mode, Multi View can show up to 3 screens on one display. Game Mode, VRR, and Cloud Game are not supported while in Multi View mode. While in Multi View mode, refresh rates of up to 120Hz are supported for external inputs. Some Smart Hub features may not be supported depending on the service provider, language, or geographical area.
[3] Optimal viewing distance is at over 80cm.
[4] KVM Switch feature is compatible with external PC inputs and the Odyssey Ark's built-in apps. Support may vary by app. Each PC must be connected via USB Upstream cable. USB Upstream cable sold separately. Requires the Easy Setting Box program on each PC. Please refer to the dedicated installation page for in-depth information about Easy Setting Box.
[5] "1 ms" means one milliseconds which is the range of avg. response time between 1.00ms to 1.99ms truncated to a whole number. Based on GtG measured under internal test conditions. Results may vary by content and monitor settings (requires 'Extreme mode' setting). GtG (Grey to Grey) measures the time taken for a monitor pixel to change from one grey value to another
[6] Accessing Gaming Hub is free of charge. Subscription may be required to access content offered by game-stream providers on the Gaming Hub platform. A separate controller may be required depending on the specific game in Gaming Hub. You will need a Samsung Account to access our network-based smart services. If you choose not to log-in, you will only get connection to terrestrial TV (applicable to devices with tuners only) and external devices e.g., via HDMI.
[7] Refers to RRP price at time of publication.