Hardware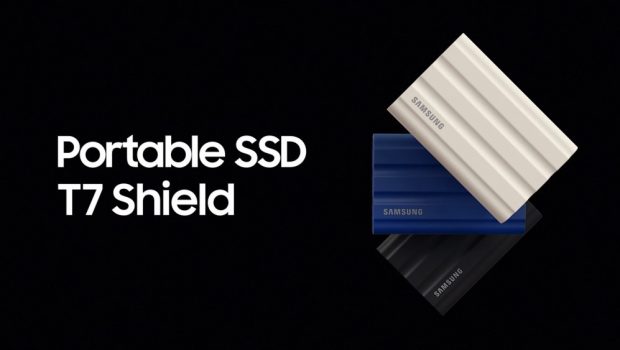 Published on June 7th, 2022 | by Adrian Gunning
Samsung Electronics Australia announces launch of rugged Portable SSD T7 Shield
In a demonstration of its leadership in storage and advanced memory technology, Samsung Electronics Australia today announces the availability of a range of new products coming to market this month which includes the latest in external storage, the Portable Solid State Drive (PSSD) T7 Shield.
Bringing incredible performance and reliability in a durable, compact size, the T7 Shield is the most recent addition to the Samsung  Portable SSD family that includes the T7, a daily driver that provides incredibly fast speeds in a sleek design, and the T7 Touch[1], a CES award-winning PSSD with a built-in fingerprint sensor for enhanced data protection.
"Creative professionals and consumers want durable, high-performance and reliable SSDs with the assurance their data can remain safeguarded, even when dropped, exposed to fresh water or used outdoors" said Phil Gaut, Senior Director of Display, and Brand Memory, Samsung Electronics Australia.
Gaut continued: "The T7 Shield also offers extensive compatibility, enabling consumers to use the new SSD on multiple compatible devices including PC, android smartphones, and game consoles."
T7 Shield – IP65-Rated Durability and Exceptional Performance
The T7 Shield is Samsung's most durable PSSD to date, making it ideal for outdoor content creators or travellers who need powerful and generous data storage without having to worry about data being exposed to the elements or life's mishaps. Carefully engineered by Samsung from the inside out, the T7 Shield is shock-resistant from drops of up to 3 meters[2], while being IP65-certified as dust and water resistant[3]. Despite the new rugged design, the T7 Shield is compact and lightweight, weighing a mere 98 grams.
The T7 Shield delivers a read speed of up to 1,050 MB/s and a write speed of 1,000 MB/s[4], which are the fastest transfer speeds currently available based on the USB 3.2 Gen2 standard[5]. It is approximately twice as fast as its predecessor, the T5, and up to 9.5 times faster than external hard disk drives (HDDs)[6], which can save consumers, digital creators and professionals' valuable time.
Samsung has also optimised the inside and outside of the product, by changing the surface material and improving the software in the T7 Shield. Due to this change, there is reduced performance degradation even when files of 2TB are moved at once, and heat generation is minimised, which helps prevent inconvenience to the consumer experience. This technology makes it possible to transmit data stably with little performance drop[7], even when performing data-heavy, continuous tasks such as high-quality video recording, editing, encoding and rendering. Therefore, the T7 Shield can alleviate concerns over inconsistent drive performance.
As part of today's announcement, Samsung Electronics Australia has also confirmed the availability of its new microSD card, the Samsung PRO Endurance, and its USB Type-C™ Flash Drive 256GB:
Samsung PRO Endurance
Uniquely designed to meet the rigorous demands of surveillance cameras, dashboard cameras, doorbell cameras, body cameras and more, the new PRO Endurance microSD card offers improved endurance and performance for reliable continuous capture and playback.
Built with Samsung's highly reliable enterprise-grade NAND flash memory, the PRO Endurance card can deliver up to 16 years (140,160 hours)[8] of continuous recording time to ensure every critical moment is captured. This means a single PRO Endurance card can last as long as up to 33 typical speed-focused cards[9], saving frequent replacement costs and providing greater reliability for always-on video monitoring.
The PRO Endurance microSD card offers read and write speeds of up to 100 MB/s and 40 MB/s[10], respectively, and is rated Class 10 with video speed ratings of up to U3 (UHS Speed Class 3) and V30 (Video Speed Class 30)[11]. This makes it ideal for handling large, high-resolution files while enabling seamless recording and playback in Full HD and 4K.
USB Type-C™ Flash Drive
Ergonomically designed and tailored for the ubiquitous USB Type-C port.  Featuring Samsung NAND flash and backward compatibility with USB 3.0/2.0, this drive delivers up to 400MB/s[12] USB 3.1 read speeds[13]  for fast and reliable performance to scale across multiple use cases.
Whether you need to quickly transfer content to laptops, tablets, smartphones or cameras, the ultra-sleek mystic blue drive makes it easy to move data across devices on the go.
Portable SSD T7 Shield: Available now in beige, black and blue to satisfy user preferences, the T7 Shield is offered in 1TB and 2TB sizes, making it suitable for a wide range of use cases. The drive comes with a USB Type-C-to-C cable and a USB Type-C-to-A cable, and includes a three-year limited warranty with the recommended retail prices (RRP) of $239.00 for the 1TB and $459.00 for the 2TB.
Samsung PRO Endurance – Available in early June in four different storage capacities of 32 gigabytes (GB), 64GB, 128GB and 256GB with the recommended retail prices (RRP) ranging from $19.95 for the 32GB to $119.95 for the 256GB.
USB Type-C™ Flash Drive – Available now in blue, in ranging storage capacities of 64, 128 and 256GB with recommended retail prices (RRP) starting at $24.95 for the 64GB to $80.00 for the 256GB.
The new ranges are now available on Samsung Online Store only (shop.samsung.com/au) and will be in retail stores by July 2022. For more information, please visit the Samsung Electronics Australia website.
[1]CES 2020 Innovation Awards honoree
[2]The drop test was conducted under controlled conditions. Drop resistance may vary depending on the actual environmental conditions. Damage caused by drop is not covered under warranty.
*Test condition: Device was dropped free-fall to a metal plate from 3-meter height.
[3]IP (Ingress Protection) ratings define degrees of protection provided by mechanical casings and electrical enclosures against water and dust.
T7 Shield has a IP65 rating based on internal testing conducted under controlled conditions. Water and dust resistance capabilities may vary depending on the actual environmental conditions. Damage caused by liquid and dust are not covered under warranty.
**IPX5 Test condition: Device was exposed to fresh water projected from a nozzle (Φ6.3mm) 3 meters away at 12.5 l/min for 3 minutes.
**IP6X Test condition: Device was exposed to 2kg/m³ of active dust with a pressure under 2kPa for 8 hours in a vacuum chamber.
[4]Test system configuration: ASUS Z270 ROG MAXIMUS IX HERO (USB 3.2 Gen2 Type-C), Intel(R) Core(TM) i7-7700K CPU @ 4.20GHz, OS- Windows 10 19H2
[5]USB 3.2 Gen2 is the standard protocol offered on most consumer and pro model laptops. Throughput is limited due to device ports, not the SSD. Performance may vary depending on host configuration. To reach maximum read/write speeds of up to 1,050/1,000MB/s, respectively, the host device and connection cables must support USB 3.2 Gen2, and the UASP mode must be enabled.
[6]Based on internal test results compared to a Samsung external HDD 1TB(HX-MTD10EA).
[7]The T7 Shield maintains above 900MB/s of sequential write speed with the 1TB model and 1,000MB/s with the 2TB in ambient temperature (25℃).
[8] Varies by capacity; 256GB model up to 140,160 hours, 128GB model up to 70,080 hours, 64GB model up to 35,040 hours, 32GB model up to 17,520 hours. Based on Full HD (1920×1080) video content recorded at 26Mbps (3.25MB/s). Actual continuous recording time may vary depending on battery capacity of camera.
[9] Based on comparison of internal tests with Samsung EVO Plus card of the same capacity.
[10] Performance results are based on internal testing conditions. Transfer speeds may vary by host device.
[11] Varies by capacity; U3, V30 for 128/256GB models, and U1, V10 for 32/64GB
[12] Up to 400MB/s for 256/128GB models, up to 300MB/s for 64GB models
 [13] USB 3.1 is equivalent to USB 3.2 Gen 1