Hardware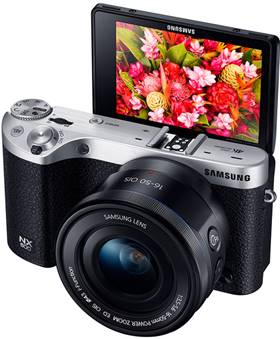 Published on March 20th, 2015 | by admin
Samsung combines style and performance with the premium NX500 camera
SYDNEY, Australia – 20th March, 2015 – Samsung Electronics Australia has today launched the NX500 camera, combining sophisticated design and technology to deliver quality images and videos to the style-conscious everyday Australian photographer.
The lightweight retro design allows photographers to enjoy serious technology in a portable and stylish package. Utilising some of the flagship Samsung technology first seen in the Samsung NX1, the NX500 features an amazing 28 megapixel sensor and 4K & UHD video recording for exceptional image and video quality. While built-in connectivity allows for easy photo sharing with compatible devices.
"The NX500 represents Samsung's ongoing commitment to the category. We've integrated our latest imaging and wireless technologies to redefine what's possible with a Samsung camera for everyday Australians who love taking and sharing photos," said Craig Gillespie, head of Digital Imaging – Samsung Electronics Australia. "We recently launched our flagship NX1 camera in Australia and it has been met with many positive comments about its performance and image quality. I'm very proud to say that the NX500 camera shares many of the NX1's advanced features and innovations in a retro lightweight design."
Compact and lightweight design
The lightweight compact design of the NX500 makes it portable for everyday use when compared to larger cameras in the Samsung NX range. The camera fits easily in the palm of a hand, and features an angled shutter button that is comfortable to reach and easy to press, delivering a combination of steadiness and ergonomics for taking great shots.
The NX500 features two independent command dials and a hybrid UI that includes both a touchscreen and a range of buttons on the back, providing quick and easy access to key settings on the fly.
Users can tilt the 3-inch display 90° and rotate it 180°, and with a Full VGA AMOLED screen they can compose shots in variable lighting conditions.
Superb image quality – 28MP still and 4K Video
With its ultra-high 28MP resolution Back Side Illumination (BSI) APS-C sensor, the NX500 has the ability to take high quality shots, even in low light situations.
Supporting 4K UHD video recording, the built-in HEVC (H.265) codec brings efficiency to the storage of video clips by compressing high quality video to approximately half the file size of H.264 footage. Additionally, still UHD images captured from Interval Capture mode can easily be converted into a UHD time-lapse video in camera, without the need to transfer images to a compatible PC first.
Multiple connectivity options
The NX500 camera's 802.11ac Wi-Fi and Bluetooth 4.0 standards are designed to ensure quick data transfers of high resolution photo and video files to compatible devices*.
Using NFC, users can simply tap their compatible smartphone or tablet with the NX500 to quickly transfer their favourite high-quality images onto their compatible mobile device to share on their social media networks*.
Capture action as it happens
The NX500 has a variety of shooting modes (baseball, jump, and trap) to allow users to easily capture the image they want. The Auto Shot mode features a predictive algorithm to track movement and allows the camera to take fast action shots at particular moments –great for parents taking pictures of their kids playing sport on the weekend. Parents can easily capture the moment their child kicks the winning goal or when they hit the ball for a six.
The NX500's DRIMeV processor, Samsung's most powerful camera image processor, delivers speed, performance and accuracy for photos and video in a variety of shooting conditions. The processor offers superb colour reproduction, noise reduction and image quality.
The incredible 28 megapixel sensor and 205-point phase and contrast Hybrid AF system (features also shared with the flagship NX1 camera), allow users to capture swift moments by simply focusing and shooting with speed and flexibility.
With continuous shooting, users can capture a burst of images at 9 frames per second. And with the advanced AF system, it's designed to continuously focus so you don't lose detail as the subject moves.
Pricing and Availability
The NX500 (with 16-50 PZ lens) is available in black or white for an RRP of $999 at selected retailers and specialist photography stores from early April 2015.
Samsung NX500 Specifications
Image Sensor
28.2MP BSI APS-C
Display
3" Super AMOLED Touch

1,036k Tilt / Flip

ISO
Auto, 100~25600 (Ext. 51200)
Shutter Speed
1/6000 sec
Image
JPEG : (3:2) : 28M (6480×4320), 13.9M (4560×3040), 7.1M (3264×2176), 3.0M (2112×1408) (16:9) : 23.6M (6480×3648), 11.9M (4608×2592), 6.2M (3328×1872), 2.4M (2048×1152)  (1:1) : 18.7M (4320×4320), 9.5M (3088×3088), 4.7M (2160×2160), 2.0M (1408×1408) RAW : 28.0M (6480×4320)
Video
MP4 (Video: HEVC /H.265, Audio: AAC) 4096×2160 (24fps), 3840×2160 (30fps), 1920×1080, 1280×720, 640×480
Frame rate: 60fps, 30fps, 24fps NTSC / 50fps, 25fps, 24fps PAL
Video Output
HDMI (NTSC, PAL)
Value- Added  Features
Samsung Auto Shot

SMART Mode (Action Freeze, Beauty Face, Fireworks, Landscape, Light Trace, Multi-Exposure, Night, Panorama, Rich Tones, Silhouette, Sunset, Waterfall)

UHD Time-lapse Video

Attachable Flash (Guide Number 8 at ISO100)
Connectivity*

 

Wi-Fi 802.11 b/g/n

·      Quick Transfer, Email, Auto Backup, Remote Viewfinder Pro, Mobile Link, Photo Beam, Bluetooth GPS Tagging, Auto Time Setting, TV Link

Bluetooth
NFC
Storage
SD,SDHC,SDXC,UHS-I
Battery
1130mAh
Dimension  (WxHxD)
119.5 x 63.6 x 42.5mm (without projection)
Weight
292g (without battery and memory card)
* Samsung Camera Manager App and compatible device required for operation of connectivity features. Internet connection required to download app. Compatible devices must be in close proximity to enable functionality.