Hardware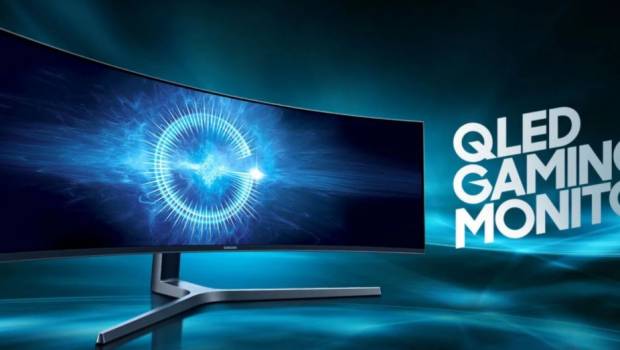 Published on January 21st, 2018 | by James Wright
Samsung CHG90 QLED Gaming Monitor Review
The Samsung CHG90 QLED Gaming Monitor has been specifically designed for gamers who want the best experience, particularly from a widescreen perspective. At its core, the Samsung CHG90 QLED Gaming Monitor boasts an insanely large screen of 49 inches (which is very impressive and some would a MONSTER), an aspect ratio of 32:9 with a resolution of 3840 x 1080, a 144Mhz refresh rate and a motion picture response time (MPRT) of 1 milliseconds.
Add in Samsung's backlight strobing which reacts to your audio plus AMD's FreeSync technology, including HDR and you have everything you need to take your gaming to a whole new level which is almost like having your own theatre. Another highlight of this display is QLED which is quantum dot technology that with HDR really takes the colours to a whole new level, including its brightness for improved picture quality. As a result, blacks are black and colours are a true kaleidoscope which literally pop out of the screen.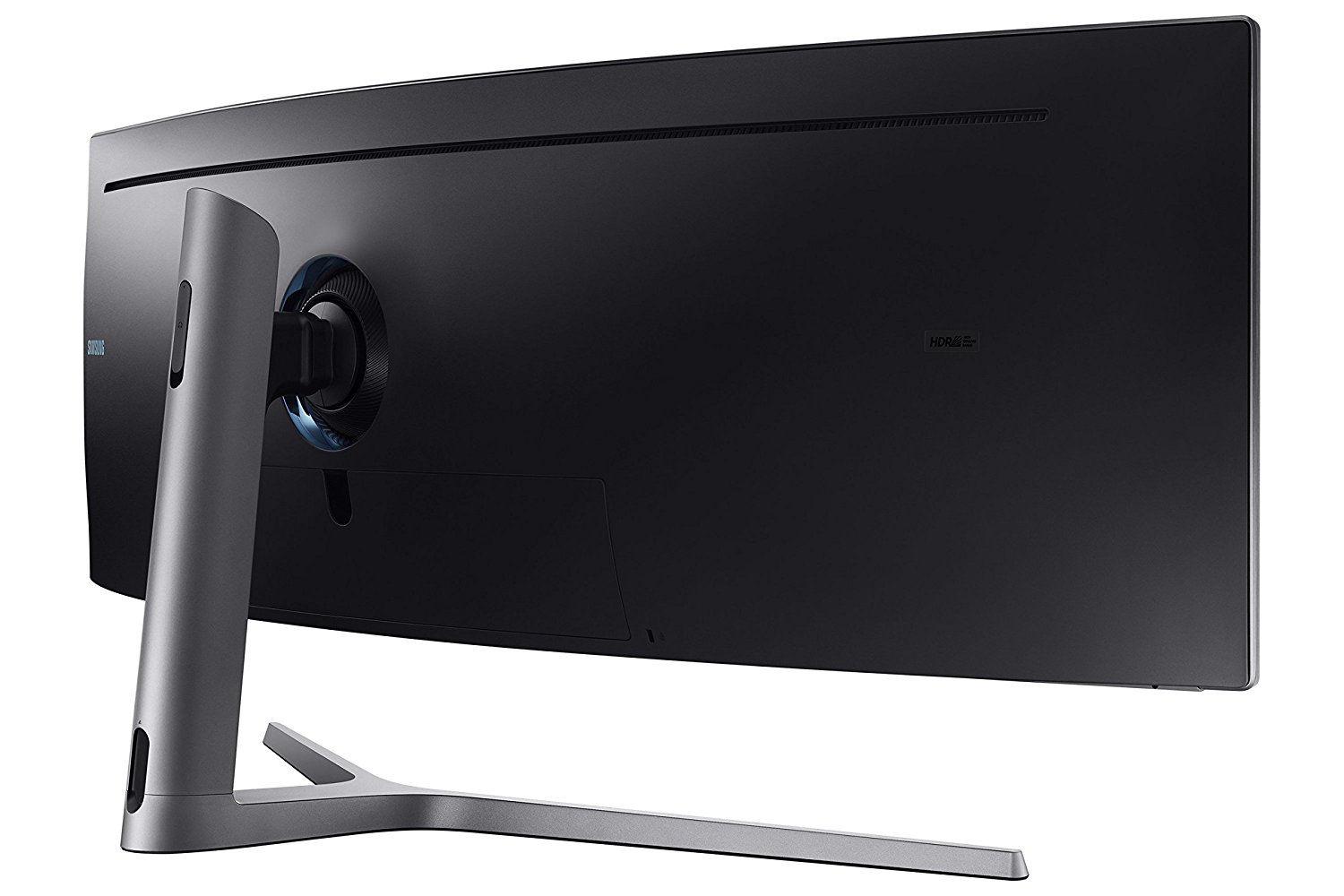 Needless to say there was huge buzz at our office and when the product arrived, the first thing we noticed was the massive box that this monitor came packed in which of course is a good thing. You may also need two people as the box weighed around 20kg. However as we carefully unpacked the Samsung CHG90 QLED Gaming Monitor from its 'cardboard carbonite', the other thing that you will notice is just how big this product is.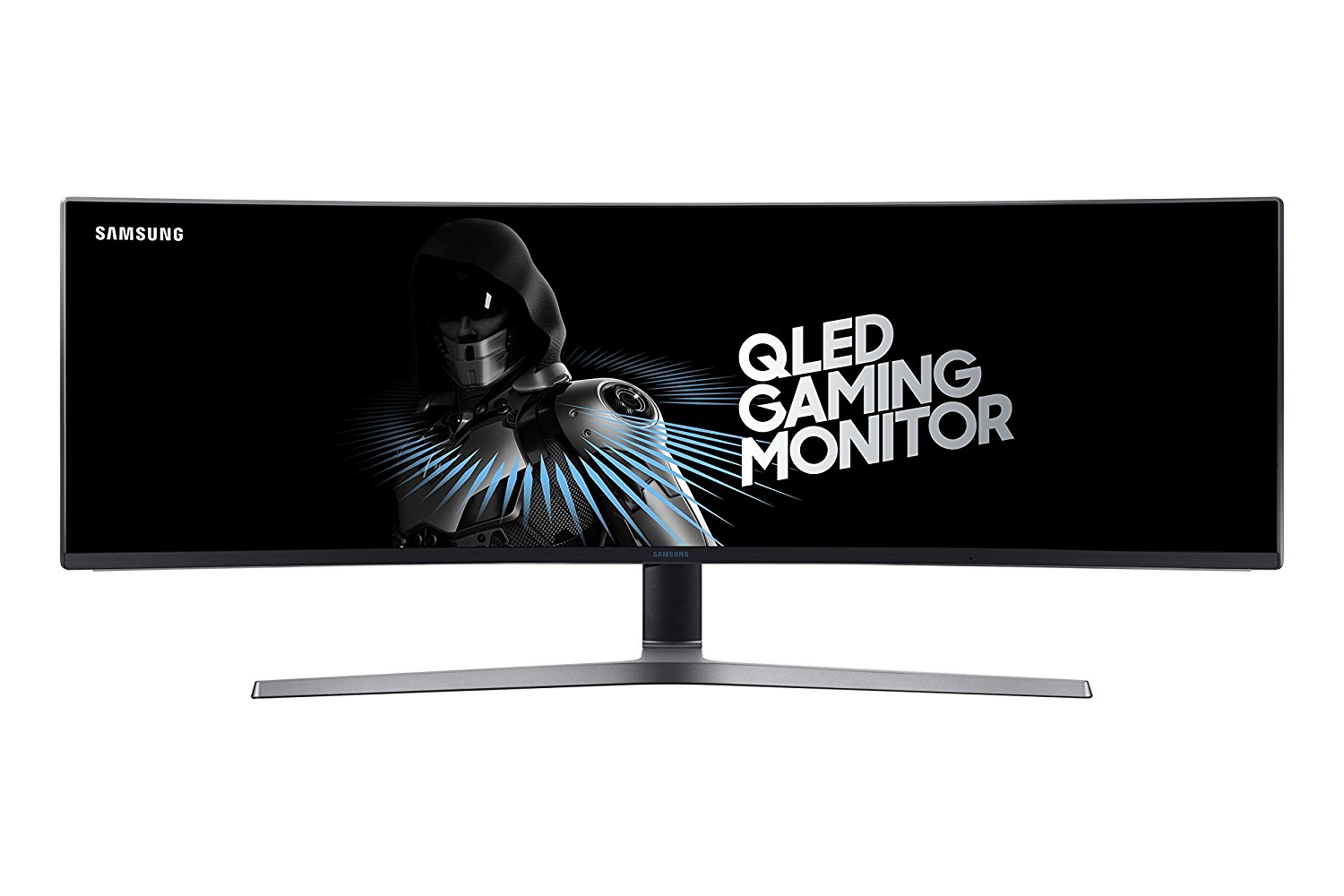 The dimensions of the Samsung CHG90 QLED Gaming Monitor is 1203 x 369.4 x 194.4mm that weighs 15 kilograms. It's like having two 16:9 screens (27″) next to each and as we'll discuss later, this is also a possibility… tell me more right? Furthermore and like other Samsung monitors, it is very well-designed product with a black frame, metallic boarder on the edges, well-placed inputs at the back, Blue LED on the left of the screen to indicate power and a power-button/joystick just under the LED.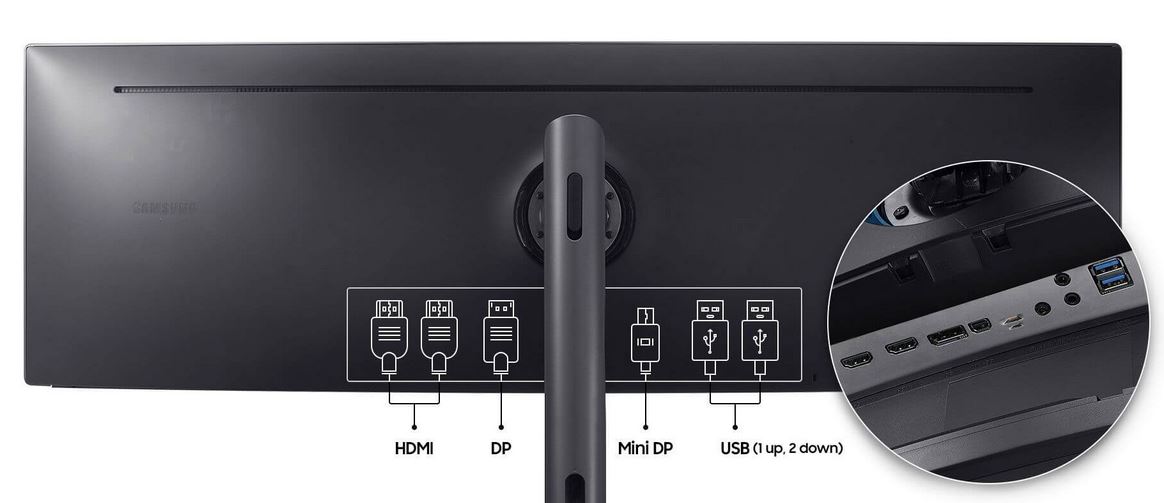 Highlights
Super ultra-wide screen
32:9 super wide aspect ratio
Metal Quantum dot
High Dynamic Range
Fast 144 Hz refresh rate
Arena Lighting
Picture-by-Picture
Black Equalizer
Eye comfort
Aesthetically, it looks quite impressive and with the inclusion of this almost ethereal glow emitting from the back, it definitely makes it stand apart from its competitors and incorporates this excellent gaming element to it. Furthermore, it comes with a very sturdy stand and by removing this, you can even attach the Samsung CHG90 QLED Gaming Monitor to the wall thanks to the included VESA wall-mount adapter. Given the real estate needed to house this beast, wall-mounting the monitor may solve this issue for some people of this curved screen.
In terms of connections, the Samsung CHG90 QLED Gaming Monitor boasts a wealth of inputs that include a DisplayPort 1.3, mini-DisplayPort 1.3, two HDMI 2.0 connections and three USB 3.0 connections which are all located on the back. The resolution of this monitor is interesting as it's not your normal specifications so for some people, you may need to get familiar with the 3840 x 1080 resolution. However for us, it was very easy to get into this new resolution groove and the slightly curved display really adds to the immersion factor.
As the monitor comes in three pieces, you first need to attach the base to the stand and then to the display itself via the included screws. A screwdriver is needed and once attached, you're almost ready to begin your new gaming experience. It's also great that Samsung have included a handful of cables that include the power, two DisplayPort cables (including a mini), a USB uplink cable and a HDMI cable. Once connected to your PC gaming rig, Windows 10 automatically detected the change and we were ready to go and there is some software from Samsung to increase the capabilities of this product.
Although no remote control, navigating the menu is done via the power button which doubles as a joystick and is quite intuitive to use. The menus are easy to navigate and well placed which easily allows you to find the area you need quite quickly and without hunting around. Adding to the navigation are three additional buttons just off to the left from the power button that are used for pre-sets to easily swap between different settings on the fly.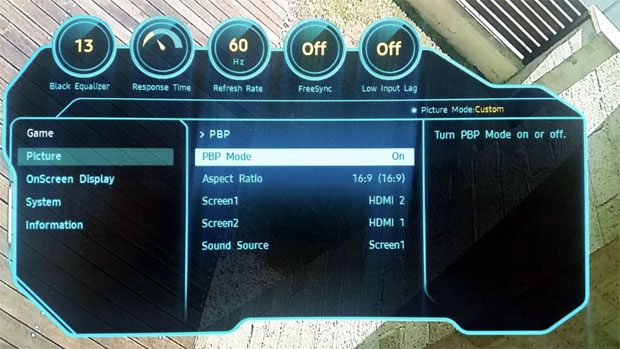 When it comes to picture quality and thanks to the high quality panel, the Samsung CHG90 QLED Gaming Monitor boasts some exceptional images and unparalleled quality. When using it with your PC, using programs such as Microsoft Office, Adobe Photoshop, navigating Windows 10 or surfing the internet produced very clear text and images with no eyestrain whatsoever plus it reduces blue light at a lower power setting. The additional widescreen really increases what you can do on your PC as you can have multiple windows carefully placed on your screen.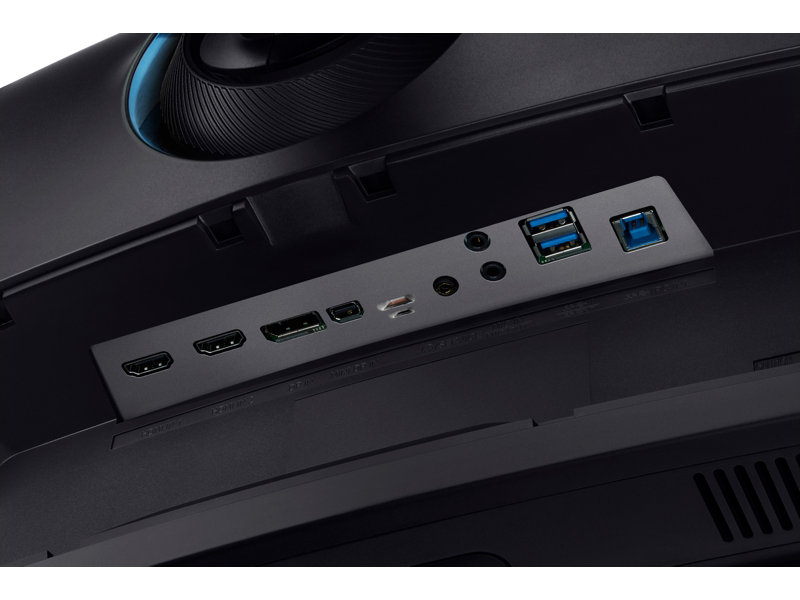 Given the size of the monitor, you can have the display show two separate sources at 16:9 plus it also supports PBP (Picture by Picture) mode which allows you to have two images. For example, we had our PC connected to the screen and our XBox One X with the PC on the left and the console on the right of the display. It's like having two monitors next to each other. You can also easily swap between different sources such as our SWAN security system. I also like how the height of the screen can be adjusted and even moved side to side.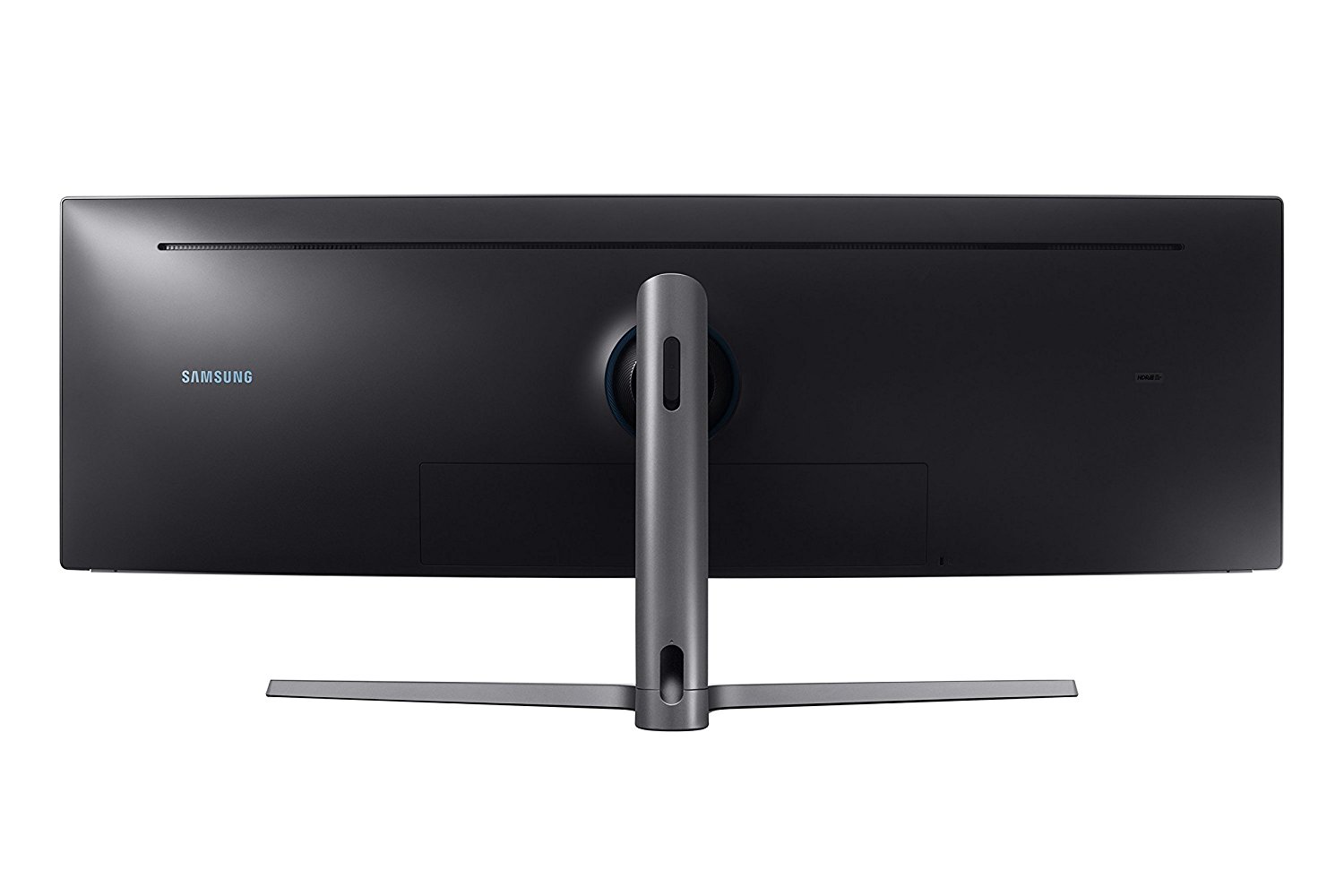 However to fully maximise this display, Samsung have given you access to their software package which not only allows you to tweak the monitor but creates virtual displays (or a grid-like system) so you can have multiple windows opened. This allows you to fully maximise your Windows experience and is very handy for multitasking.
If you want to see this monitor in action or in its element, HDR is where this display shines because it adds a whole new way to experience colours. Unlike non-HDR screens where colours may become muted or blurred which makes it hard for the viewer to distinguish, HDR displays increases this unparalleled colour palette that makes it more vibrant and at times, otherworldly.
Gamers will also appreciate the 144Mhz refresh rate which ensures, provided you have the right system, a very smooth experience while you play your games. Some of the games we tested included StarWars Battlefront II, Rise of the Tomb Raider, Assassins Creed Origins, Mass Effect Andromeda and DOTA 2 that thanks to our graphics card and CPU, we could play with them on the highest settings. Oh… multiplayer games, especially RTS are so much better!
Given that this display is 49", you do need to sit back more to get that full appreciation of the various games that you play, so a gaming chair is definitely a must for this product. The only thing missing from this screen is 4K but given the size, it is probably a moot point for most people and games really look fantastic in 32:9. Of course, a 4K screen at this size would need a powerful gaming rig so at the moment, the CHG90 is still the way to go.

Final Thoughts?
When it comes for gaming, the Samsung CHG90 QLED Gaming Monitor is an exceptional display that gives you some of the best screen real estate around. For gaming, it really blew us away as the 49" took things to a whole new level and when matched with its image quality, larger than life colours and very fast refresh rate thanks to its 1 millisecond response time, it really allows you to play games in a whole new way.
Additionally, it's great for using it as a Windows 10 screen that thanks to size of the display, allows you to have multiple windows open as you become the king of multitasking. Add in a great cinematic experience for movies and in the end, the Samsung CHG90 QLED Gaming Monitor is a true chameleon.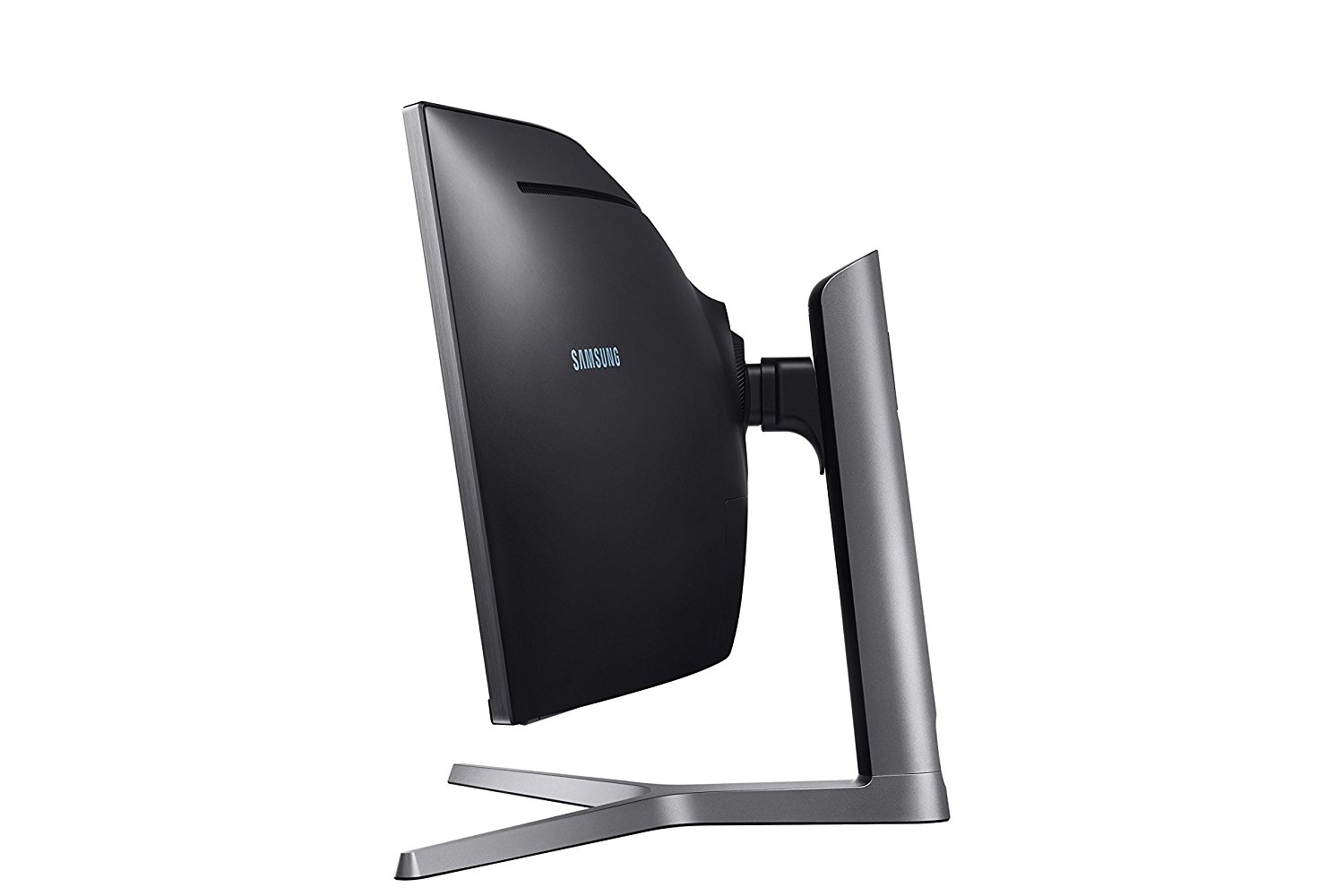 Wow… it's Monster of a screen and has a RRP of $2499AUD (Jan 2018) but you can find it cheaper online.
Full Specifications and Features
Super ultra-wide screen
The super ultra-wide 49-inch screen with its innovative 32:9 aspect ratio means you get to see game scenes in their entirety, exactly as their developers intended. And the 1800R curved panel immerses you in gameplay and delivers iMax-style cinematic viewing for movies and video content.
32:9 super wide aspect ratio
Equivalent to two 27″ 16:9 monitors side by side, the 32:9 super ultra-wide screen provides the ultimate in multitasking flexibility. Forget about multi-monitor set-ups – with no bezels impeding your view and a single power cable for minimal clutter, you can multitask in truly seamless style.
Metal Quantum dot
Samsung QLED delivers purer, brighter, and more lifelike colors – especially reds and greens – than many conventional monitors. And Samsung's Metal QD technology ensures long lasting, more natural colors, whether you're gaming or working in applications where color accuracy is critical.
High Dynamic Range
QLED supports High Dynamic Range (HDR) for images with a wide range of luminance levels that render dark areas deep and light areas bright – so you see your games in the same remarkable detail as their developers intended.
Fast 144 Hz refresh rate
The fast 144 Hz screen refresh rate ensures you smooth action scenes even in games with high frame rates. And you can adjust the refresh rate to 60 Hz / 120 Hz when necessary.
Arena Lighting
Arena Lighting projects a pulsating lightshow on to a wall behind the monitor, adding extra atmosphere to your gameplay.
Picture-by-Picture
With Picture-by-Picture you can connect and view input sources without degrading the original image quality.
Black Equalizer
The 20-step Black Equalizer adjusts any game scene to the brightness level you want, letting you spot enemies hiding in even the darkest areas of the screen.
Eye comfort
With Eye-saver mode designed to minimize blue light emissions and Flicker-Free technology minimizing distracting screen flicker, you can view with less eyestrain.
Main Specifications
Product Description: Samsung CHG9 Series C49HG90DME – LED monitor – curved – 49″
Device Type: LED-backlit LCD monitor – 49″
Curved Screen: Yes
Adaptive-Sync Technology: AMD FreeSync
Features
USB 3.0 hub
Panel Type: VA
Aspect Ratio: 32:9
Native Resolution: 3840 x 1080 at 144 Hz
Brightness: 600 cd/m²
Contrast Ratio: 3000:1
Response Time: 1 ms
Color Support: 1.07 billion colors
Input Connectors: 2xHDMI, DisplayPort, Mini DisplayPort
Display Position Adjustments: Height, swivel, tilt
Color: Charcoal black
Dimensions (WxDxH) – with stand: 120.3 cm x 38.16 cm x 52.55 cm
Weight: 15 kg
Display Type: LED-backlit LCD monitor / TFT active matrix
Diagonal Size: 49″
Viewable Size: 48.9″
Curved Screen: Yes (1800R)
Adaptive-Sync Technology: AMD FreeSync
Built-in Devices: USB 3.0 hub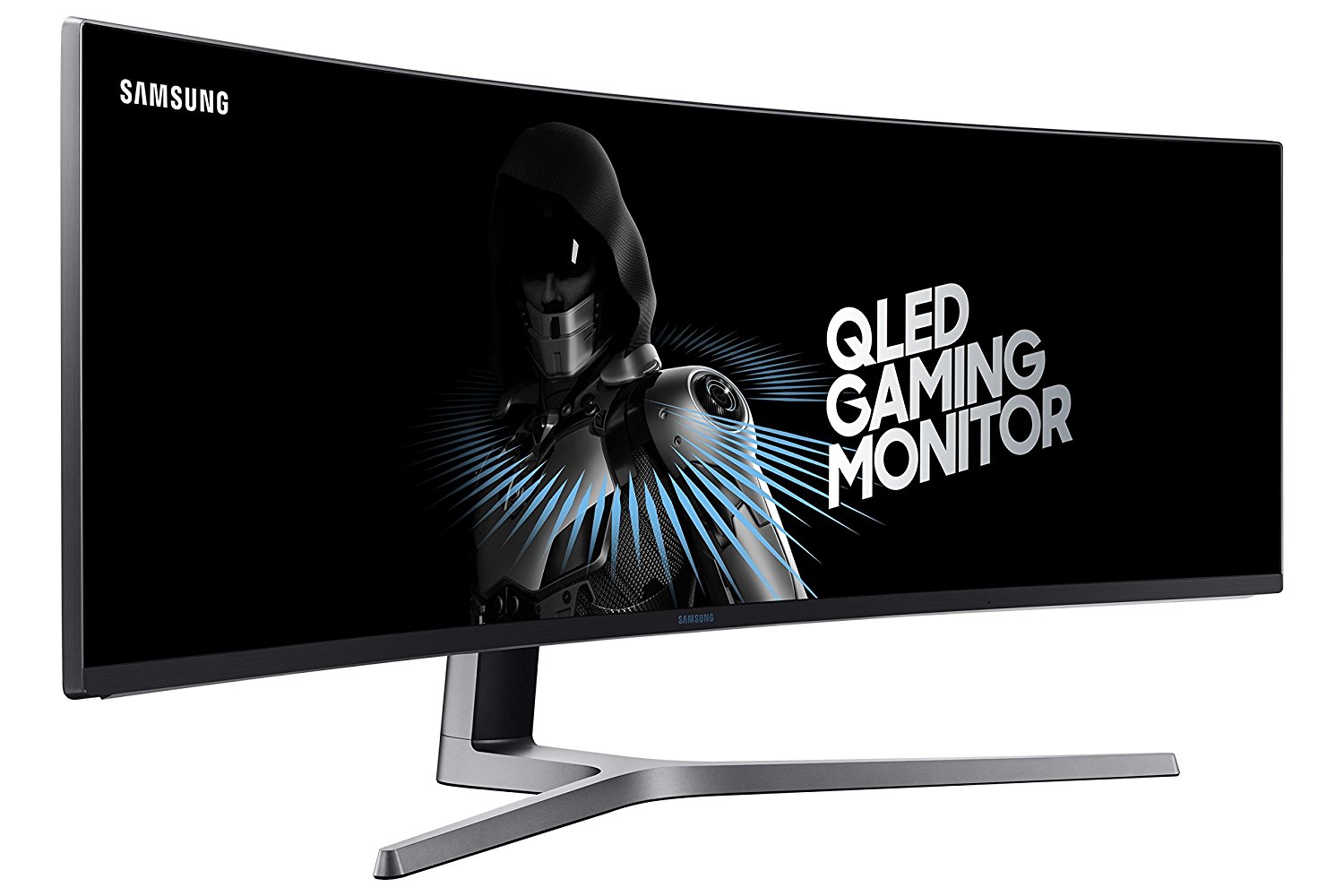 For more information, please visit http://www.samsung.com/au/monitors/c49hg90/