Hardware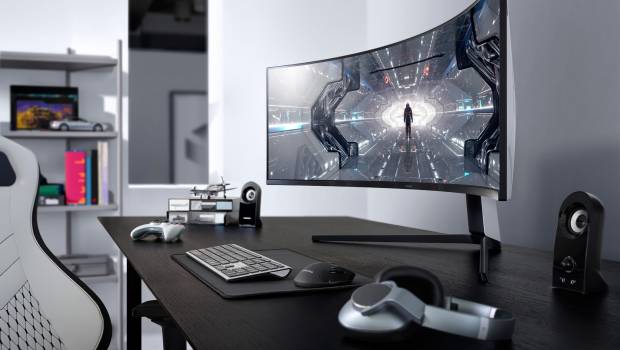 Published on July 17th, 2020 | by Adrian Gunning
Samsung Australia Launches Odyssey G7 & G9 Curved Gaming Monitors
Samsung Electronics Australia, has today announced that its premium line of curved gaming monitors, Odyssey G7 and G9, will be launching in Australia. The new Odyssey monitors bring the best in Samsung screen design and innovation by combining an immersive QLED display with 1000R curvature to offer a gaming experience with a futuristic feel, fast response and eye comfort.
The Odyssey is the world's first 1000R gaming monitor which provides an incredibly deep and immersive field of view for people seeking the ultimate in what Samsung has to offer. The range will be available in two variants, the G9 model – with a massive 49-inch display – and the G7, available in 32-inch and 27-inch sizes. The 1000R curvature surrounds the gamer's field of human vision, which helps to reduce eye strain and makes for a more comfortable and immersive gaming experience – placing the gamer at the centre of all the action.
With a 240Hz refresh rate and QLED vivid display, the Odyssey range delivers a rapid, 1ms response time for fast-paced games that demand even faster reflexes and reactions. The combination of the quick response time and refresh rate along with 1000R curvature eliminates distractions and lag time. By creating ultra-smooth screen transitions, gamers are supported during critical gaming moments where a split second could mean the difference between winning and losing.
"Odyssey is a statement for Samsung's commitment to offering gamers with the pinnacle of our capability in innovation, design, and experiences. The new range builds on Samsung's growing curved display portfolio and collaboration with gamers to push the boundaries for gaming experiences," said Jeremy Senior, Head of Consumer Electronics, Samsung Electronics Australia. "The demands of gamers are more complex and refined than ever before, between the monitor and the PC, gamers are seeking precision and control as well a beautiful design for their set up.
"The Samsung Odyssey line-up completely challenges the traditional gaming experience by bringing together the key elements of next-level game play: comfortable curvature, immersive interaction and perfect picture quality." said Senior.
Odyssey G9 is the pinnacle of Samsung's gaming monitors, with a 49" ultra-wide dual QHD (5120 x1440) QLED display, which is specifically designed for eye comfort during gameplay for gamers of all levels. The G9 is the world's first Dual Quad High-Definition (DQHD; 5120×1440 resolution) gaming monitor to feature a rapid, 240Hz refresh rate, 1ms response time, 32:9 aspect ratio, a deep and immersive 1000R curvature, and a peak brightness of 1000 cd/m2.
Bursting with breathtaking visuals, Odyssey G7 comes with a QLED screen to enhance bright vivid colours and HDR600 to help improve the colour and texture of gaming. The G7 has the same quick response time and refresh rate, deep curved display, and overall performance of the G9, in smaller 32" and 27" models. The curvature and WQHD (2560 x 1440) resolution make for a wider field of view reducing eye strain.
Odyssey's futuristic design is inspired by market trends and customer feedback. The Odyssey G7 features a matte black exterior finish with an infinity core light that can dim or remain static during gameplay and change colour based on gamers' preferences. The monitor's design can also suit any user, regardless of their height or gaming preferences, as users can adjust the height of the monitor via its stand for utmost comfort and convenience when gaming. Users will also find that, thanks to the Odyssey G7's slim stand, even intense gaming sessions with lots of mouse movement will remain comfortable. Odyssey G9 comes in a sleek white exterior, providing a futuristic feel complemented with the infinity core light.
Both the Odyssey G7 and G9 feature G-Sync & AMD Freesync compatibility to reduce screen tearing as well as 1ms (GTG) response time for fast action gaming, offering gamers seamless play at any time. Its superior performance has been certified by TÜV Rheinland, a leading international certification organisation which has awarded Samsung the industry's first high-performance curved display (1000R) and eye comfort certificate.
Pricing and Availability
The Samsung Odyssey G7 and G9 go on sale 3rd August, with pre-orders starting from 17th July for the G9 through Harvey Norman and from the 20th July for the G7 through Mwave, Scorptec, PC Case Gear, PLE Computers, Computer Alliance, Centrecom, and Online Centre.
Odyssey G7 27-inch RRP $999 and 32-inch RRP $1,099
Odyssey G9 49-inch RRP $2,799
More information can be found at: https://www.samsung.com/au/odyssey/