Hardware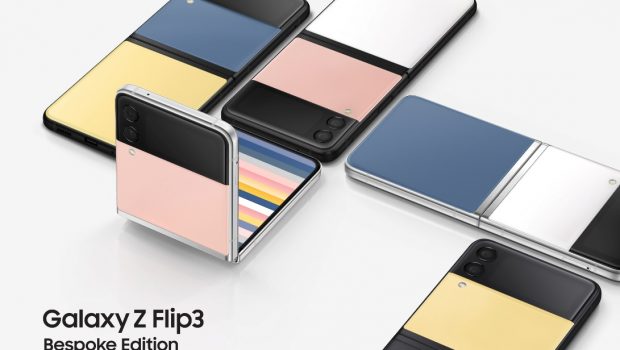 Published on October 21st, 2021 | by Adrian Gunning
Samsung Announces Galaxy Z Flip3 Bespoke Edition and Maison Kitsuné Galaxy Watch4 and Buds2 Special Edition
Samsung Electronics Co., Ltd. today announced the Galaxy Z Flip3 Bespoke Edition, giving consumers a new way to customise their mobile device. By bringing the Bespoke experience to mobile for the first time, Samsung is empowering users to express themselves and to create a device that's truly their own.
"Today's customers are multi-faceted, and we believe their technology should reflect their unique lifestyles," said Stephanie Choi, SVP & Head of Marketing of the Mobile Communications Business at Samsung Electronics. "Galaxy Z Flip3 Bespoke Edition opens new experiences for customers to reflect who they are, through the technology they use the most."
The Galaxy Z Flip3 empowers users to express themselves with a compact, iconic design and premium features. Since its launch, Galaxy Z Flip3 users have been drawn to the device's unique customisation abilities including its flexible form factor, a creative array of accessories, and the ability to optimise their mobile experience with One UI. Responding to this demand, Samsung is expanding with new customisable colour combinations and special UX for users to further personalise their device with the Bespoke Edition, providing options not available anywhere else on the market.
To identify colour options, Samsung researched current and future colour trends and analysed sociocultural trends to anticipate changes in customer's preferences and needs. Samsung also tested thousands of colour options and identified hues and that would perfectly complement each other — no matter the combination. The result is a palette of 49 possible colour combinations for Galaxy Z Flip3 Bespoke Edition. Customers can mix and match to create their own unique combination by choosing phone frame options of Black or Silver, and front and back colours of Blue, Yellow, Pink, White, or Black.
Because users' style and taste continue to evolve, the Galaxy Z Flip3 Bespoke Edition colour combinations can be changed. In Australia, simply head into any Samsung Experience Store and redesign the Galaxy Z Flip3 Bespoke Edition as desired.
Customers can also customise Galaxy Watch4 series at the Galaxy Watch4 Bespoke Studio, by mixing and matching from a variety of Galaxy Watch4 series colours, sizes, and strap styles. Galaxy Watch4 series users will also get even more opportunities for personalisation through the latest software update[1], which features a host of new customisable watch face styles, a more tailored fall detection feature that enables users to adjust sensitivity, and a new "knock, knock" wrist motion that activates favourite or most-used apps and features.
Availability
Customers can design and check out their Galaxy Z Flip3 and Watch4 Bespoke Edition at Bespoke Studio exclusively on Samsung.com. Bespoke Studio offers a fun and engaging experience with 360° previews of combinations and ways to download an image of the selections for easily shareable social content. Once the order is placed, devices are tailor-made and arrive in special edition packaging with a Bespoke Edition wallpaper and Cover Screen that matches the device's colours for a fully coordinated look. Galaxy Z Flip3 Bespoke Edition also comes with a 2 year subscription of Samsung Care+[2]— With a two year subscription, you can swap your eligible device twice within the 2 year period, with a swap fee for each swap request.. The Galaxy Z Flip3 Bespoke Edition and Galaxy Watch4 Bespoke Edition will be available in Australia starting October 21st.