Uncategorized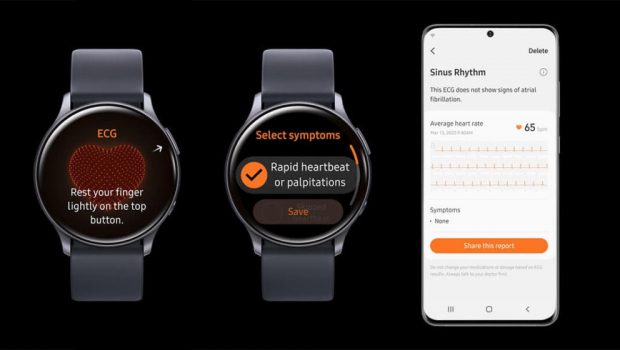 Published on August 18th, 2021 | by Adrian Gunning
Samsung announces blood pressure tracking and TGA-approved electrocardiogram (ECG) monitoring on Galaxy Watch in Australia
Samsung Electronics Australia today announced the Samsung Health Monitor application will launch in Australia providing access to blood pressure tracking and TGA[1]-approved electrocardiogram (ECG) monitoring via its latest Galaxy Watch series[2].
From September 10, Australians will have access to on-demand ECG and bloody pressure readings on Samsung's latest wearables, the Galaxy Watch4 and Galaxy Watch4 Classic. These are the first Samsung smartwatches available in Australia to offer both blood pressure and ECG monitoring.
The Samsung Health Monitor app with access to blood pressure and ECG monitoring will also become available on the Galaxy Watch3 and Galaxy Watch Active2 via a software update in the coming months[3].
ECG monitoring on compatible Galaxy watches is registered as a medical device with the Australian Register of Therapeutic Goods (ARTG) when connected to a compatible Galaxy smartphone[4]. ECG tracking allows users to take an electrocardiogram reading, displaying heart rhythm as either atrial fibrillation (AFib) or sinus rhythm.
Mark Hodgson, Head of Content and Services, Mobile Division, Samsung Electronics Australia: "We know that Australians want access to the very best in health technology to not only allow them to keep track of their fitness goals, but critically, to be aware of their general health and wellbeing.
"We believe our Galaxy Watch and Samsung Health Monitor App offer a comprehensive and importantly, an accessible solution to help millions of Australians to help them improve and maintain their general health and wellbeing."
ECG Tracking
It is estimated that around 33.5 million people worldwide are affected by Atrial Fibrillation (AFib)[5], a common form of abnormal heart rhythm. Atrial fibrillation (AF) was the underlying or associated cause of over 14,000 deaths in Australia—9.0% of total deaths[6].
The electrocardiogram function works by recording the heart's electrical activity via a sensor on the compatible Galaxy Watch. Users simply need to open the Samsung Health Monitor app while seated comfortably, and ensure the watch is fitted firmly to the wrist. Next, rest the forearm on a flat surface and lightly place a fingertip from the opposite hand on the top button on the smartwatch for 30 seconds. The app will then measure the users heart rate and rhythm, which will be displayed as either a Sinus Rhythm (a normal, regular heartbeat) or AFib (when the heart beats irregularly). Users can also export this data to PDF[7].
The ECG app feature was successfully included in the Australian Register of Therapeutic Goods (ARTG) in Australia as a Class lla medical device. Devices undergo a rigorous approval process to be included in the ARTG to ensure that the safety of the device is acceptable and performs as intended, confirming the Essential Principles[8] which is a set of fundamental design and manufacturing requirements for medical devices.
Blood pressure measurement
High blood pressure affects one-in-three people aged 18 and over in Australia and two-thirds of Australian adults with high blood pressure go undiagnosed[9]. This is commonly linked to brain, kidney and heart diseases, and if left untreated, it can lead to stroke and heart failure[10].
The blood pressure monitoring feature on the Galaxy Watch helps users to track their general health by allowing them to measure blood pressure conveniently from their smartwatch. 
To enable this feature, Samsung Galaxy users will need to install the Samsung Health Monitor application[11] onto their Galaxy smartphone[12] and connect it to their compatible Galaxy Watch[13].
To monitor blood pressure on the Galaxy Watch device, users will need to first calibrate with a traditional cuff[14]. They will then be able to tap to "Measure" the blood pressure anytime, anywhere. The device measures blood pressure through pulse wave analysis, which is tracked with the Heart Rate Monitoring sensors. The program then records the relationship between the calibration value and the blood pressure change to determine the blood pressure[15]. To ensure accuracy, users are required to calibrate their device at least every 28 days. Once the calibration and set-up process is completed, users can access this information and export measurements to PDF.
Galaxy Watch4 and Watch4 Classic
Samsung's latest Galaxy watch series also introduces a range of general health and well-being solutions including Body Composition (BIA) with key measurements like skeletal muscle mass, basal metabolic rate, body water and body fat percentage. It also offers sleep tracking that is designed to detect the sounds of a person's snores and get their blood oxygen level while they sleep to provide Sleep Scores to help users get a better night's sleep.
To ensure that help is never too far away in the event of a fall, Galaxy Watch4 includes fall detection, which helps identify a potential fall and can send an SOS notification to your chosen emergency contacts[16].
These smartwatches also come packed with an array of fitness and wellness features to track a users daily activities and help them stay motivated to be their best.
Galaxy Watch4 and Galaxy Watch4 Classic will be available to purchase in Australia from September 10, 2021. Both watches showcase a sleek, iconic silhouette, with thinner cases than previous generations—and a variety of straps and customisable watch faces.
Galaxy Watch4 – a modern, minimalist option designed for versatile all-day use – will come in 40mm and 44mm, starting at AUD $399 for Bluetooth versions and AUD $499 for LTE models. The Galaxy Watch4 Classic has a a timeless smartwatch design with the fan-favourite rotating bezel. This watch will start at $549 for Bluetooth versions and $649 for LTE models and will be available in 42mm and 46mm variants in Black and Silver.
To learn more about Galaxy Watch4 and Galaxy Watch4 Classic, please visit: