Events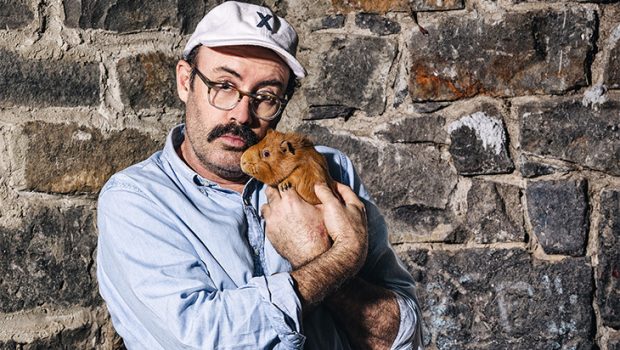 Published on April 7th, 2017 | by James Wright
Sam Simmons A-K Review (MICF 2017)
Summary: Sam Simmons A-K is so strange that it should be on everyone's bucket list!
After watching Sam Simmons latest show, A-K, I feel that this comedian has surpassed comedy legend and has transcended into some kind comedy deity that had me in stitches throughout his entire performance. Not only is his comedy quite random but it is totally unexpected as he invites us into his brain for an hour, holds us captive and gives us a great insight into what makes this man tick, especially his humour which is very universal and definitely hit home for the entire audience at The Forum in Melbourne. In terms of the unexpectedness, that's also where Sam's comedy succeeds and because you don't have absolutely any idea what his show is about, the unknown works perfectly with his quirky and surreal jokes.
The performance commences with Sam dressed as an operatic clown, informing the audience that his high pitch voice is due to choking on a five cent piece while purchasing a Stunner Meal from Hungry Jacks as he ran towards Sam Newman from the Footy Show. It's also a moment when you think to yourself… what have I gotten myself into? Sam also informs the audience that his show is about technology in a dystopian future and using clever lighting, music and pre-generated audio snippets, this creates a thoroughly enjoyable show.
With that said, nothing is sacred for Sam as he unleashes his wisdom on the audience as he talks about how old people are just waiting to die as they visit Fountain Gates to how euthanasia should include a waterslide with a handful of stops along the way of your favourite things and for this comedian, it's Liv Tyler, including big shouldered women to Siamese twins that ends with him being shot in the head by a sniper with this photo made available to your family like a fun ride at the end. Yes, that is how bizarre his humour is. He also talks about Meth mums and how they put ash on their children's heads to disclosing how he met his wife (or should that be stalked) to raising a newborn girl, including what would she think of her father in later years. Oh… his Dave Hughes impersonation is to die for!
Furthermore, Sam engages with the audience extremely well that even includes some hilarious participation that included finding a bald brother, a 33-year old man who looks like a 15-year to a very provocative badminton dance with a young woman from the audience that was like something out of a bad 80's romance film. Given Sam's age, his humour is cross-generational and he unleashes a few hidden gems of comedy for older members of the audience. There's even a bizarre skit about Cruskets (and the Crusket Man) and how Vietnamese restaurants don't sell that authentic Asian experience. However one of the highlights for me was seeing Sam use his phone to insult people around him which had me crying from laughter. As to what does A-K mean? Apparently an English reviewer stated that even if Sam just read from the phone book, it would be hilarious and yes it is.
Final Thoughts?
Sam Simmons A-K is comedy gold and this comedian successfully has a knack at taking the piss out of not just himself but also society as we the audience goes on a very unexpected yet highly amusing ride. So if you have a heart condition or respiratory issues (someone behind us did), you may want to check with your GP before seeing Sam and if you're not adverse to a little bit of political incorrectness, a touch of adult language, A-K is one show that should be on your radar at the Melbourne International Comedy Festival for 2017.
It's pure genius or perhaps madness?
For more information, please visit https://www.comedyfestival.com.au/2017/shows/sam-simmons-a-k
Sam Simmons Social Media
https://www.facebook.com/samsimmonscomedy