VR Gaming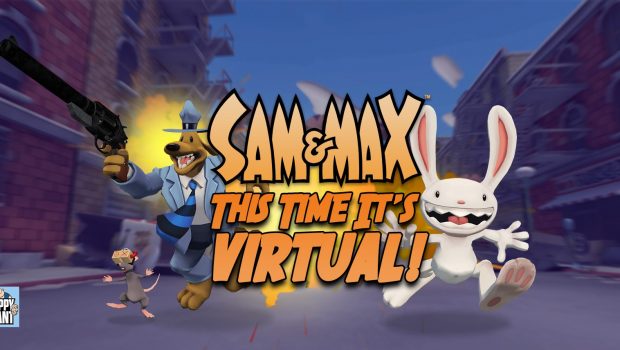 Published on August 9th, 2021 | by Chris O'Connor
Sam & Max: This Time It's Virtual! Oculus Quest 2 Review
Summary: Sam & Max are back... again... but now in VR!
I have to admit that my first introduction to Sam & Max, if memory serves, was in Day of the Tentacle. In the mansion there was a picture on the wall of a "lagomorph", with Hoagie as my character at the time I believe he stated "Max [Attix?], such a lamentable fate for [a much loved character?]" (so clearly my memory isn't that great). Then I got to play Sam & Max's own game and I was swept up in that Lucasarts humour of the day.
More recently they dabbled in that (according to my totally non humble opinion, horrible) trend of releasing games in "chapters"… it was a return to the humour (but broken into more profitable portions).
But they are back.. and this time, as the title says, it's virtual. So don your VR headset and prepare to get up and close with our crazy dog and lagomorph.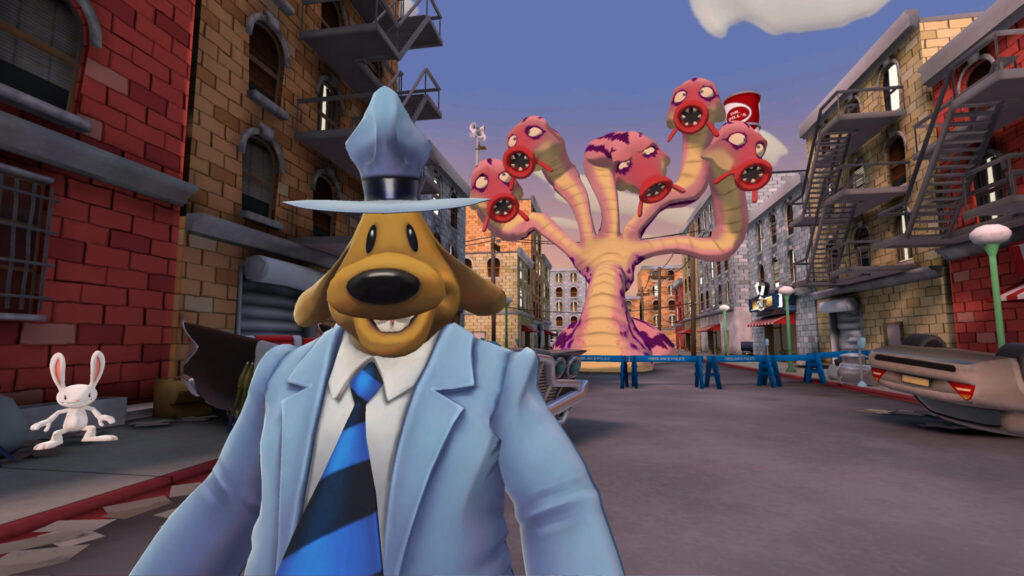 You are brought into the game with an appropriate degree of chaos as a beast is causing havoc in the street. Your task is to destroy the monster while Sam & Max run distraction. Once that is done you find your way to their office and are set some tasks to prove you are a worthy recruit. (Throwing Max is a standout of this little section). Once you've shown you have what it takes in the office environment you are taken to an old amusement park that provides a more in depth challenge to show you have what it takes.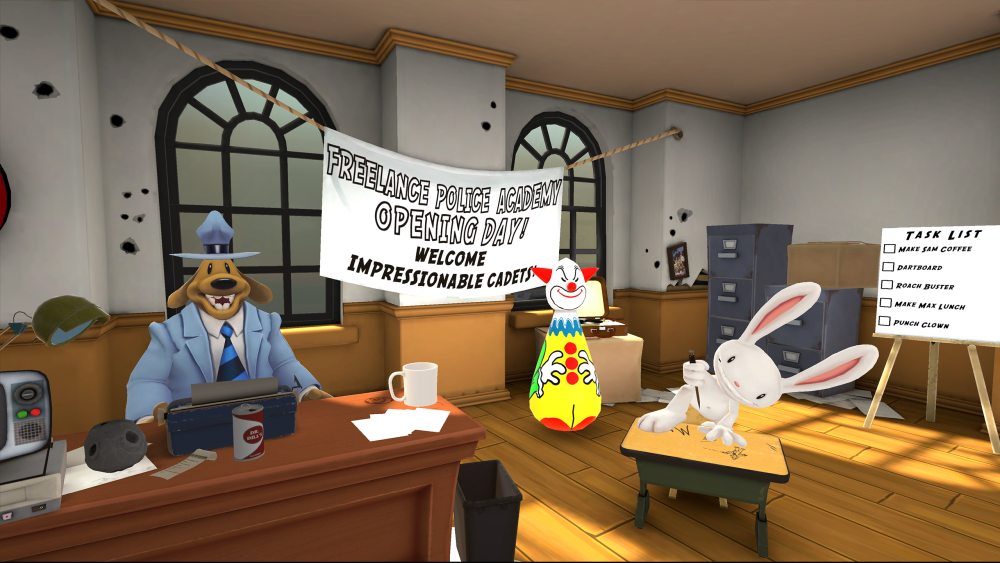 This style of breaking the game down into sections that are arguably mini games continues throughout and the cynic might scoff at it… but I enjoyed it… there's a good bit of variety to the mini games and they are accompanied by commentary from Sam & Max and arguably that's the real draw card here. For anyone unfamiliar with Sam & Max the ecstatic giggles you can get listening to them fire lines left right and center may not be so apparent. Sam is the straight one while Max plays the manic, crazed wild card. The humour is absurd and instantly familiar to those who've enjoyed any of the previous outings.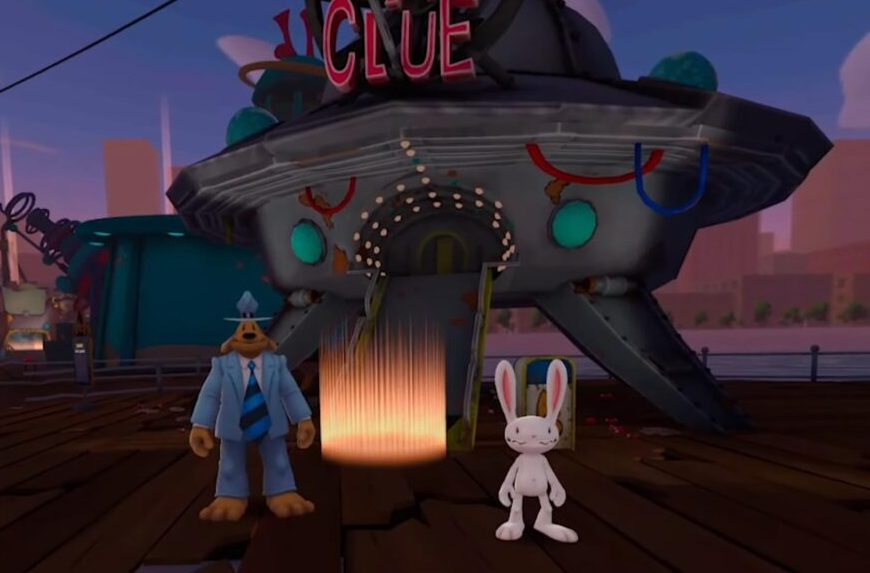 Having the original voice cast return for this outing is awesome because I just don't know if anyone could quite get the "feel" right for the banter (as a rough idea of the back and forth… imagine Dan Aykroyd and Tom Hanks in Dragnet… only adding that Tom Hanks' character has also just ingested a heroic quantity of mind altering drugs… then you have some idea of the Sam and Max dynamic).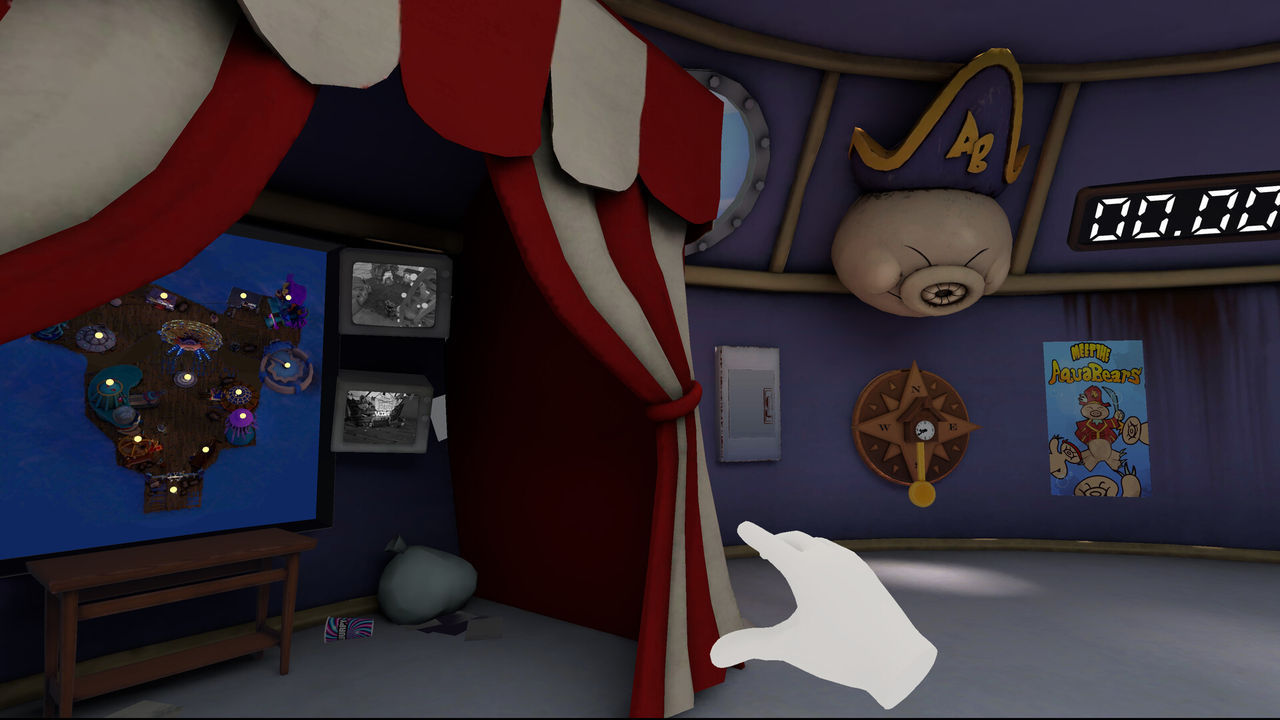 The price is a bit on the high side for something that can be played through reasonably quickly… but if you can find it on special and enjoy a bit of silly humour then even if you aren't familiar with the history of these two fantastic characters you should grab it. If you are familiar with them… it's up to you if you want to jump on it at the full price or wait for a special… but know you will feel right at home when you hear the two of them chattering to each other (or pointing out your "abilities" or lack there of).