Films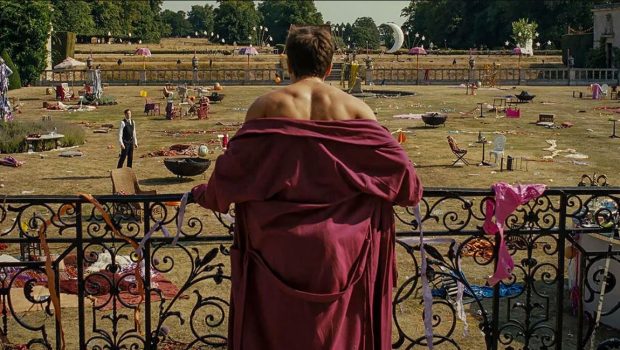 Published on November 18th, 2023 | by Branden Zavaleta
Saltburn – Film Review
Reviewed by Branden Zavaleta on the 15th of November 2023
Universal presents a film by Emerald Fennell
Written by Emerald Fennell
Produced by Emerald Fennell, Josey McNamara, Tom Ackerley, and Margot Robbie
Starring Barry Keoghan, Jacob Elordi, Rosamund Pike, Richard E. Grant, Alison Oliver, Archie Madekwe, and Carey Mulligan
Cinematography Linus Sandgren
Edited by Victoria Boydell
Music by Anthony Willis
Rating: MA15+
Running Time: 130 minutes
Release Date: the 16th of November 2023
In Saltburn, y2k nostalgia has been crystallised and weaponised into a glittering jewel of style and paired with opulent old money England, making for a seductive dark dramedy with bite.
That bite is like chocolate cake that's not too moist nor too dry, washed down with beer and a cigarette. Sounds good, doesn't it? But there's more to it than that. Somewhere in that fine meal is blood, sweat, tears, and every other bodily fluid known to man.
This meal starts with Oliver, a first-year student at Harvard, a scholarship boy who's quiet and withdrawn (Barry Koeghan). Chance pairs him with the school's most popular boy, the stunningly charismatic Felix (Jacob Elordi). Despite this odd pairing, they become fast friends. They drink together, they walk alone together, they lay around in the summer heat together. When summer break comes, and Oliver bemoans returning home, Felix offers him a room at his family's manor, Saltburn. It's a grand estate with butlers, footmen, and Felix's relentlessly eccentric family. While Oliver begins to lose himself in Felix's life, he has to navigate the maze of Felix's family, including his promiscuous sister (Alison Oliver), vapid mother (Rosamund Pike), and wily step-cousin (Archie Madekwe).
Saltburn is consistently stylish and refined, with almost every shot being cleverly composed and designed. For example, when Oliver peeks through a window, it's not just a face beside a pane of glass, it's a refracted kaleidoscope of his awestruck face. It's delicious eye candy, which is no surprise coming from cinematographer Linus Sandgren (No Time To Die, La La Land), and it thoroughly enamours you with these odd characters and their luxe lifestyle.
Each character is acted pitch perfectly, with even especially minor characters like the terse majordomo, Duncan, revealing depths of character and history with only a few long looks and whispered words. As it often happens with glittering ensemble pieces like this, a few of the best actors fall to the wayside. Carey Mulligan appears and disappears with only a few minutes of screentime, and Richard E. Grant promises to galivant around in a suit of armour but never gets the chance. The duelling leads, the stoic Barry Koeghan and the dazzling Jacob Elordi, battle for the spotlight. Despite their height difference of almost a foot, Koeghan's stocky, unflinching presence completely transfixes. His quiet power adds a low roar to the film that later reaches a stunning dramatic crescendo.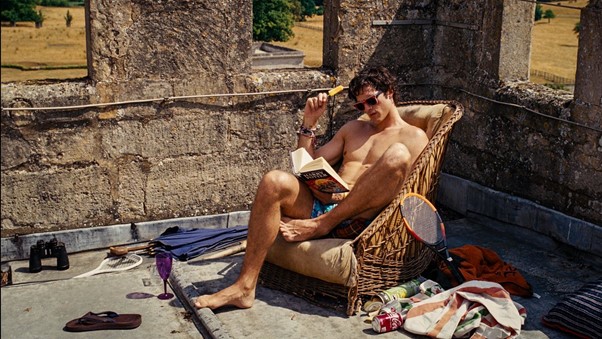 This crescendo is paired with Sophie Ellis-Bextor's "Murder on the Dance Floor" and is so transformative and iconic that it instantly becomes the film's centrepiece. This along with songs from MGMT, the xx, Lady Gaga, and a drunken singalong to "Mr Brightside" by The Killers create a rose-tinted image of the 00s that is intoxicating, and ethereal. It's Oliver's lost summer seen through disposable camera photos and party favours, and it's ours too.
The film's sensations and temptations aside, there's a dark, twisted streak running through it – a slurping of someone's bathwater, a pair of fingers that come up bloody. It's not all sweat and summer sunbathing at Saltburn, but it is an unforgettable stay.
Summary: A devilishly seductive, stylish, and secretive cat-and-mouse affair set in an old money manor.