Events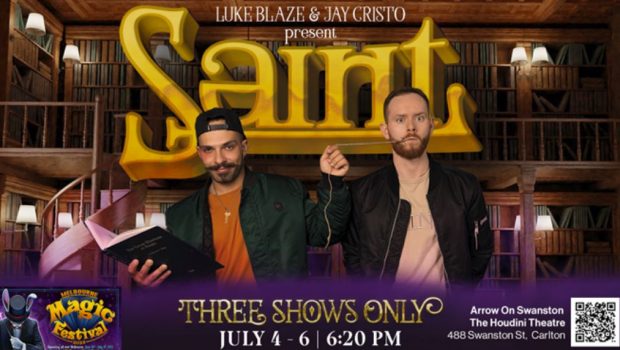 Published on June 26th, 2023 | by Adrian Gunning
'SAINT' The Melbourne Magic Festival – 4-6 July
Experience the Astonishing Magic Duo: Luke Blaze and Jay Cristo, in their debut show "SAINT" which performs from 4 to 6 July at Houdini Theatre, Arrow on Swanston, 488 Swanston St. Carlton with performances scheduled from 6:20 pm to 7:20 pm.
Melbourne, will be spellbound as two of it's most talented magicians, Luke Blaze and Jay Cristo, join forces for their first-ever mesmerizing duo performance in the highly anticipated magic extravaganza, "SAINT." With a combined review count of over 70 five-star reviews, these artists are set to take the Melbourne Magic Festival by storm.
Prepare to be on the edge of your seat as they present their most daring act yet – a dangerous stunt that will have you 'hooked', even after the curtains have closed.
"We are thrilled to finally unveil our collaboration in 'SAINT,'" said Luke Blaze and Jay Cristo. "We've spent years perfecting our craft individually, and now, together, we're taking magic to new heights. This show is a testament to our friendship and shared passion for creating moments of pure astonishment. Get ready for an unforgettable experience!"
"SAINT" is an enchanting production that promises an evening of mind-bending illusions, awe-inspiring mentalism, and a sprinkle of mystery. Audiences will be transported to a world where the impossible becomes possible, and reality merges with fantasy. Witness extraordinary feats that defy logic, leaving you to doubt your very own existence.
Luke Blaze, a master of illusion and impeccable showmanship spectacle, and Jay Cristo, known for his flawless sleight of hand and mentalism, have combined their talents to create an unforgettable evening of enchantment and wonder. From heartfelt acts to comedic routines and from dangerous stunts to impossible transformations, "SAINT" will push the boundaries of what is imaginable and leave audiences awestruck.
Luke Blaze and Jay Cristo, both renowned and respected performers in their own right, have shared an extraordinary friendship spanning an impressive nine years. Drawing upon their profound connection and unmatched expertise, they have crafted an unforgettable show that seamlessly blends their individual styles and showcases their uncanny synchronicity.
Behind the scenes, Luke Blaze and Jay Cristo are not only accomplished magicians but also dedicated disability support workers. When they are off stage, they devote their time to making a positive impact on the lives of individuals with disabilities. Their compassionate and caring nature shines through both on and off stage, creating a remarkable connection with their audience.
Tickets for "SAINT" are selling fast, and with limited shows available, audiences are encouraged to secure their seats early. Don't miss out on this extraordinary opportunity to witness the magic duo of Luke Blaze and Jay Cristo as they weave their spellbinding artistry on the stage.
The Melbourne Magic Festival – 4-6 July / 6:20 PM – 7:20 PM
Houdini Theatre, Arrow on Swanston
Tickets starting from $18
https://www.trybooking.com/CFDRF