Games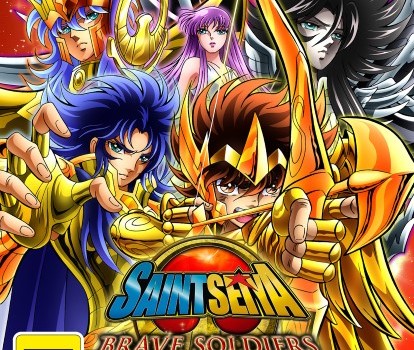 Published on November 25th, 2013 | by Admin
'SAINT SEIYA BRAVE SOLDIERS' AVAILABLE NOW
-Unleash your Cosmo on PlayStation®3!-
Sydney, Australia – November 25nd, 2013 – NAMCO BANDAI Games Europe today announced that SAINT SEIYA BRAVE SOLDIERS for PlayStation®3 is now available at retailers and via digital download on PlayStation®Network for Australia and New Zealand. Developed by Dimps, the latest game based on the legendary Saint Seiya manga is finally reaching our fans' hands in 2 Cosmo-filled Editions: Standard Edition and the Collector's Edition – Seiya Edition – including an exclusive Myth Cloth figurine.
Through this new game, avid fans will have the opportunity to re-live all the greatest sagas from Kurumada's masterpiece with the Saint Chronicle Mode: POSEIDON, HADES and the 12 GOLD SAINTS arcs will all be available with their fair share of strong soldiers. On the Galaxy Wars Mode, gamers will take part in a tournament where they will have to fight and be the last and sole survivor in order to be crowned as the champion! Fighting with hard conditions and certain handicaps is what awaits our bravest soldiers in the Survival Mode. Also, the classical Versus Mode will be available, whether players want to battle offline (Vs. CPU or a friend) or online (and reach the highest rank possible against players from all over the world!). All these modes will allow fans to use their favourite characters and all their sets of attacks, such as Big Bang Attacks, Light Speed Movement, 7th Sense Awakening etc. To push the experience even further, players will be able to customise their characters and enhance them with the Cosmic Orbs (Exclusive Orbs will be available via a dedicated page on our Facebook). 
"We know that SAINT SEIYA fans have very high expectations as they are very passionate about their favourite manga and any of its adaptation". said Mathieu PIAU, EMEA Marketing director at NAMCO BANDAI Games Europe. "Collaborating with DIMPS, who have a great knowledge in developing fighting and manga-based games; we're excited to give them the opportunity to re-live the most famous arcs from the series, whilst fully personalizing the Saints and experiencing plenty of different game modes. 
Saint Seiya Brave Soldiers is now available exclusively for the PlayStation® 3 computer entertainment system in Australia and New Zealand. For more information on the game and the exclusive SEIYA EDITION (including an exclusive Seiya Myth Cloth figurine), please visit: www.SaintSeiya-BraveSoldiers.com and www.NamcoBandaiGames.com.au