Hardware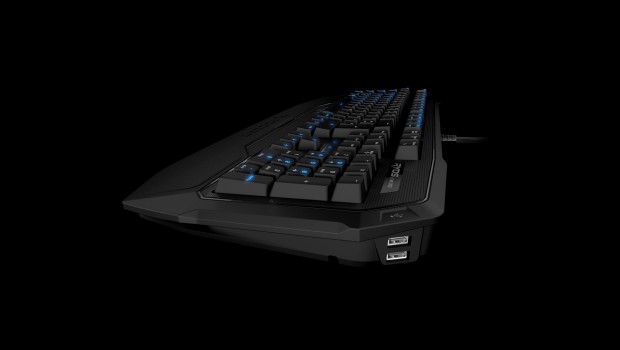 Published on July 30th, 2014 | by James Wright
Ryos MK Pro Mechanical Keyboard Review
Summary: The Ryos MK Pro Mechanical Keyboard from Roccat is a professional gaming keyboard with all the bells and whistles
ROCCAT™ is a gaming peripheral company that has become quite popular internationally due to their high quality products and thankfully for us, they've turned their attention to the Australian market with stores such as Dick Smith, EB Games and JB Hi-Fi selling directly to the public and Impulse Gamer got the chance to test out some of these products. Their latest gaming keyboard is the Ryos MK Pro that boasts CHERRY MX key switches, a multitude of programmable keys, various illumination configurations and a wealth of other features that targets the mid to professional gamer.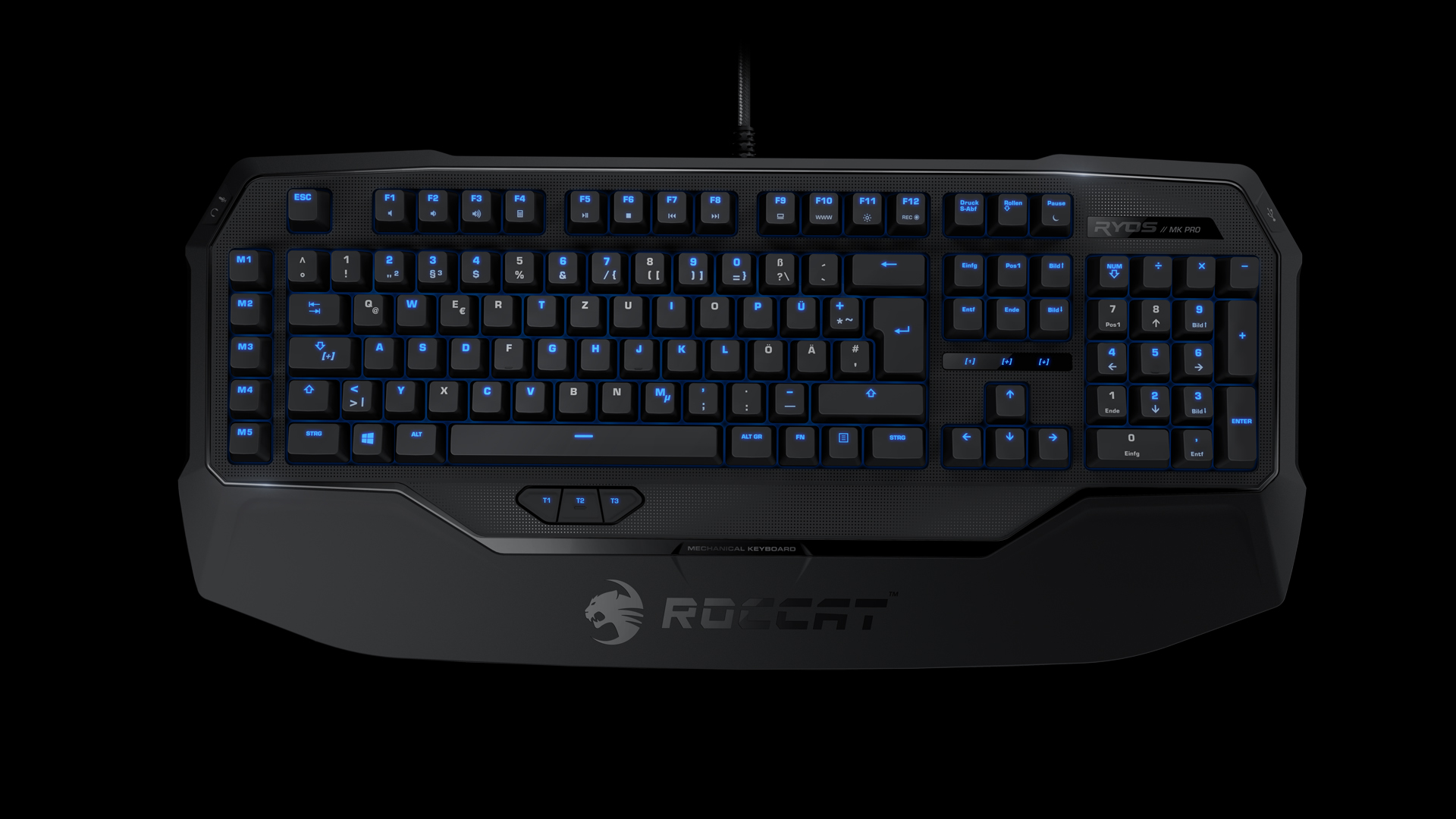 Dimensions, System Requirements & Package Contents
Dimensions
23.4 cm X 50.8 cm
System requirements
Windows® XP/Windows Vista® 32/64-bit/Windows® 7 32/64-bit
Windows® 8 / Windows® 8 Pro
USB 2.0 port
Internet connection for driver installation
In the package
ROCCAT™ Ryos MK Pro
Quick-Installation Guide
As this is a mechanical keyboard, it's been designed for speed which it is but for us, it boasts some amazing illumination effects for each and every key. In terms of design, the Ryos MK Pro Mechanical Keyboard boasts a sturdy build that not only looks the part of a gaming keyboard but is also quite comfortable to use, especially with the jumbo-size wrist rest that gives you additional comfort while gaming for long periods plus two USB 2.0 ports and even HD audio. These keyboards also come in four different cherry switches that include black, blue, brown and red depending on your preference.
Features
PER-KEY ILLUMINATION


insane customization possibilities

EASY-SHIFT[+]™ BECOMES EASY KEYBOARD


assign a secondary function to virtually any key

N-KEY ROLLOVER


means advanced anti-ghosting

HIGH-POWERED HARDWARE


two 32-bit ARM Cortex processors + 2 MB of flash memory

ROCCAT™ ACHIEVEMENTS DISPLAY


keep track of your vital statistics

KEY SWITCHES TO SUIT EVERY GAMER


CHERRY MX key switchs in blue, black, brown, and red

SMUDGE-PROOF GLOSSY LOOK


killer look – with no fingerprints

INTEGRATED MEDIA HUB


audio in/out and two USB 2.0 ports

COMPLETE COMFORT, ROCK SOLID


jumbo-size integrated wrist rest

CLUTTER-FREE, SUPER-STABLE SUPPORT


in-built cable channel and five rubber feet

ROCCAT

™

TALK

®

– SET BONUS
get more out of your ROCCAT™ devices
by combining their functions
I've been using this keyboard for around 2-weeks now and I must admit that it is quite comfortable to use and I really like the stylish shape of the keyboard plus the oversized wrist rest which is perfect for gaming. I also like the textured design on the keyboard and although it looks like a full-size keyboard, it is a little larger.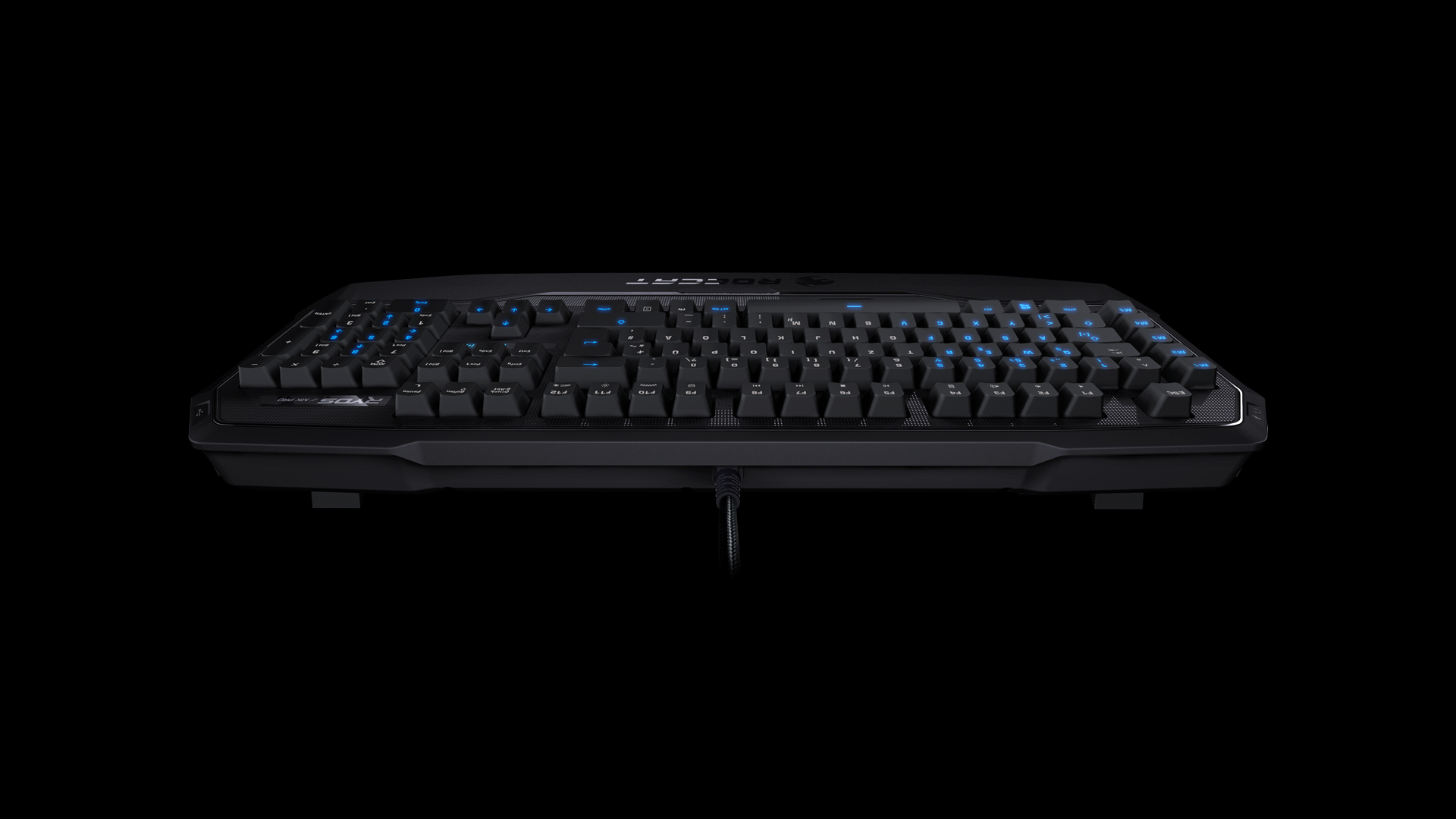 The Ryos MK Pro also has five macro keys on the left side of the keyboard which has been positioned well. Another cool feature of the keyboard are thumbster keys which can also be programmed as "macros" and because they are close to your thumbs, they sure do make for easy access. As the keyboard is a Windows keyboard, the function keys at the top also serve as multimedia keys. Lastly, Roccat boasts a special smudge protection coating on the keys which means cleaner keys and no fingerprints.
Per-key illuminated mechanical keyboard with 113 keys
Advanced anti-ghosting with N-key rollover
Choice of four CHERRY MX key switches
3 programmable thumbster keys (T1 – T3)
5 programmable macro keys (M1 – M5)
94 other programmable keys
1000 hz polling rate, 1 ms response time
1.8 m rear-exit braided cable
1 x audio in, 1 x audio out, 2 x USB 2.0 ports
This textured design also helps in preventing grime, dust and oil from building up on your keyboard and the USB cable for the Ryos is 1.8 metres in length and is a high quality braided cable with clever cable management underneath the product. If you have other Roccat products, the keyboard supports ROCCAT™ Talk which basically allows you to link other peripherals from this company via its software to create gaming bonuses like activating keyboard macros from your mouse or improved sniping by increasing the DPI on your mouse. It even supports easy-shift and recording of macros on the fly which can sometimes mean the difference between victory and death in a video game.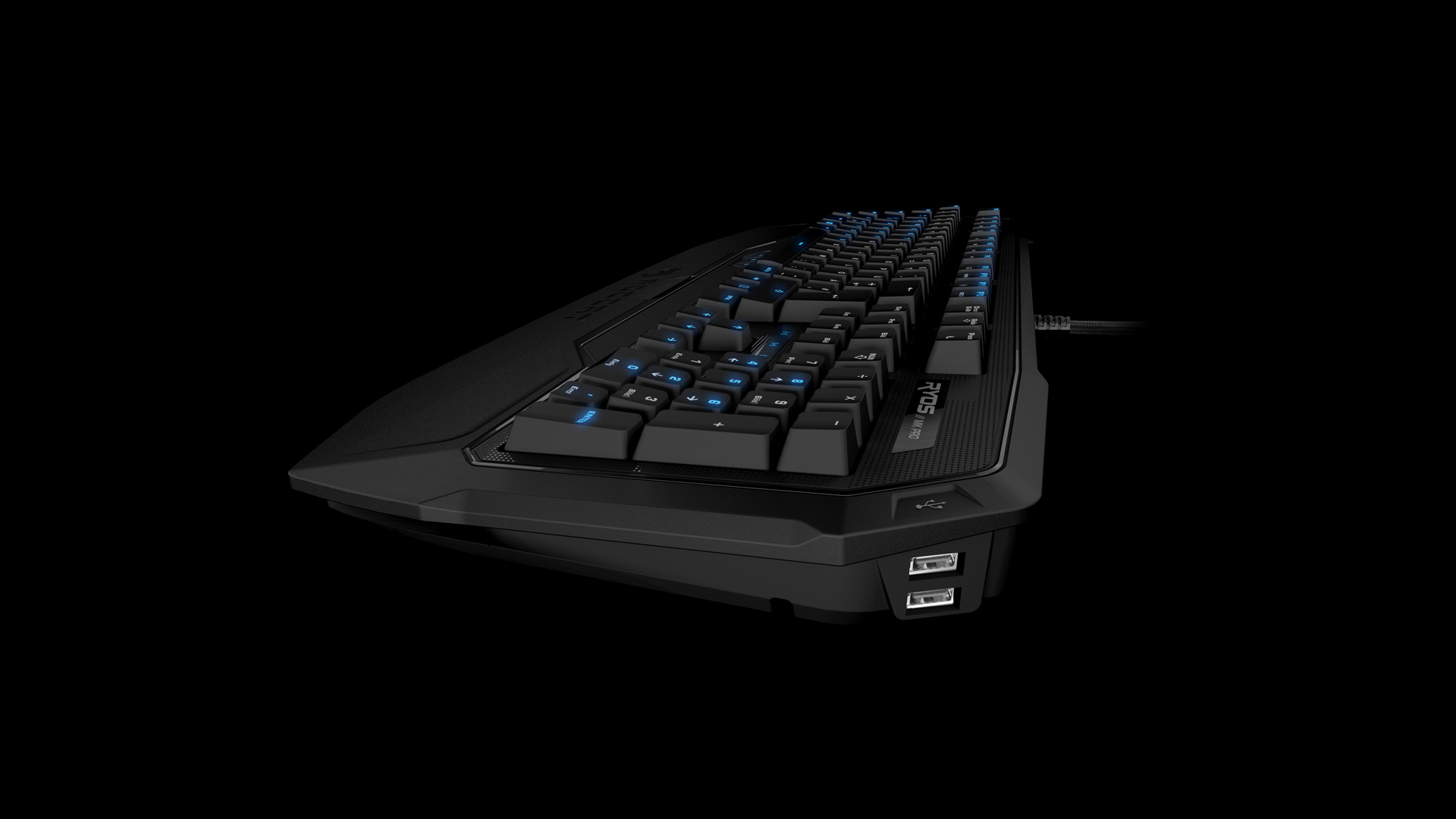 When it comes to installation, Windows 7 automatically detected the keyboard but if you want the best out of your keyboard, you do need to install the included software which allows you to create macros and more importantly, it's illumination features. The software is quite easy to use and even tells you the driver and firmware versions you are using. The software itself is split into five tabs that include main control, key assignment, key illumination, ROCCAT Raid and Update/Support. However where the program shines is via its key illumination settings that allows you to create your own customisation options such as creating ripple effects or how long the illumination stays on for.
For gaming, we tested the keyboard on a variety of titles that include GRiD, Batman Arkham City, Diablo III and Tomb Raider with all titles performing well on this keyboard. More importantly, the keyboard was fast and very responsive and had a decent rollover which means pushing a handful of keys at once. The only drawback and with some other gaming keyboards is that it did take a little time getting use to typing on it and for me this was because of the cherry mx switches. It's not bad per se but does take time getting familiar with it.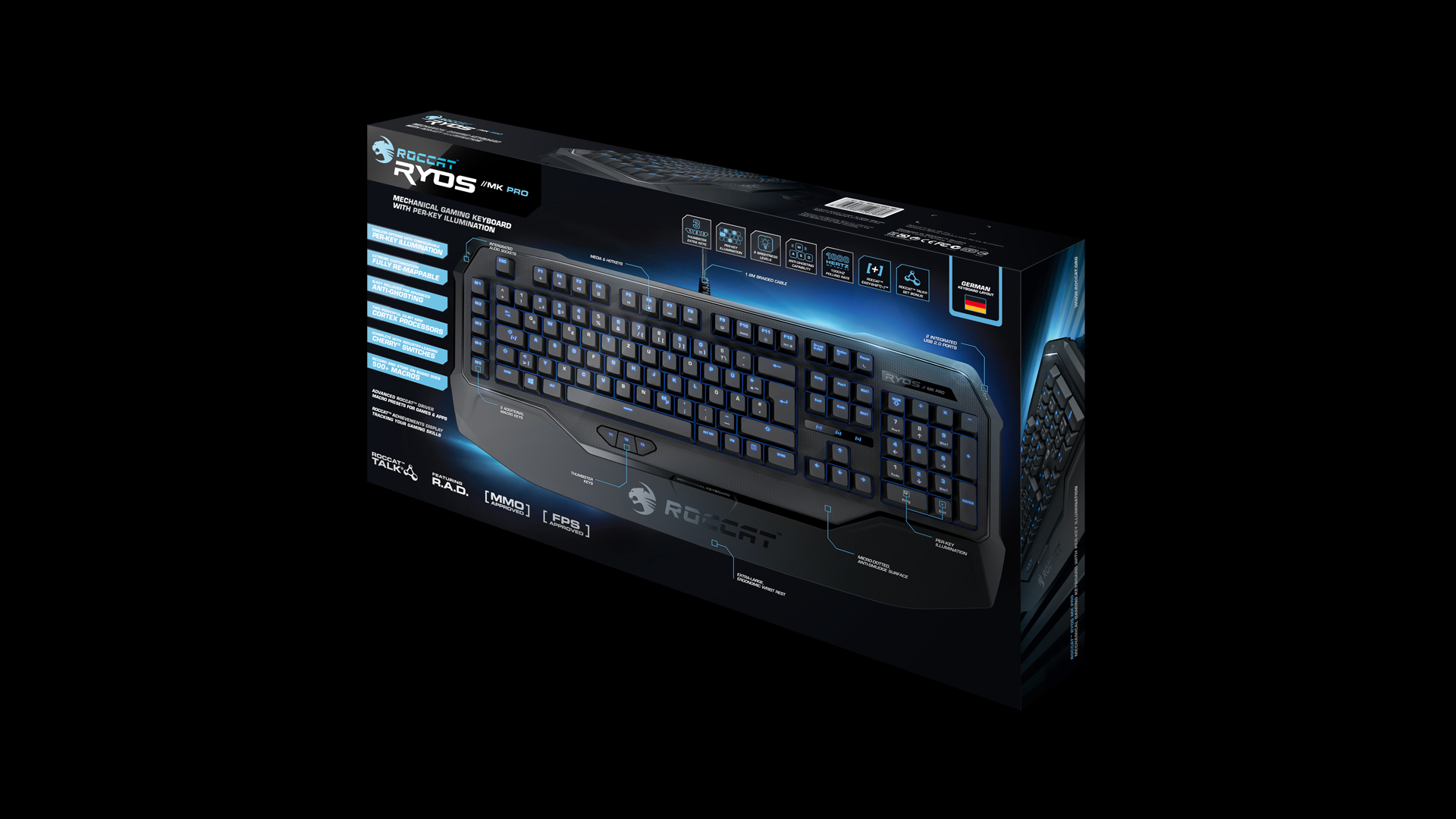 Final Thoughts?
The Ryos MK Pro Mechanical Keyboard is ideal for both gaming and using it as your primary Windows keyboard. It's a very fast keyboard for gaming and feels very comfortable while typing and I loved the amazing illumination features of the product plus its easy to use software. ROCCAT™ Talk is another highlight that not only allows you to swap functionality between products but definitely gives you an edge while gaming.
All in all, a great gaming keyboard from Roccat!