Hardware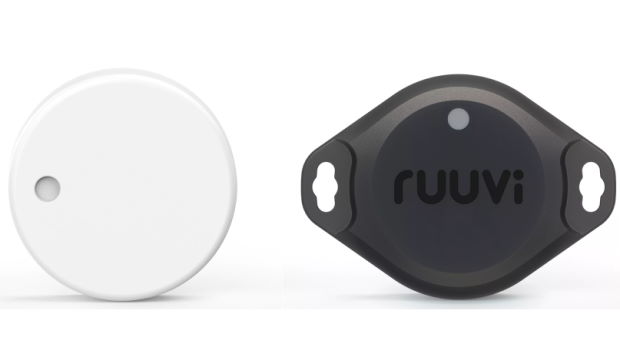 Published on October 22nd, 2022 | by Chris O'Connor
RuuviTag, RuuviTag Pro Review
Summary: Versatile, easy to use portable weather monitor.
This year I've really developed an interest in gardening, other than recently reviewing Garden Simulator I was fortunate enough to receive not one weather sensor but two from Ruuvi, the RuuviTag and the RuuviTag Pro.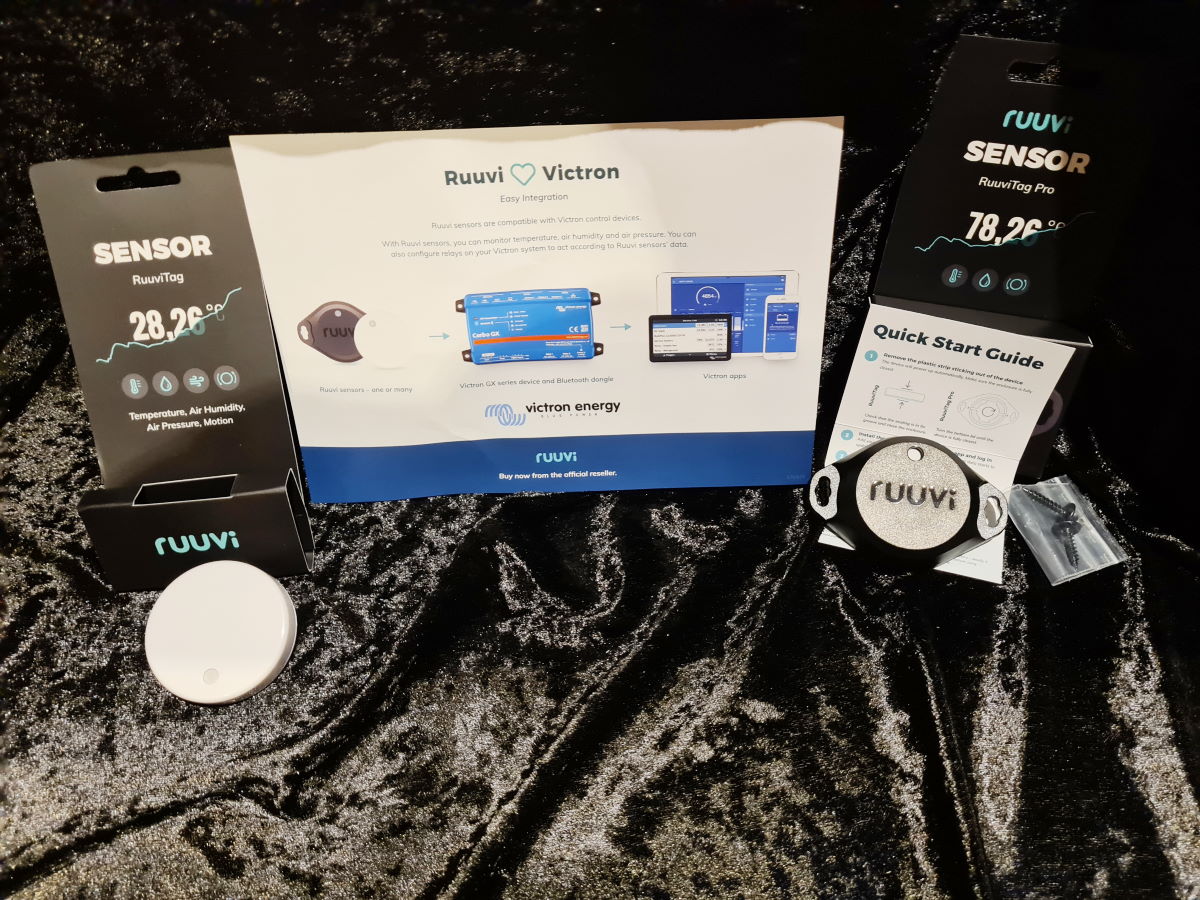 Both sensors track the essentials, minimum/maximum temperature and humidity. They both track motion, the RuuviTag also tracks Air Pressure… at this point you might be saying "hang on… why does the Pro track less than the regular version?". Well to start with, the Pro comes in a mountable shell, you can just place it on a shelf or on a window ledge or wherever… but if you needed to track temperature in a harder to access spot you can fix the sensor to a wall or basically anywhere you can install screws (which are supplied). The Pro version is designed for more intense use and is geared more towards business and "serious" home use (which I think basically means it's a bit more rugged and likely to withstand somewhat harsher conditions).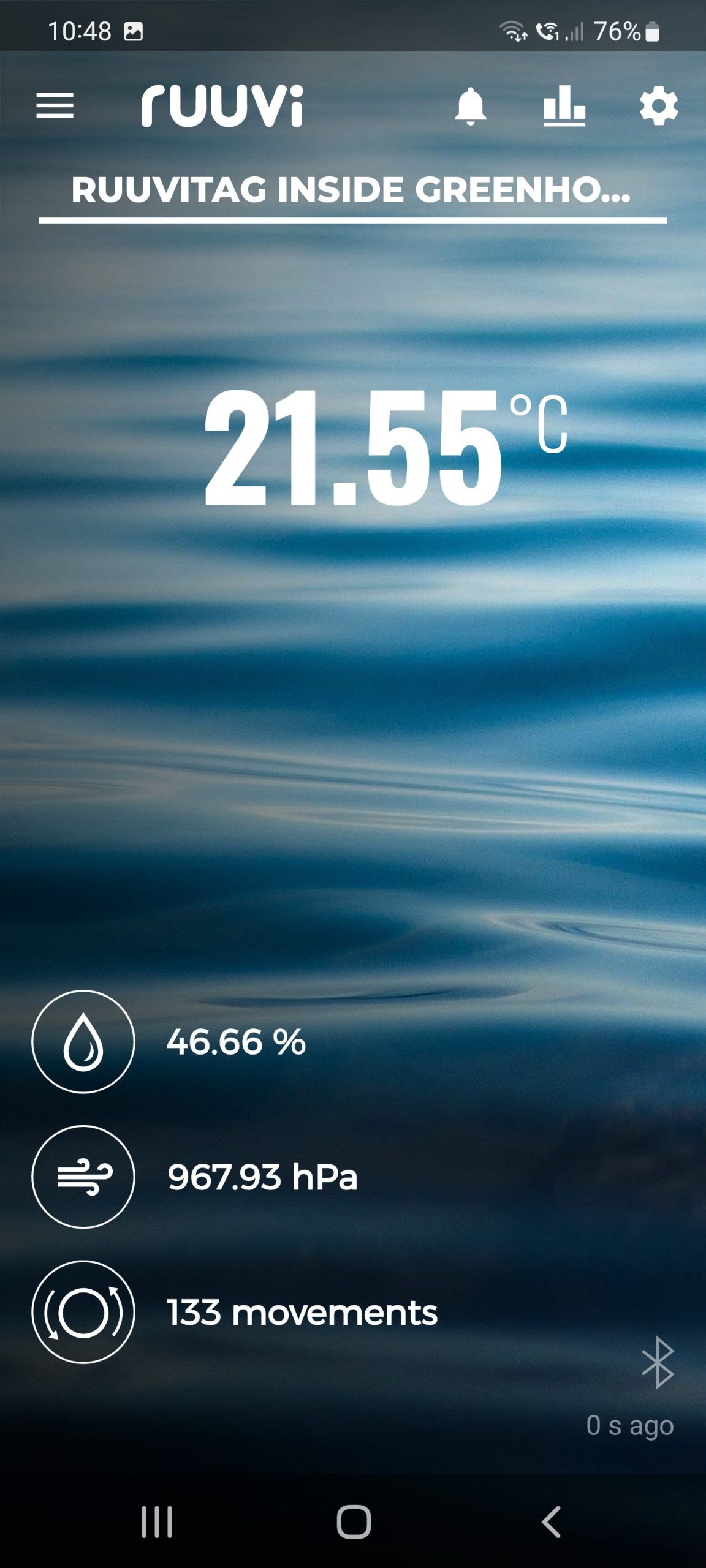 Set up is particularly easy, simply download the free app on your phone (Android and Apple supported), the sensors communicate with Bluetooth and you can have multiple sensors set up at once with easy swapping between readings in the app. The app interface is quite nice too and simple to use, you can set a background image (either from provided images or make your own). You can set alerts to be notified if conditions change in a set way (if you had a dinner party planned and you really needed to make sure the fridge kept working you could put a Ruuvitag inside and have it alert you if the temperature goes above the required level).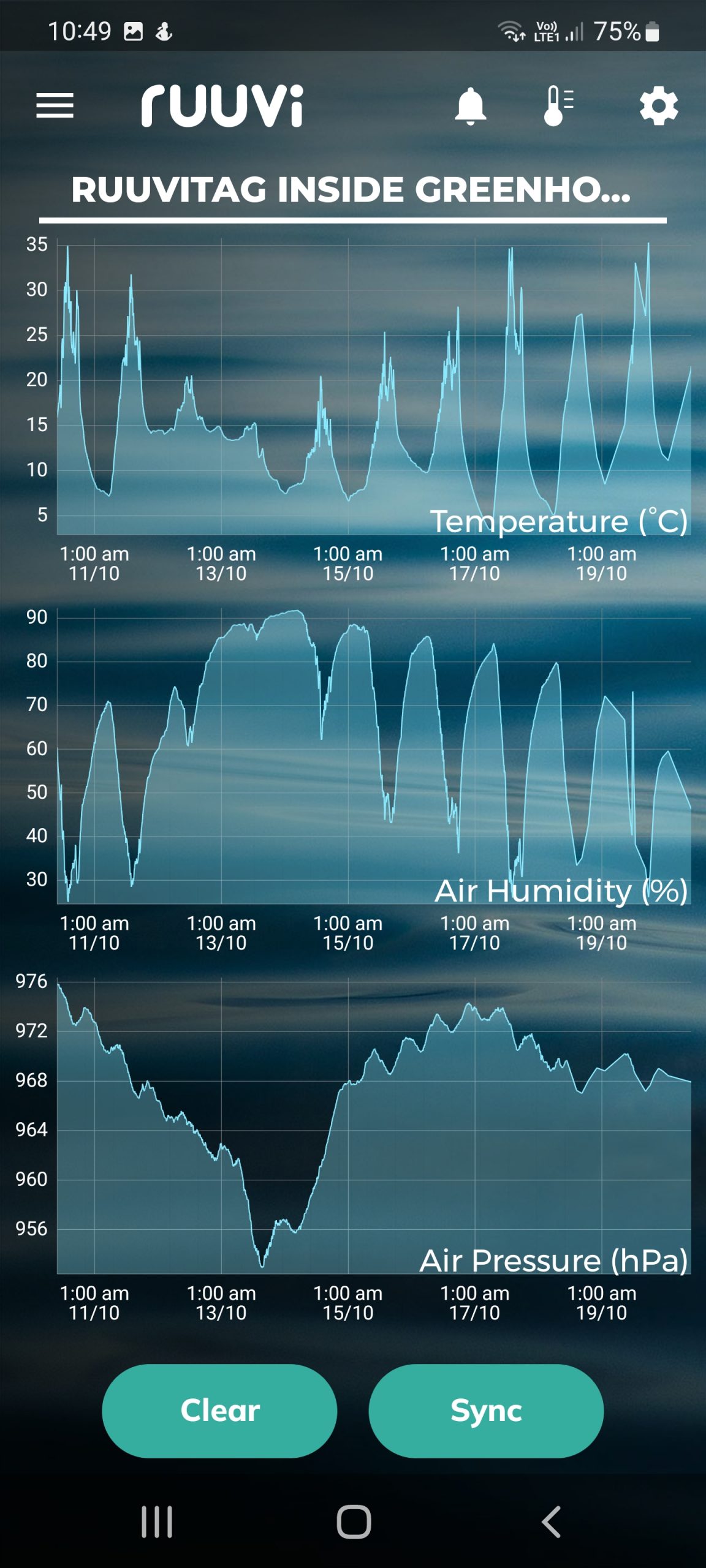 But if you wanted to really keep track of your data and put it to more in depth use, you can export the logs as a csv file which for me was easy enough to import into Libreoffice. Once you have your data (I emailed it to myself for convenience) you can convert it to graphs for a more pleasing visual presentation, you can break it down into it's specific components ie temperature max levels versus minimum, humidity etc.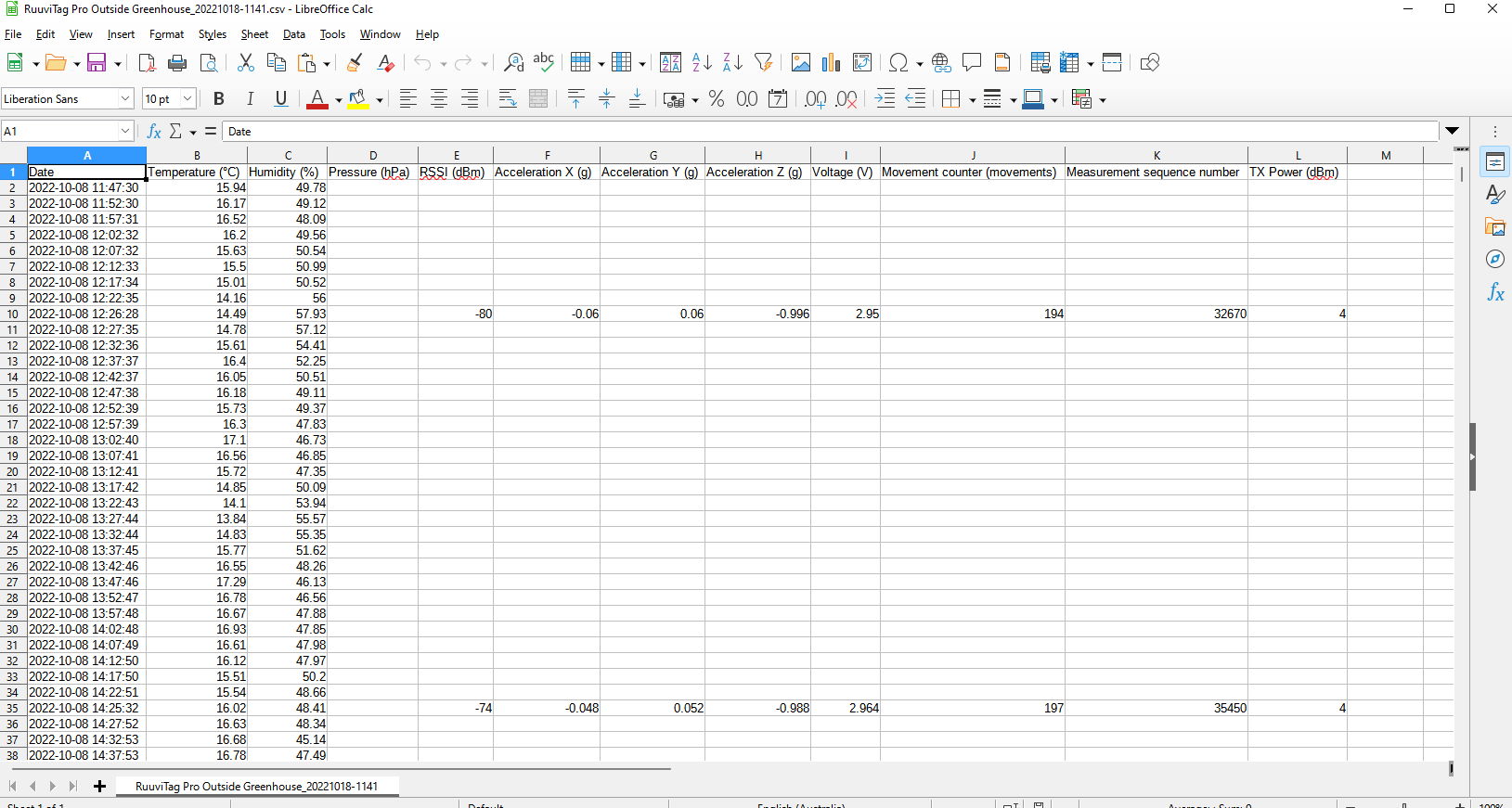 If for some reason you didn't want to use the provided app you are in luck as it is all open source, so you can dig in and get the sensor to work more to your individual liking. I've been using the sensors for a few weeks now and have been very impressed with their range (my greenhouse is essentially on the opposite side of the block to the room I tend to check the readings from… at most I might have to lean a bit more in the direction of the greenhouse… but not by much, I'm not sure of the exact distance but the signal is going through a couple of rooms on it's way and still comes through quite well).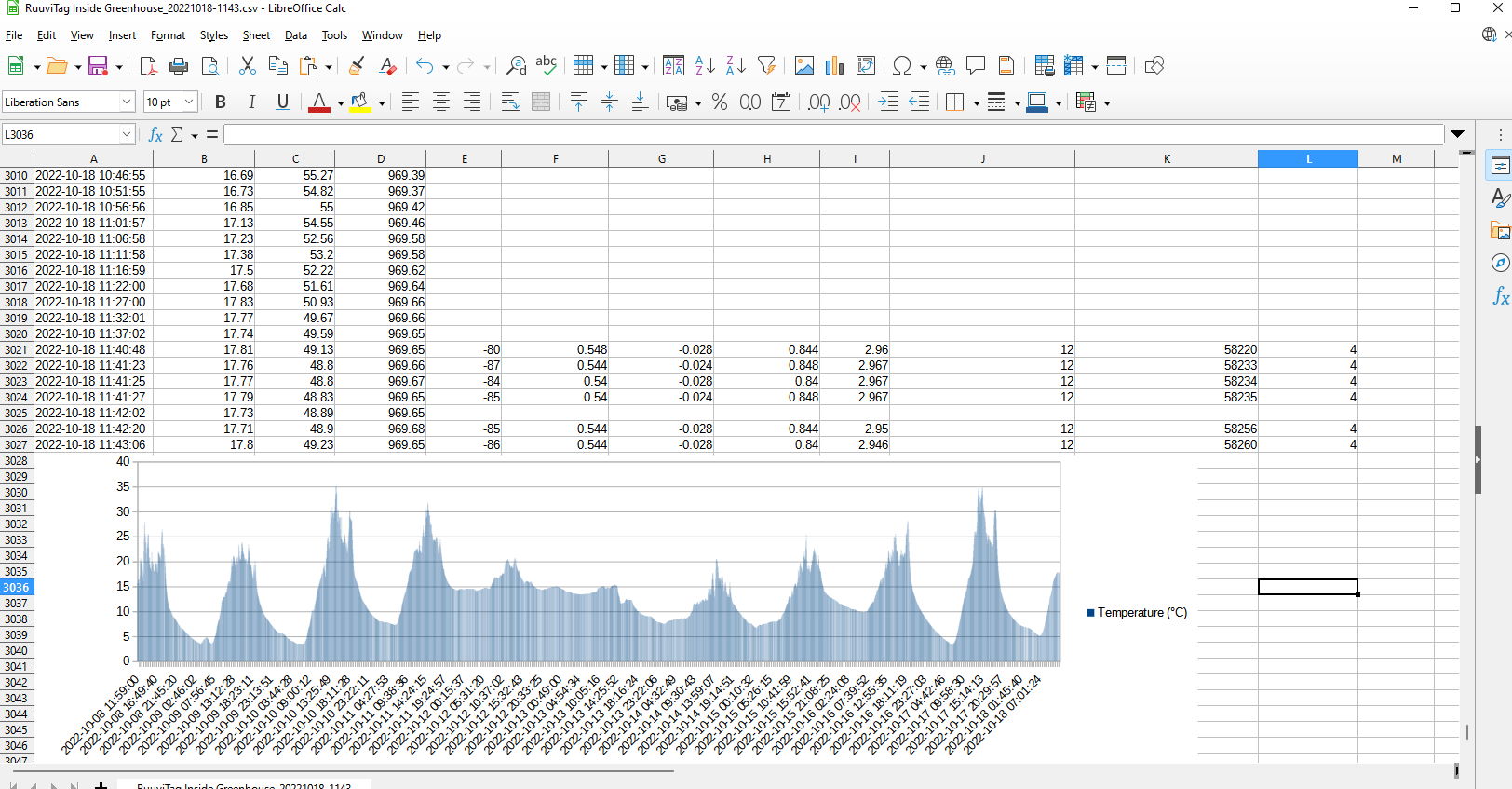 For a simple set up, easy to use weather station that can log data and be taken with you and placed just about anywhere… I think RuuviTag are a great option. For the hobbyist or the more serious user there's a lot here for the price, definitely grab one (or more) for your weather/temperature monitoring needs!