Games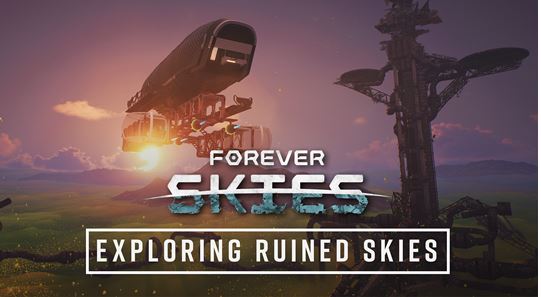 Published on June 12th, 2022 | by Adrian Gunning
Ruins in the Clouds – New Forever Skies Gameplay Trailer
Developers, Far From Home, have unveiled an new gameplay trailer for their post-apocalyptic sci-fi action survival game, Forever Skies, coming to Steam Early Access later this year with consoles to follow. Revealed on IGN's Summer of Gaming lineup, the latest trailer shows new features and offers players a deeper understanding of the perilous conditions they must face on a future vision of Earth, as they traverse the skies above the doomed planet, in an attempt to save the remnants of humanity.
Welcome to Forever Skies. A dangerous place where science is the key to survival. The game is set in a world full of mysteries and challenges, offering each player their own unique experience. Their fully customisable, high-tech airship is the safest place among the perilous environment and will be used as their research laboratory, transport and a base for cultivating crops, analysing collected viruses and crafting essential tools for survival with recovered blueprints.
The never-before-seen gameplay in the latest trailer highlights brand new tools in addition to the previously revealed Extractor, Scanner and Build Tool, including the Knife, Crossbow and Med Bay. Additionally, it features the ship's 3D printer and showcases the in-game tools UI and HUD for the first time.
The trailer also introduces the game's Illness System. Overexposure to Earth's deadly environment can cause players to become infected with unknown viruses, resulting in diverse effects –  from blurred vision, fever, to blood cough and more – having to battle sickness in their onboard Med Bay.
Set on a decimated future Earth, in the wake of an ecological disaster caused by climate change, Forever Skies embarks gamers onto the role of a lone scientist, charged with isolating specific, life-saving virus strains and finding a cure for a mysterious illness that is wiping out what remains of human civilization. What clues will players find reaching out from the clouds? What secrets lie dormant, beneath the dust, awaiting discovery? More will be revealed in the coming months as the game approaches Early Access release.