Events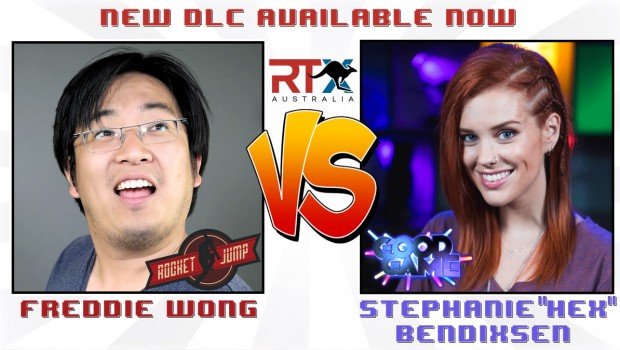 Published on October 15th, 2015 | by admin
RTX Australia 2016 Announces Freddie Wong & Hex
MELBOURNE, AUSTRALIA, October 15, 2015 – RTX Australia 2016 announces two new guests confirmed to attend Rooster Teeth Productions' first Australian event, prolific filmmaker Freddie Wong and Good Game TV's Stephanie 'Hex' Bendixsen.
Rooster Teeth Productions, creators of popular series Red vs Blue, RWBY, Lazer Team, Achievement Hunter and more, will be bringing gaming and internet culture event RTX to Australia for the first time in January 2016, celebrating where gaming meets the internet with Rooster Teeth personalities and friends.
RocketJump's Freddie Wong will be making his first visit to Australia, and is excited to meet fans and make the trip a regular occurrence. "Attending RTX in Austin and celebrating with the community has always been a highlight of my year," said Freddie Wong, CEO and co-founder of RocketJump. "Being able to experience the first RTX Australia is an honour, and hopefully an experience that I will continue to avail myself of every year until Burnie figures out I'm a fraud and bans me from all RT related events," said Freddie.
Following successful live shows, seasons of Good Game TV, and as part of one of the most watched Australian channels on YouTube, Hex was approached by Rooster Teeth to take part in RTX Australia 2016, and will be providing the keynote during the two day event.
"This whole event is going to be such a cool and unique opportunity for all of us to connect and share our love of internet culture and gaming. I am admittedly equal parts excited and terrified to be your key note speaker, but I know we'll all get through it together. Worst case scenario, a great meme will come out of it," said Hex.
Thanks to Hanabee Entertainment in partnership with Rooster Teeth, and support from Supanova Pop Culture Expo, RTX Australia 2016 will be held at Australian Technology Park in Sydney on the weekend of January 23 and 24. Featuring new games, Rooster Teeth personalities, panels, games, parties, live streams, demonstrations and more are waiting for you in this action packed weekend.
Hear Hex's thoughts on games of the year