Events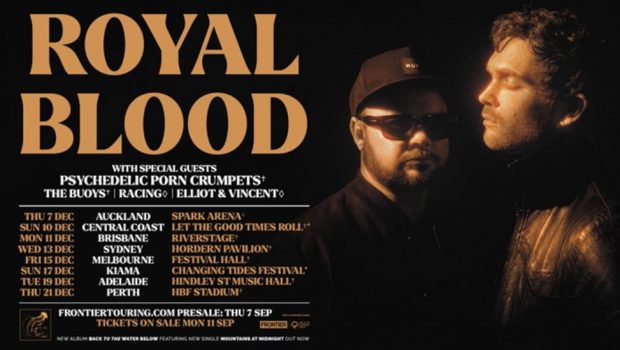 Published on September 6th, 2023 | by Adrian Gunning
ROYAL BLOOD (UK) – UK ROCK DUO ANNOUNCE RETURN TO AUSTRALIA & NEW ZEALAND WITH HEADLINE TOUR THIS DECEMBER
Frontier Touring are pumped to announce UK rock duo Royal Blood will make their way back to our shores, touring across Australia and New Zealand in December.
'We're incredibly excited to be announcing these shows in Australia and New Zealand in December this year. We haven't toured over there since 2018 so we can't wait to get back out there. It's been far too long' – Royal Blood
Royal Blood will kick off with a show at Auckland's Spark Arena on Thursday 7 December, before heading across to Australia for a show at Brisbane's Riverstage on Monday 11 December, Sydney's Hordern Pavilion on Wednesday 13 December, to Melbourne on Friday 15 December to perform at Festival Hall then heading to Adelaide's Hindley Street Music Hall on Tuesday 19 December before finishing off the tour on Thursday 21 December at Perth's HBF Stadium.
Joining the British lads will be Psychedelic P*rn Crumpets and The Buoys on all Australian shows plus Racing and Elliot & Vincent in Auckland.
Frontier Member presale commences Thursday 7 September from 3pm local time before the on sale kicking off Monday 11 September 3pm local time. Tickets via: frontiertouring.com/royalblood
Royal Blood will also be performing at Let The Good Times Roll, Memorial Park, The Entrance, NSW* on Sunday 10 December and Changing Tides Festival, Kiama Showgrounds, Kiama, NSW* on Sunday 17 December.
Last here in Australia & New Zealand in 2018 playing sold-out crowds across both countries, Royal Blood – Mike Kerr & Ben Thatcher – are returning fresh off the back of an extensive tour run across Europe & the US as well as new music, having just released their latest album Back To The Water Below, out now via Warner Music Australia, here. Featuring the singles 'Mountains At Midnight', 'Pull Me Through' and new track, 'Shiner In The Dark', Back To The Water Below follow three previous consecutive UK #1 albums from the British Duo.
"This fourth album branches out to include considerable light and shade, with the expansive-but-to-the-point feel of Smashing Pumpkins' Gish, or even Led Zeppelin III… top drawer tunes throughout.'' – MOJO ★★★★
The duo's self-produced new album sees them tap back into the undeniable chemistry that they made their name on. 'Back To The Water Below' feels like a return for Royal Blood – NME ★★★★
Their breakout year in 2014 including a debut Glastonbury, SXSW and Radio 1's Big Weekend slot saw the band soar into notoriety. Releasing their debut album Royal Blood that same year, the critically acclaimed project became their defining moment, being crowned as the fastest selling British rock debut in three years, with huge tracks 'Figure It Out' and 'Out of the Black' remaining fan favourites almost 10 years on.
Touring across the UK & US the band won a Brit Award in 2015 for Best British Band, which catapulted them onto the world stage, touring with Foo Fighters and performing huge festival sets across the world including Coachella, Fuji Rock and Australia's own Laneway.
With a consecutive No.1 for second album How Did We Get So Dark, Royal Blood's signature sound was well and truly cemented, with NME calling the project "10 shamelessly melodic rock monsters that hit home like a nail gun to the eardrum".
Touring with the likes of The Killers, Pearl Jam and Queens of the Stone Age, Royal Blood began touring the world in their own right, playing sold out shows and festival sets worldwide. Due to embark on an extensive tour of the UK & US from September-November, the duo will be fired up to perform to their biggest fans in Australia and New Zealand this December.
PSYCHEDELIC P*RN CRUMPETS' 6th album, Fronzoli, is released 10th November 2023. Featuring the singles 'Nootmare (K.I.L.L.I.N.G) Meow!' and '(I'm a Kadaver) Alakazam', this record is the bands' first fully independently released album since High Visceral Pt1 & Pt2. After sellout tours across UK/EU & North America in 2022, PPC are back in Australia to bring their mind-bending live show to audiences, fully charged and raring to go.
THE BUOYS – The all-female Sydney indie rock 4-piece; Courtney Cunningham (bass guitar), Hilary Geddes (lead guitar), Tess Wilkin (drums) and founding mainstay, Zoe Catterall (rhythm guitar and lead vocals), will open on all Australian shows this December. Known for exploring themes of uncertainty, disappointment, curiosity and determination, The Buoys high energy music is inspired by workplace feuds, people who walk slowly in front of you and a tonne of bad dates.
Auckland-band four-piece, RACING, take rock and roll and inject it with a chemical haze so potent the listener is left both pleased and punished. Once likened to "the thoughts of a crocodile in flood season", the band crafts a swirling sea of groove and hypnosis into rock anthems drenched in weird tropical dance music. Releasing their debut album Real Dancing in 2019, the band were subsequently nominated for Best Rock Artist at the 2019 Vodafone New Zealand Music Awards. Having shared the stage on tour with Oasis, REM, The Hives, AC/DC, The Killers & Muse, Racing – Ed Knowles (vocals), Sven Pettersen (guitar), Daniel Barrett (bass) & Izaak Houston (drums) – are stepping up onto the international music radar. Having released their sophomore album Must Be The Moon in 2022, the project received critical acclaim and saw the band perform nationwide on their headline tour to an ever-growing fanbase.
ELLIOT & VINCENT are an Auckland-based two-piece band featuring drummer and vocalist Elliot Finn and guitarist Vincent Cherry. The pair fill the space in each other's sound to form driving rhythms with distorted strain. Together, they draw influence from the likes of PJ Harvey, The Kills, Charlie Megirta and Alana Vega, heavily grounding themselves within he garage/indie genre. Due to release their self-recorded demo EP and upcoming performances at Going Global Artist Showcase and The Others Way Festival, the duo enjoy the creative process of blending their music with a shared visual interest, having both studied fashion design straight out of high school.
The sound of Royal Blood isn't defined by genre or the instruments that they play, but by the unique chemistry forged by the two friends. The incredible live spectacle that is Royal Blood will grace our stages once again in a series of unmissable shows.
ROYAL BLOOD
SPECIAL GUESTS
PSYCHEDELIC P*RN CRUMPETS and THE BUOYS (ALL AUS SHOWS)
RACING and ELLIOT & VINCENT (NZ)
AUSTRALIAN & NEW ZEALAND TOUR
DECEMBER 2023
Presented by Frontier Touring and The Rock (NZ)
FRONTIER MEMBERS PRESALE
via frontiertouring.com/royalblood
Runs 24 hours from: Thursday 7 September, 3pm local time
or until pre-sale allocation exhausted
GENERAL PUBLIC ON SALE
Begins: Monday 11 September, 3pm local time
Thursday 7 December
Spark Arena | Auckland, NZ
Lic. All Ages
On sale Monday 11 September, 3pm
ticketmaster.co.nz
Monday 11 December
Riverstage | Brisbane, QLD
Lic. All Ages
On sale Monday 11 September, 3pm
ticketmaster.com.au
Wednesday 13 December
Hordern Pavilion | Sydney, NSW
Lic. All Ages
On sale Monday 11 September, 3pm
ticketek.com.au
Friday 15 December
Festival Hall | Melbourne, VIC
18+
On sale Monday 11 September, 3pm
ticketmaster.com.au
Tuesday 19 December
Hindley Street Music Hall | Adelaide, SA
18+
On sale Monday 11 September, 3pm
moshtix.com.au
Thursday 21 December
HBF Stadium | Perth, WA
Lic. All Ages
On sale Monday 11 September, 3pm
ticketmaster.com.au
Also performing at:
Sunday 10 December – Let The Good Times Roll, Memorial Park, The Entrance, NSW*
Sunday 17 December – Changing Tides Festival, Kiama Showgrounds, Kiama, NSW*
*Not A Frontier Touring show
Patrons are advised to purchase tickets only through authorised ticket sellers.
We cannot guarantee any ticket purchase made through any means other than the official ticketing agents listed on the Frontier website.